The Cambridge graduation ceremony is called a 'Congregation' and takes place in the Senate House, in the centre of Cambridge, where degrees are formally awarded.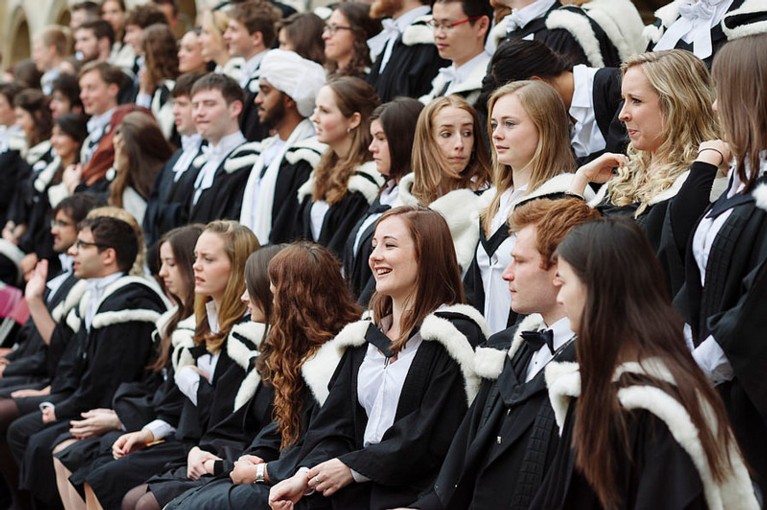 Once you have met all the academic & residence requirements, you will have your degree conferred (awarded). This is given by the Congregation of the Regent House (the governing body of the University of Cambridge). Graduation takes place in a ceremony at the Senate House. Please do not make any travel arrangements before securing a graduation date with the College.
The largest 'Congregation' is called 'General Admission', which takes place in June. This is when undergraduate degrees (and some postgraduate degrees) are conferred. These are: BTh, BA, VetMB, & BA with MEng or MMath or MSci degrees.
Each College presents their students to the Congregation on a specific day, and Emmanuel's is usually a Friday. The College holds events for graduating students ('graduands') before and after the ceremony. It is a great event for the whole Emmanuel community to enjoy!
You do not have to be present for the degree to be conferred. You can apply for it to be awarded in absence. However, if you do choose this, your degree cannot then be conferred in person at another ceremony later on.
Important Senate House Information:
Any bags larger than 35 x 25cm may not be taken into the Senate House or the surrounding grounds. Yo

u may be asked to make alternative arrangements for storage of your belongings.

If it is vital you keep your bag(s) with you, you must seek assistance from the Senate House staff (Proctor or Constable). They may check their contents prior to entry.