Graduation
Once you have met all the academic and residence requirements for a Cambridge degree, the degree is formally awarded at a ceremony, called a 'congregation', in the Senate House.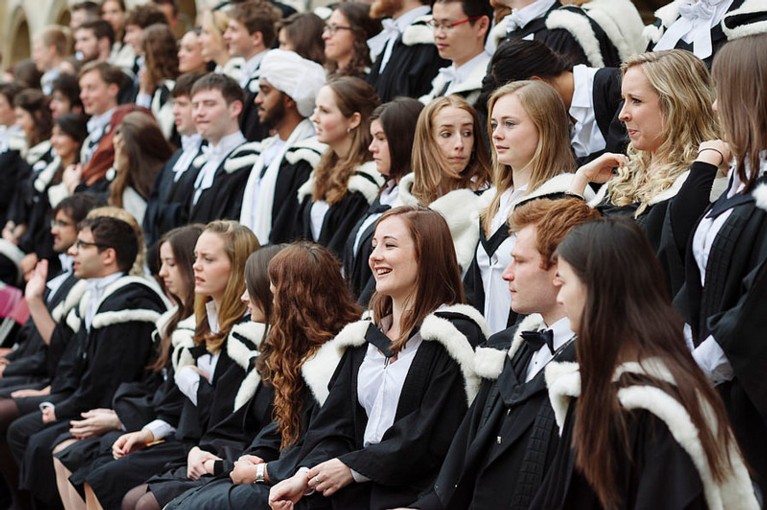 There are ten such congregations each year, although Emmanuel will present candidates in person at only some of these. The largest, called General Admission, is when undergraduate degrees (and some postgraduate degrees) are conferred. This takes place at the end of June each year.
If you hold a BA degree you become eligible for an MA degree six years after the end of your first term of residence, providing you have held your BA degree for at least two years. The College will write to you when you become eligible with details of the congregation at which we plan to present candidates. You can be presented for your MA at another congregation if you wish.
Other congregations are generally smaller than these two and usually consist of people being presented for postgraduate degrees such as the PhD and MPhil.
You do not have to be present for the degree to be awarded; you may apply for the degree to be awarded in absence if you wish.
Important Senate House Information:
For security, safety and practical purposes, rucksacks, holdalls, shopping bags or bags larger than 35 cm x 25 cm may not be taken into the Senate House or the surrounding grounds. If you bring them, you may be asked to make alternative arrangements for their storage. If you need to keep your bag with you, you must seek assistance from a Proctor or Constable who may check contents prior to entry to the Senate House. Please allow sufficient time for the additional delays this may cause.