Emmanuel provides an environment for learning & living that is both beautiful and peaceful. We work, socialise & live together as a close–knit College community, making use of our wide network of support.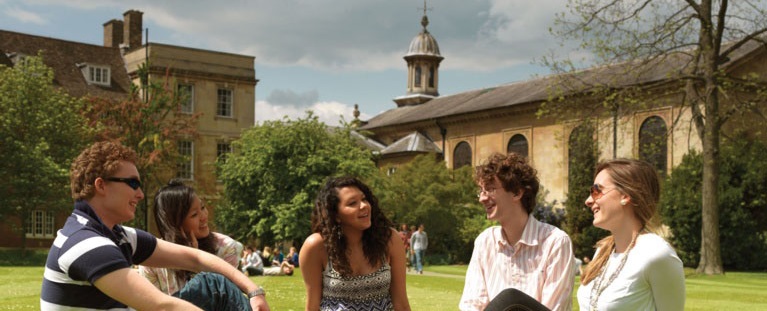 The College was founded in 1584 by Sir Walter Mildmay, who was Chancellor of the Exchequer to Elizabeth I. Since then, we have been a centre of outstanding learning for over 400 years. Our members have gone on to achieve great successes across a variety of disciplines. Alumni include archbishops, Nobel Laureates, comedians, novelists & scientists, amongst so many others.
Sir Walter established Emmanuel as "an acorn, which, when it becomes an oak, God alone knows what will be the fruit thereof". Over the centuries, we have continued to cultivate high quality teaching & learning. Our widening participation and access & outreach schemes continue to flourish. Alongside the University, we offer many means of funding available to those that need it. We provide this both on application and throughout our students' time here.
Emmanuel is a self–governing college, as with the other 30 within the University of Cambridge. This means that we personally select our students & academics, as well as managing the College's operation. We offer all our students an education that is exceptional, alongside the University & its other colleges.
The inclusive & friendly Emma community aims to equip every member with the knowledge & skills they need to flourish, for life. Our College teaching is at the heart of a Cambridge undergraduate education. We provide small–group teaching (known as 'supervisions'), with Emmanuel academics at the top of their fields. The College continue to expand, with over 650 under– & postgraduates, as well as Clubs, Societies, facilities and much more. Our academics number nearly 100 Fellows (who teach & research at the College), and we have over 150 staff. We welcome people into the Emma community from across the globe, of many different backgrounds, with many different experiences.
The historic College grounds are located on the site of a thirteenth–century Dominican Priory. They are a haven of spacious lawns, rare trees, and tranquil ponds, which are known for our families of ducks. We are committed biodiversity within our gardens, which are home to a large variety of wildlife. The borders are arrayed with a range of wild flowers & verdant planting, alongside beehives & insect hotels. Our buildings range from the medieval Old Library, to our Classical Revival Chapel, to our café (Fiona's) & basement Bar. Sometimes it's easy to forget that we are only a few metres from Cambridge's vibrant city centre!
If you are interested in applying to Emma, find out more via our Admissions & Student Life pages. We are open to the public every day between 0900–1700.