The College's Founder
Sir Walter Mildmay, our founder, was for many years Chancellor of the Exchequer to Queen Elizabeth I, and had a long career of public service to his credit. He was a man of Puritan sympathies, though a staunch upholder of the Elizabethan settlement.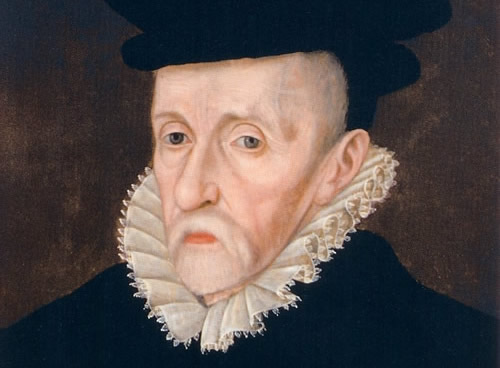 He was the youngest son of a prosperous merchant of Chelmsford in Essex and was a student at Christ's College, Cambridge in 1538. He did not take a degree, but he acquired a lasting attachment to his college. Here he must have developed his sympathy for Calvinistic Puritanism.
He was in public service & financial affairs, throughout the reigns of Edward VI and Mary and became a Privy Councillor under Elizabeth I. He was her chancellor of the Exchequer from 1559 to his death, and in 1551 he acquired the estate of Apethorpe near Oundle. He frequently used his influence to protect the Puritans and to help Protestant refugees.
Mildmay's intellectual & religious interests found their fullest expression in his foundation of Emmanuel in 1584. His original statutes for the College emphasised its role as a seedbed of learned ministers, but from the first it also accepted students with other careers in view. Though critics labelled it as a 'Puritan' institution, both Mildmay and Laurence Chaderton (our first Master) made clear that they were neither religious separatists or political dissidents.