Emmanuel (or 'Emma') is an inclusive, diverse & close-knit community of under– & postgraduate students, academics & staff. The College provides a nurturing & supportive environment for everyone to thrive.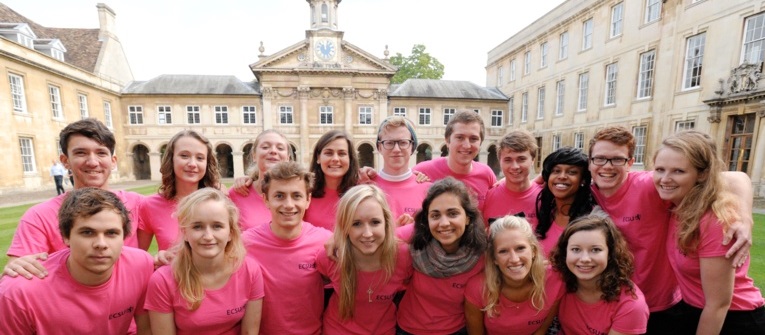 Our range of academic support for undergraduates provides a personal Director of Studies in your subject, and one–to–one College teaching. The community of Emma postgraduates can take advantage of teaching & networking opportunities, as well as guidance from our Tutors & academics. We can offer financial assistance & support to all of our students from various College, University & named funds. Our Wellbeing Teams help our community you with all aspects of personal & academic welfare. The two Student Unions — ECSU & the MCR — welcome you into the Emma community, organising events, dinners and raising awareness for various causes. The Emma experience programme also enables all our students to access everything that the College has to offer, giving everyone opportunities to explore & embrace all their potential.
Our grounds are a haven of calm in the busy centre of Cambridge. They are arranged around our network of historic 'courts', with spectacular buildings from across the centuries. Our extensive lawns & lush, bright planting schemes provide a relaxing place to spend time in. We are also rare amongst Cambridge colleges, as our entire community are welcome to walk on most of our grass!
We have a wide range of facilities that you can take advantage of. Our under– & postgraduate students live in comfortable College accommodation in the centre of Cambridge, with easy access to all our support services. The award–winning catering team serve a daily, affordable selection of meals in the beautiful Georgian Hall. Our South Court Café (Fiona's) provides a contemporary space for all of our community to spend time with friends, enjoy coffee, study & have informal meetings. We also have a student–run Bar with its elegant lounge & basement club/'ents' space. The Education Centre is always accessible, alongside a range of music practice rooms, and a (free!) Laundry for all who live in our accommodation.
Our sports facilities provide excellent resources for our clubs. There is a fully-equipped Boathouse on the Cam, and a large sportsground only a short cycle away. We also have two squash courts & well–equipped gym on the College site. The main garden (known as the Paddock), provides spaces for grass tennis & badminton courts in the summer. We even have an outdoor swimming pool for warm summer evenings!
For over 400 years, our historic College has been a highly-regarded international academic centre, welcoming the most talented under– & postgraduate students, teachers & researchers. Everyone is able to take advantage of our diverse collegiate community & special surroundings.
Our founder, Sir Walter Mildmay, stated "I have set an acorn, which, when it becomes an oak, God alone knows what will be the fruit thereof". Sir Walter provided the sixteenth–century 'acorn'. Now, we equip every member of our community with the knowledge & skills they need to flourish, for life.
Find out more in this section about the resources, services & facilities we can offer you during your time at Emma.