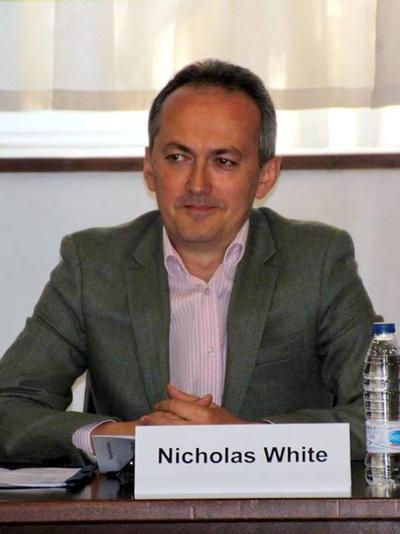 MA, PhD, FHEA
Official Fellow; Director of Studies in Modern and Medieval Languages
Professor of Nineteenth-Century French Literature and Culture (since 2018).
Biography
Having completed his undergraduate degree and PhD in Cambridge, Nicholas White took up a Faculty post in London University in 1993. In 2002 he returned to Cambridge to take up a Faculty post in 19th century French literature, at which point he became a Fellow of Emmanuel College. His main role in the University is to organize its teaching and research on nineteenth-century France. In 2018, he was made Professor of Nineteenth-Century French Literature and Culture (Grade 12).
From 2008 until 2011, he was Chair of the Faculty of Modern and Medieval Languages, responsible for steering policy in teaching and research for Cambridge's largest Arts & Humanities Faculty. As such, he chaired the Faculty Board and its Degree Committee, and represented the Faculty on the Council of the School of Arts and Humanities. From 2018 to 2020 he was Director of the Cambridge Master's programme (M.Phil.) in European, Latin American and Comparative Literatures and Culture.
The Regent House of the University (its legislative body) delegates certain functions to special committees, termed "syndicates", whose members are known as "the syndics" of that particular institution. Nicholas White was a Syndic of the University Library from 2015 until 2021, chairing the Sub-Syndicate of Arts and Humanities Libraries and the University's Participation Data Advisory Group. He was also a founding member of the steering committee of the University's Centre for Teaching and Learning Committee (CCTL). From 2010 to 2017 he served as a Syndic of Cambridge Assessment (Europe's largest educational assessment agency) and sat on the Board of Directors of OCR (Oxford Cambridge and RSA Examinations).
Until 2015 he held three major roles in College: Admissions Tutor for Arts (since 2007), Director of Studies in Modern and Medieval Languages (since 2003), and a Tutor to students in other subjects (since 2004). He still directs studies in French.
---
Teaching Interests
Nicholas White is a Fellow of the Higher Education Academy, a national body which aims to "share effective teaching practices in order to provide the best possible learning experience for all students". He supervises Emmanuel students and other students who work on the nineteenth century. In the Faculty of Modern and Medieval Languages & Linguistics, he has convened undergraduate and MPhil papers in 19th century French literature, and has lectured on writers such as Balzac, Stendhal, Nerval, Sand, Baudelaire, Flaubert, Rimbaud, Vallès, Maupassant, Anatole France, and Zola, and a range of historical topics, from the Revolution to the Dreyfus Affair.
He has supervised PhD theses on "The Pursuit of the Sublime in Post-Romantic France", "A Literary and Cultural History of Ballooning in France 1783-1936", "Narratives of Inheritance in Nineteenth-Century France", "Work and Leisure in Late Nineteenth-Century French Literature and Visual Culture", "Fictions of the Press in Nineteenth-Century France", "Aesthetics in Ruins: Parisian Writing, Photography and Art, 1851-1892", and "Conspiracy in Balzac and Sand's July Monarchy Fiction"; and co-supervised a PhD on "The Stakes of Mimesis: E.T.A. Hoffmann and Honoré de Balzac". He has supervised PhDs by scholars such as Andrew Counter, Claire White, Edmund Birch, Polly Dickson, Alexandra Tranca and Rebecca Sugden. In July 2019 Emmanuel College and the Robert Bacon Fund of Harvard University sponsored a symposium at Reid Hall in Paris, organized by Rebecca Sugden and Madeleine Wolf, on "New Directions" in the teaching of nineteenth-century French culture which involved the participation of many of the former students of Nick White and Janet Beizer (Harvard).
---
Research
Nicholas White's research focuses on 19th century French literature, and he coordinates work in this field in Cambridge. He is particularly interested in the issues of war, friendship, love, marriage, and the family, and in the methods of cultural and literary history. In addition to writing over fifty journal articles and book chapters, nearly one hundred talks and presentations, and reviews of more than one hundred books, he has authored or edited ten book-length publications.
He is now engaged on a book project on the 'war before the First World War': in other words, the Franco-Prussian War and the Commune (1870-71). This has been supported by a Leverhulme Trust Research Fellowship. His work on French war literature and painting before 1914 focuses on fiction, in particular Zola's 1892 novel La Débâcle, as well as art by the likes of Neuville and Detaille. Under the EU's Horizon2020 scheme, he has worked with Dr Marion Glamaud-Carbonnier on a research project (2020-23) on The Family at War in French Culture, 1870-1914, under the Marie Sklodowska-Curie Actions scheme (€212,933/£186,784).
In addition to talks on this material at a range of conferences, he has also given invited lectures and papers on representations of 1870-71 at Harvard, Yale, Penn, NYU, ENS Paris, the Sorbonne and Sorbonne-Nouvelle, ENS Lyon, and Oxford. In 2015 he was invited to give a plenary lecture on this topic to the Society of Dix-Neuviémistes. As well as clicking on the sound file below, links to the relevant images are available from the PDF of the lecture.
He has also worked with Irene Fabry-Tehranchi of the Cambridge University Library on the digitization of its collection of illustrated plates entitled Collection de caricatures et de charges pour servir à l'histoire de la guerre et de la révolution de 1870-1871. In 2021 he co-produced a short film on these caricatures and in 2022 co-curated an exhibition for the University Library with Marion and Irene.
He can be found in conversation here with American colleague, Colin Foss, about the latter's book on the Siege of Paris in 1870-71.
His earlier publications focused on the fictional representation of personal and social relations in the early and middle decades of the French Third Republic (from the Franco-Prussian War until World War One). As well as writing books on The Family in Crisis in Late Nineteenth-Century French Fiction (1999) and French Divorce Fiction from the Revolution to the First World War (2012), he has edited the translations of two novels -- Zola's L'Assommoir and Huysmans's A Rebours (winner of the Scott Moncrieff Prize) -- and co-edited three books of essays on Scarlet Letters: Fictions of Adultery from Antiquity to the 1990s (1997), Currencies: Fiscal Fortunes and Cultural Capital in Nineteenth-Century France (2005), and After Intimacy: The Culture of Divorce in the West since 1789 (2007).
He has also edited three journal special numbers, one in France, and two in the US, starting with a special double number on Zola for the New York journal, Romanic Review (2011). He was also the principal investigator of the Cambridge-Paris Sciences & Lettres network on Zola au pluriel, co-ordinating (with Claire White) symposia in the summer of 2015 at Emmanuel College and the ENS rue d'Ulm, Paris (which brought into collaboration the Cambridge group and the Zola ITEM seminar from Paris). This culminated in a special number of the leading French journal in the field, Les Cahiers naturalistes, no. 91 (2017).
His 2011 piece in Romanic Review on Pot-Bouille and Au Bonheur des dames sketched out a new project on the ways in which French men and women of the late 19th and early 20th centuries interact in public space in a manner that is not necessarily romantic or sexual (in other words what we might call Third Republic "heterosociability"). In this vein, he was the principal investigator from 2016-18 of the AHRC-sponsored Research Network (£42,962) on The Art of Friendship in France, from 1789 to 1914, which he co-ordinated with Andrew Counter. The Fitzwilliam Museum exhibition Degas: A Passion for Perfection (3 October 2017 to 14 January 2018), curated by Jane Munro, is related to this project. This project has led to two outputs: a special number (ed. with A. Counter) of fourteen new essays in Romanic Review (2019); and (with Rebecca Sugden) a digital teaching resource for schools centred around Degas's painting Au café.
He founded the Cambridge Research Seminar on Nineteenth-Century France, which Dr Rebecca Sugden has directed since 2020. Programmes prior to 2020 included the following:
He has published in article and chapter format on a wide range of male and female authors from the late nineteenth and early twentieth centuries, including Émile Zola, Guy de Maupassant, Anatole France, J.-K. Huysmans, Colette, Marcelle Tinayre, Marie-Anne de Bovet, Jules Lemaître, André Léo (aka Mme de Champseix), Camille Pert, Claire Vautier, Paul Bourget, Lucien Descaves, Léon Hennique, Édouard Rod, Alphonse Daudet, Janvier & Ballot, and Armand Charpentier. He has also dabbled in other domains such as the relationship between literature and Grand Opera.
He was one of the founding editors of Dix-Neuf (the journal of the Society of Dix-Neuviémistes, the UK and Irish professional body in nineteenth-century French studies), and is now a member of their Editorial Board. He was from 2013 to 2016 the nineteenth-century literature reviews editor of H-France, an organization based in North America for academics working on French history and culture that includes over 4000 subscribers from some 40 nations. He is on the advisory board of three major North American journals in the field, Nineteenth-Century French Studies, Symposium and Romanic Review; and is correspondant britannique for the French journal Les Cahiers naturalistes. He has also spoken at Leicester City Football Club, Manchester United Football Club, Merchant Taylors' Hall London, and Somerset House; written for the Globe Theatre; consulted for the Folio Society (French Short Stories; Adventures of the Three Musketeers); and translated for the City of London Sinfonia, and, most frequently, the Philharmonia Orchestra. In the late 1990s, he began to write from time to time for the Times Literary Supplement.
---
Subject
---
Email
---