Fatima – Post-Colonial Literatures of Africa & the Middle East
A Lord Northfield Scholarship and an MPhil Studentship enabled me to pursue an MPhil in development studies, driven largely by my study of the post-colonial literatures of Africa and the Middle East.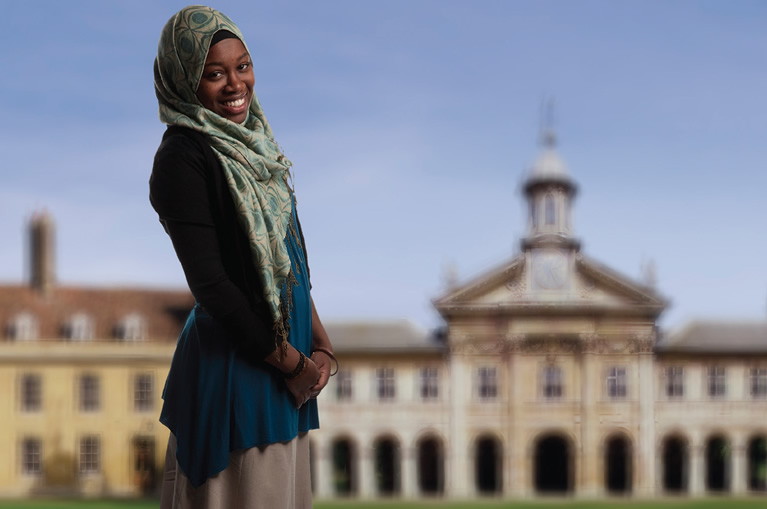 I came to Emmanuel in 2005 to read modern and medieval languages. In addition to French and Spanish literatures, I had the opportunity to dabble in various disciplines, including linguistics, film studies and anthropology. I spent part of my year abroad in Senegal, where I conducted research for my final-year dissertation on Francophone African theatre. I enjoyed my time as an undergraduate, being able to study a broad range of topics whilst also engaging in several extra-curricular activities, including charity fundraising, chairing a human rights committee, journalism and student mentoring.
My decision to pursue an MPhil in development studies was largely driven by my study of the postcolonial literatures of Africa and the Middle East, which exposed me to their histories of colonialism and underdevelopment. I wanted to gain a more nuanced understanding of the social, economic and political factors, both domestic and internal, which have contributed to the present state of affairs in the developing world. The MPhil curriculum has not disappointed me: it is very interdisciplinary and has provided an integrated approach to development issues. My core papers range from development economics to social anthropology and politics.
I have developed a particular interest in the politics of the Middle East. One of my final-year undergraduate papers was on human rights in the Middle East, and I submitted my second final-year dissertation on military humanitarianism in Iraq. As part of my MPhil course, I have also conducted research into the dynamics of sectarian, ethnic and tribal identity in Lebanon and Iraq, and in the politics of political protest in Egypt. I plan to spend next academic year in Jordan learning Arabic, before returning to do a PhD on civil society and new social movements in the Arab world.
Studying at Cambridge has been a challenging yet highly stimulating experience, which has contributed to my intellectual and personal development. As an international student from Trinidad and Tobago, I have come to appreciate various cultural perspectives through interaction with fellow students of diverse nationalities and backgrounds. I am very grateful to Emmanuel for support throughout my studies, through the Lord Northfield Scholarship and an MPhil Studentship, without which this experience would not have been possible.