Freddie – Rowing in the Boat Race
We were delighted that Freddie, a first-year undergraduate, was selected to join the Cambridge team in this year's Boat Race. He then rowed for Emma in the May bumps, helping the men's first VIII to win their blades in their new boat, 'Spirit of 56'.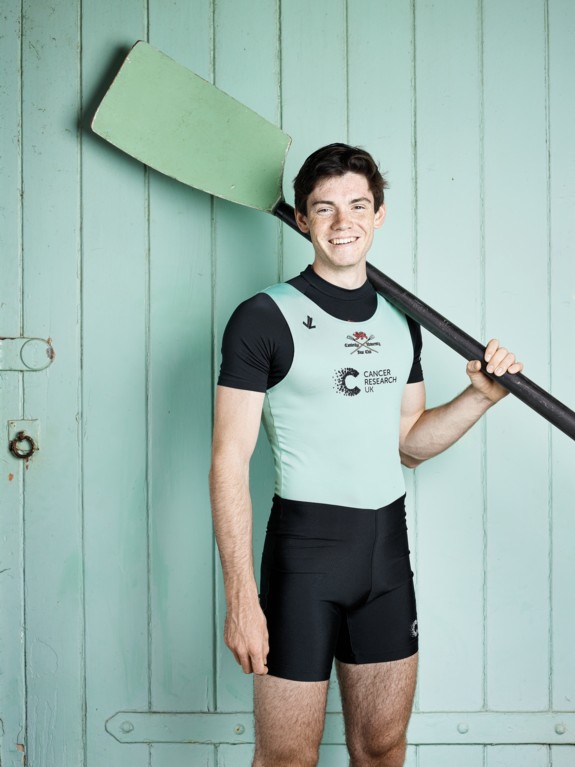 This new boat had just been given to the Boat Club by the Lent Term 1956 third VIII to mark the sixtieth anniversary of winning their blades. The bumps were particularly exciting as the ladies' first VIII also won blades, in their nearly new boat, 'Dame Fiona', which was launched last year.
Freddie says: "Rowing for Cambridge University Boat Club this year has been a novel experience for me. Completing the training programme in tandem with studying first-year engineering has at times been quite challenging and I have had a very
different timetable from that at school.
A typical day at Cambridge consisted of waking before six to eat a reasonable breakfast before morning training at the Goldie Boathouse. From training, I would go straight to nine-o'clock lectures at the engineering department, followed by a quick lunch and a bus ride from Goldie to the Ely Boathouse for a water session. The working time lost because of rowing all afternoon had to be made up for by studying hard in the evenings, which gave me a packed schedule!
This year's squad had a mixture of undergraduates and graduates, and so was very varied in terms of its members' backgrounds and ages. This gave rise to a range of rowing experience and ability, and a unique dynamic. Although the mix was initially rather daunting, I quickly found myself being friends with students up to 12 years my senior. Training with rowers who had already been racing at top university level for four or five years was hugely helpful to my own development; coming straight from schoolboy rowing I quickly improved both on and off the water.
The first term was draining as I had to balance academic commitments and arrange supervisions around the six hours each day I devoted to rowing. I also had to adjust to earlier mornings and a heavier training load than I was used to. However, through the year I found that balancing the two sides of Cambridge life became second nature and the older members of the squad who had also studied my course were incredibly helpful. Being a part of an historic race, which I had grown up watching, was a very special experience for me, and I have found that my rowing (and time management) skills have improved more than I could have hoped for as a result."