Caroline – Captaining University Swimming
Everybody starts university with ideas of new clubs and societies to join. So did I, but there was one exception. After having swum competitively for over ten years, the swimming stand was the first one I targeted at the Freshers' Fair.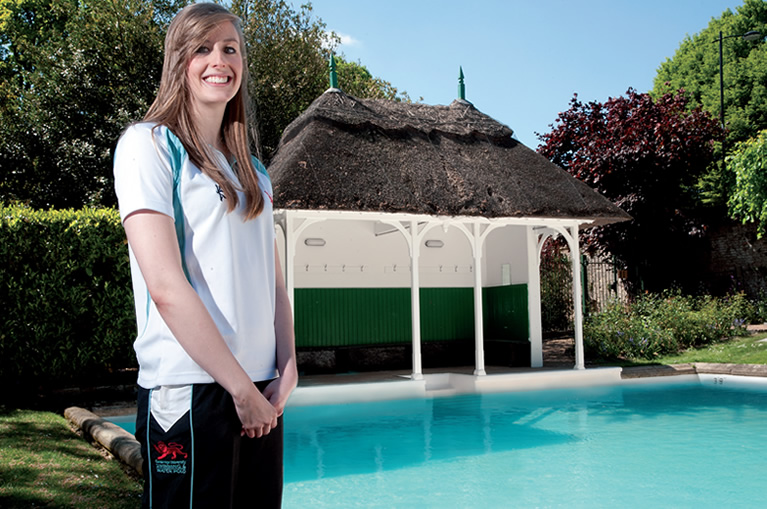 Within a week I had competed in trials and begun training with the University team. I was relieved, after nearly a decade of pre-dawn starts, to find that morning training was largely reserved for Boaties.
It soon became apparent that with the Varsity Match only a few months away, every second in the pool and gym was precious. We have five sessions in the pool and one on land each week. At school, obtaining a balance between work, swimming and a social life was relatively achievable; imagine my shock upon viewing my first reading list for Part IA of the Law Tripos. What would normally take a month had to be accomplished in a matter of days, but fortunately I found that training provided the perfect release when I was getting bogged down in the complexities of negotiorum gestio or accessorial liability in crime. Flexible training times also left time to socialise within Emmanuel and find my feet as a fresher.
My first Varsity Match was an overwhelming and surreal experience. I have competed in the Irish, Scottish and British Nationals and also further afield in the Geneva International Meet, but nothing quite compares with the atmosphere produced by the intense rivalry between the Light and Dark Blues. I was fortunate enough to win my race and set a new Varsity record. In what turned out to be the second closest Varsity Match of my life, the women's team narrowly pipped Oxford to the post but we lost overall to a strong Dark Blue side.
In my second year I was keen to get more involved in the workings of the Swimming and Water Polo Club so took on the role of team secretary. This was very time consuming, and in addition there was an ever-increasing Part IB workload and applications to prepare for law vacation schemes. Good time management was imperative. Fortunately the Club also has a strong social element so my work-life balance did not suffer too much! We had a remarkably strong team but this was not enough to overcome the might of Oxford, whose team included Davis Tarwater, currently in training for the 2012 Olympics.
By my final year I was hungry for a Light Blue victory and took on the role of Women's Captain. Due to the lack of University facilities we have some of the highest costs of any university team, spending £10,000 on pool time a year. To reduce the membership fees we forego having a coach, which makes the role of captain yet more challenging as it involves writing the training sessions and making sure they are done properly whilst putting in the metres yourself! Thankfully I had good support from the Men's Captain, and large amounts of planning over the vacations meant that I still had time to dedicate to my final year of studies. At such a stressful time it was nice to be able to switch my focus between swimming and Law; as the team is very closely knit it also functioned as a good support system.
One of the most important tasks as captain is the organisation of our annual training camp, which provides a vital boost to fitness before the Varsity Match. This year we departed from our usual destination of Lignano, seeking warmer climes in Torremolinos. Whilst there, we did four hours of swimming and an hour of land training a day. Averaging roughly 6km a session, we managed to swim 80km by the end of the week, a distance almost as far as that between Oxford and Cambridge. As the camp is not subsidised, the money I received from the College's Windsor Fund enabled me attend. It also contributed to my travel costs to the British Universities Team events, where we put in good performances and in the qualifiers came second to Bath, a university renowned for its swimming talent.
My final Varsity Match played out like a movie; the Light Blues had a remarkably strong start edging ahead of Oxford, but with only a few points in it. Going into the final part of the match, we needed to win three of the four events to secure a win. The women had a tough fight ahead with former Olympic trialist Justine Schluntz anchoring Oxford's team. After two hard-fought races, the Light Blues dominated and secured the Women's Trophy. It all came down to the final race, the men's 4 x 100m freestyle relay. Oxford had pumped all their strength into this team and we knew if we were to have any chance all four of our swimmers were going to have to have the swim of their lives. It was neck and neck as they began the final length. I could not bear to watch but was made aware of the result by the explosion of the home crowd. Cambridge had secured their first victory against Oxford for three years. Being part of this outstanding team, with the support of Emmanuel College, will be something I remember for many years to come.