In the four years I spent at Emmanuel, I was lucky enough to receive three grants to travel during the summer: once to Athens and the Peloponnese, then to Sicily, and finally to central and northern Greece.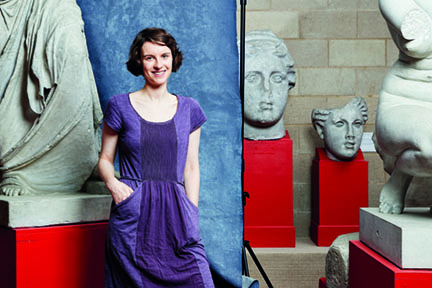 As I studied classics, the reason was simple: to see extra material that tied into what I was studying. The reality, however, was much more. The ancient world seemed at once nearer, yet at the same time more enigmatic than before, which encapsulates what I love about classics.
In a subject that concerns the visual arts, seeing in person what you have been studying makes a crucial difference. It is a pleasure to soak in vast sites such as the Valley of the Temples at Agrigento, or the sanctuary at Epidauros. Exploring ruins can feel very romantic, but the real joy comes in the practical aspects: figuring out which buildings stood where, finding unusual architectural features, or simply identifying kitchen stoves and toilets can foster a sense of connection to the ancient world. I know I'm not alone in getting a shiver of excitement each time I see a hypocaust (stacked terracotta tiles, evidence of Roman underfloor heating), even though you'd be hard pressed to find a Roman site without them. These are the physical reminders of what the Romans cared about and their ingenuity in building, and seeing them in person is exciting and illuminating in a way that pictures in a book or online can never be.
As much as these grants were linked to what I was studying, they have also shaped it. The curriculum at Cambridge is broad but the extra travel enabled me to explore parts of the course that especially interested me and to discover new parts to which I could return later. A visit to the site of Mycenae in my first year led to my interest in the Minoan part of the archaeology paper in my third year, and my trips that year to Byzantine sites were partially responsible for my dissertation topic, as well as my decision to study Byzantine art at the Courtauld Institute next year. Cambridge rewards independent study and thinking, and in the study of art and archaeology it is very difficult to achieve this without visiting sites and museums yourself. Without these grants, I couldn't have nurtured my love for the visual arts; and although one or two of my supervisors might have preferred me to stick to studying literature (which I swore at my interview was my real passion), my experience has been all the richer for incorporating visual art and archaeology.
Each summer, I've joked that Emmanuel pays for my holidays to Greece and Italy. While my friends smile and nod – thinking, no doubt, 'Isn't it nice for some?' – they would also probably be horrified if they knew what these trips entail. Archaeological sites never seem to get any shade, which means several hours of being outdoors in the height of the Mediterranean summer. Early starts are essential so as to get the most of the cool mornings. Respite comes in the form of indoor, air-conditioned museums, but even then you are resigned to hours on your feet, as well as to intense concentration. These trips have not been easy, and yet I still call them holidays because the experiences have been some of the best in my life. For me, my degree has only been as exciting and enriching as it was because of my ability to travel during the summer.