Pete – Representing Mumbai's slums
The accepted tourist practice of the 'sight-seeing tour' has been extended to Mumbai's largest slum, Dharavi, which now plays host to 'slum tours' designed to give small groups of international tourists a two-hour guided walking tour of the work places, schools and streets that are home to nearly one million people.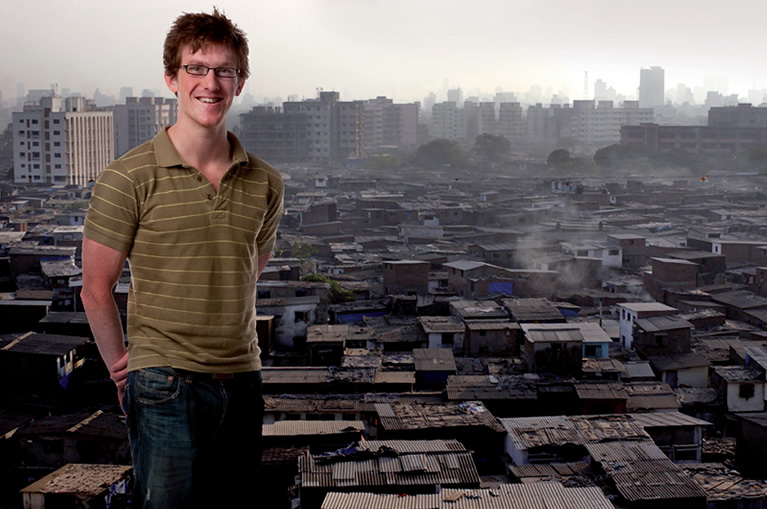 Over four weeks in July 2009 I shadowed these tours, interviewing guides, tourists and slum residents in an effort to uncover how 'the slum' is represented, how tourists comprehend their experience and how residents react to their Western visitors. I concluded that whilst the tours can be viewed as ethically dubious, they can also work as a force for good when they successfully transform the unwarranted negative image of 'the slum' and its people, and simultaneously feed money back into the community. In the future I'm sure we will see many more alternative tours emerge across the world, as travellers continue to break the mould and challenge the typical tourist stereotype.
In retrospect, the idea for my research wasn't born from books or reading lists, but was actually conceived years earlier on family summer holidays. How places and people are represented by tours and the power they have to transform our understanding of the world we live in has always preoccupied me, and my research was essentially an extension of this critical eye. There is no doubt that the difference between being a 'tourist' and a 'researcher' extends well beyond the requirements of a 10 000-word report. It strikes me that 'the dissertation' is too frequently hailed as a grinding academic chore, when in fact it offers a rare and unique occasion to challenge fundamentally our own assumptions and beliefs. I am very grateful to Emmanuel for partially funding this research, and would encourage others to grab such opportunities by the horns.