Joel – Chamber Opera in the Chapel
In 2011, twenty-one singers and instrumentalists performed in Emmanuel's Chapel a 45 minute-long chamber opera called Nauset, which David Troupes, the librettist, and I had worked on in the second half of 2010.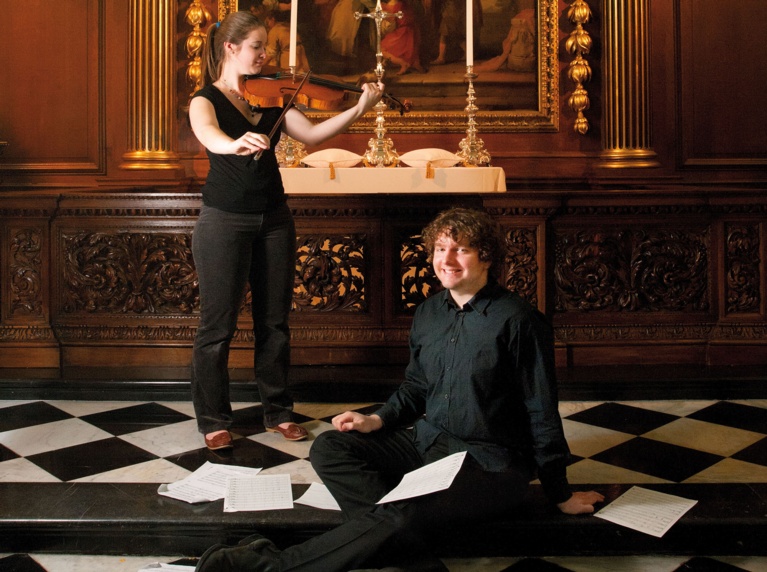 The development of Nauset began in Lent term last year, when I was asked to write a piece for soprano and chamber orchestra for a concert in King's College Chapel. I'd recently come across David Troupes' collection of poetry, Parsimony, and was drawn to setting a poem called 'Mt Norwottuck and a Prescription for Citalopram'. Following the performance, we remained in contact and eventually decided to work on a more substantial collaborative project. Ideas went back and forth, but soon David sent me a scenario that both of us felt could produce something special.
David sent me a first draft of the text in August and the final version in October, and I began working out how to structure the musical content. It was by some margin the largest-scale project I had undertaken, and sustaining and directing the music's metamorphoses over this large time-period entailed reconsidering several aspects of my musical language.
Nauset is named after a stretch of shore on Cape Cod, Massachusetts, close to where David grew up, and the opera takes place on this beach, at night. The structure is simple, with no action or dialogue; instead, each of the three characters in turn moves into the centre of the space, sings, and leaves. First, a young girl sings incredulously about her father, a fisherman, who has walked into the sea and not returned. Then, her mother, knowing her husband is drowned, sings of her memories, desires and fears. Lastly, the husband walks, mysteriously, out of the sea and sings two brief, sphinx-like stanzas, 'trying to tell the untellable' (in David's words from the original scenario).
I managed to acquire a marvellous cast (Joanna Songi, Louise Kemeny and Edward Leach) and conductor (Christopher Stark), all of whom have been involved in many opera productions in Cambridge and beyond. The singers are accompanied by a small but flexible group of instruments – clarinet, bassoon, trumpet and string quintet – and a wordless chorus of six female voices. As the ocean is a constant presence in the drama, I added to the group three percussionists, with a profusion of temple and wood blocks, drums and cymbals, to create a fluctuating level of sibilant noise behind
the music.
I was delighted that the Dean gave me permission to produce the opera in Emmanuel's Chapel; throughout my three years in Cambridge I've sung there twice a week in the Choir and it has a beautifully clear but reverberant acoustic. I'm also very grateful to the Burnaby Committee for funding the project, making it free for anyone to experience, and enabling David and me to realise our ideas in a new medium.