John – Medieval Christian Doctrine & Artistic Iconography
I came to Emmanuel in 2006 to study for a PhD, funded by a Derek Brewer Research Studentship and the C S Gray Fund, alongside the part-time post of Assistant Chaplain.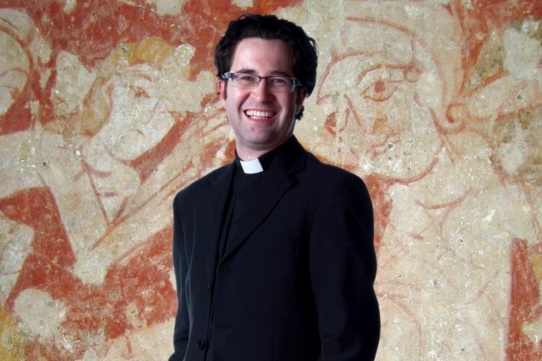 My previous degrees were in theology and the history of medieval art, and my research has combined both disciplines by focusing on the relationships between Christian doctrine and artistic iconography in the late eleventh and twelfth centuries.
I have looked at images of the crucified Christ in Anglo-Norman England and the extent to which developments within them related to the understanding of key Christian beliefs, such as the nature of the atonement (how it was that the death and resurrection of Christ brought about human salvation), the nature of the Holy Trinity (the relationship between God the Father, God the Son and God the Holy Spirit), and the way in which Christ is believed to be present in the bread and wine of the Eucharist. Each of these doctrines was subject to a certain amount of clarification around the end of the eleventh century, primarily at the hands of two successive archbishops of Canterbury, St Lanfranc and St Anselm. Around the same time, a number of new, and highly relevant, forms of crucifixion imagery emerged, largely within the Anglo-Norman artistic milieu. I have related these developments in the visual arts and the written theology of the period to broader cultural issues such as changes in the patterns of the religious life; liturgical and devotional practice; popular enthusiasm for pilgrimage, relic cults and the crusades; and even the realms of law and politics.
Whilst there is more than once thought, the amount of artistic material surviving from eleventh and twelfth century England remains rather limited. A surprising amount of what there is, however, lives in and around Cambridge, ranging from key manuscripts held in colleges such as Pembroke and Corpus Christi, to rare metalwork figures of the crucified Christ kept in the Museum of Archaeology and Anthropology on Downing Street, to the earliest extensive scheme of English church wall painting we know of, recently discovered at Houghton-on-the-Hill in Norfolk. So Emmanuel has been the ideal place for me to do my research and I am extremely grateful to the College for its support. As a result, I hope that we now have a slightly clearer picture of the fundamental role played by Anglo-Norman culture in shaping ideas and religious practices found across Europe in the later Middle Ages, a number of which continue to exercise an important influence in the Church today.