Early Printed Books and Manuscripts
The Library holds substantial collections of pre-1900 printed books and medieval to modern manuscripts. Please note that enquiries about these collections should be sent to the College Library (contact: rarebooks@emma.cam.ac.uk) not to the Archive.
The earliest printed book, an illuminated copy of Cicero's De officiis, printed on vellum, is dated 1465.
Emmanuel College Library's Special Collections comprise three collections: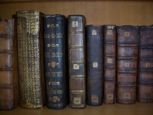 Rare Book and Manuscript Collection
Books and manuscripts both purchased by and donated to the Library since the Foundation of the College in 1584. At the core of the Collection are some books given by the Founder, Sir Walter Mildmay.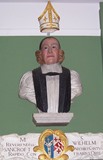 The Sancroft Collection
The personal library of William Sancroft (1617-1693), Archbishop of Canterbury and a Master of Emmanuel (1662-1664). The library comprises approximately 7,500 items the earliest of which dates from the 15th century.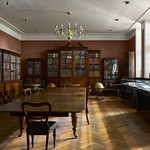 The Graham Watson Collection
A collection of mainly eighteenth- to nineteenth-century books with hand-coloured plates. The collection was formed by an Old Member of College Graham Watson (b. 1908). He began to collect in 1939 with the purchase of Ackermann's 'History of the University and Colleges of Cambridge' paying £40 for his copy. The bulk of the collection with its glazed mahogany bookcases was presented to the College by Graham Watson in 1975.
---
Facilities
Desk space for two readers. Wi-Fi.
Photography is not permitted