Library
The College Library contains over 60,000 books and resources. It is open 24/7 for current College members, and provides a range of different study spaces.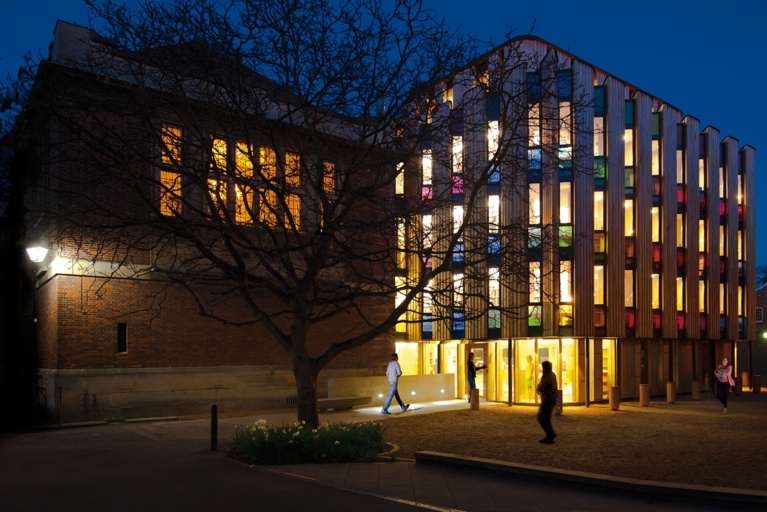 Opening hours
Open 24/7 throughout the year with the exception of the period between Christmas and the New Year when the College is closed.
---
Staffing times
The Library Reception desk is normally staffed between 9 a.m. and 5.00 p.m. week days only.
A team of Student Library Assistants work at Library Reception during term time from 7:30 p.m. – 10 p.m. week day evenings and 2:30 p.m. – 5 p.m. week-ends.
---
Facilities
Study Spaces
The Library has a range of different types of study spaces.
Main Reading Room: 4 study desks each seating 8 readers, 5 seating 6 and 1 seating 4
David Williams Room: 1 study desk seating 8
4th Floor Reading Room: 3 study desks seating 6
1st, 2nd and 3rd floors each have 9 study carrels for private study
Other Facilities
Computer Room: location 1st floor, contains six computers, printer, and scanner
WiFi: throughout the building
Networked photocopier: location ground floor
33 Lockers: location ground floor, 24 hour use only
Meeting Room: location 3rd floor. Can be booked for group study. Book at Library Reception
Wates Room: location 2nd floor. Small chill out space. Includes Wates Room Fiction Collection (light reading from Harry Potter to Hilary Mantel)
Book Stands and Laptop Supports: a small number of Book stands and Laptop Supports are available for loan for use in the Library from Library Reception
---
Book Loans
Christmas Vacation Loan
The Christmas Vacation Loan begins at 8 a.m. on Monday 29th November. All ordinary loan books taken out on loan from the 29th November onwards will be due for return to the College Library on Thursday 20th January 2022. Short-Loan books can be borrowed for the vacation from 8 a.m. on Friday 3rd December.