The College Library contains over 60,000 books. It is open 24/7 for current College members, and provides a range of different study spaces.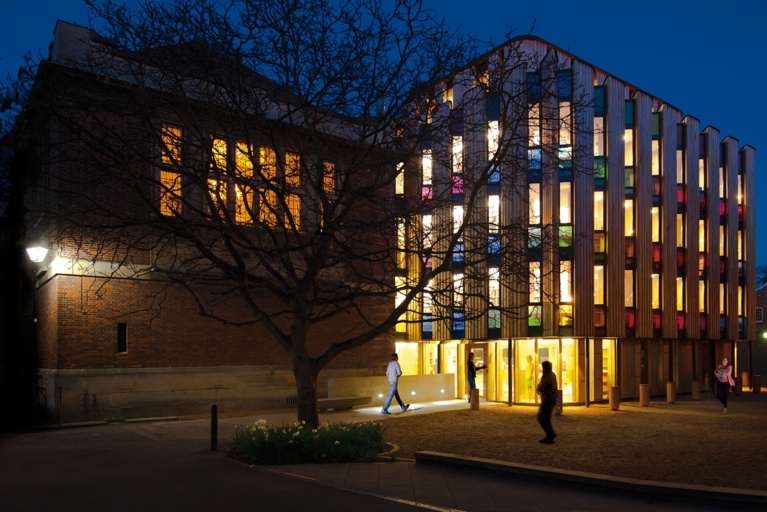 Opening hours
Open 24/7 throughout the year with the exception of the period between Christmas and the New Year when the College is closed.
---
Staffing times
The Library Reception desk is normally staffed between 9 a.m. and 5.00 p.m. week days only.
A team of Student Library Assistants work at Library Reception during term time from 7:30 p.m. – 10 p.m. week day evenings and 2:30 p.m. – 5 p.m. week-ends.
---
Facilities
Study Spaces
The Library has a range of different types of study spaces.
Main Reading Room: 4 study desks each seating 8 readers, 5 seating 6 and 1 seating 4
David Williams Room: 1 study desk seating 8
4th Floor Reading Room: 3 study desks seating 6
1st, 2nd and 3rd floors each have 9 study carrels for private study
Other Facilities
Computer Room: location 1st floor, contains six computers and printer
WiFi: throughout the building
Networked photocopier: location ground floor
33 Lockers: location ground floor, 24 hour use only
Meeting Room: location 3rd floor. Can be booked for group study. Book at Library Reception
Wates Room: location 2nd floor. Small chill out space. Includes Wates Room Fiction Collection (light reading from Harry Potter to Hilary Mantel)
Book Stands and Laptop Supports: a small number of Book stands and Laptop Supports are available for use in the Library. These can be found on shelf above the Returned Books Bin near the entrance
---
Vacation Loan Michaelmas Term
The vacation loan starts at 9:30 am. on Monday 27th November.
Short Loan Books can be borrowed from 9:30 a.m. on Friday 1st December (maximum of two books from the Short Loan collection))