The Organ
The Chapel was designed by Sir Christopher Wren and built in 1688. Soon afterwards, provision was made for a small instrument by the renowned 'Father' Bernard Smith, which was funded by a benefactor and installed on the West Gallery of the Chapel.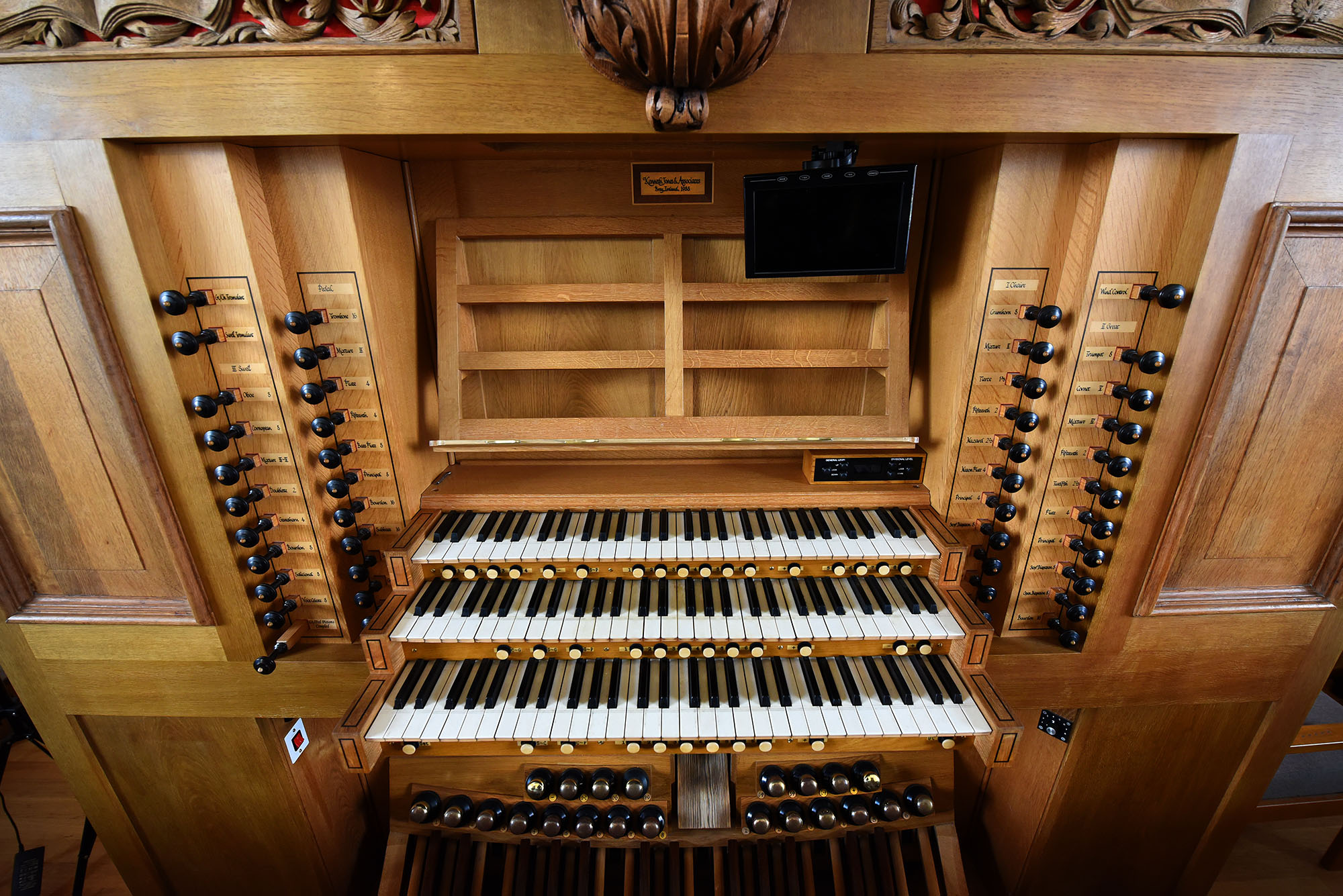 The organ was successively rebuilt by Turner in the eighteenth century and by Hill in the nineteenth century. The last extensive work undertaken was in 1964, when the organ was again rebuilt by Hill, Norman and Beard to plans drawn up by George Guest, Organist of St John's College. By now, the instrument consisted of three manuals and 44 stops on electric action, and it had overflowed the small Smith case into large chambers at the rear of the Gallery.
By 1988, the organ had become very unreliable due to the unwieldy size of the instrument and lack of thoughtful, structural design. The decision was taken to build a new organ within the existing Smith case (which was returned to its original dimensions and layout), with fewer stops and mechanical action. The work was entrusted to Kenneth Jones and Associates of Bray, Ireland, this being their first organ in England. The new organ incorporated all of the surviving Smith pipes and now consisted of 34 stops.
The present organ is widely acknowledged as one of the finest instruments in Cambridge, with a sensitive mechanical action and a beautifully balanced, well-blended sound. The specification drawn up in 1988 married new material with original Smith pipework, whilst at the same time creating an extremely versatile instrument which plays a wide repertoire of music in a convincing manner. The piston capture system was replaced and a sequencer added in 2021.
---
Specification
Builders: Kenneth Jones and Associates, Bray, Ireland (1988) —
incorporating original casework and some pipework by Father Bernard Smith (1688)
Great Organ
Swell Organ (enclosed)
Bourdon
16
Bourdon
8
Open Diapason
8
Salicional
8
Stopt Diapason
8
Voix Celeste
8
Principal
4
Gemshorn
4
Flute
4
Doublette
2
Twelfth
2 2/3
Mixture
III-IV
Mixture
IV
Cornopean
8
Cornet
V
Oboe
8
Trumpet
8
Pedal Organ
Chaire Organ
Subbass
16
Stopt Diapason
8
Bourdon
16
Principal
4
Principal
8
Nason Flute
4
Bass Flute
8
Twelfth
2 2/3
Fifteenth
4
Fifteenth
2
Flute
4
Tierce
1 1/3
Mixture
III
Mixture
II
Trombone
16
Crumhorn
8
Couplers Sw-Gt/Sw-Ch/Ch-Gt/Sw-Ped/Gt-Ped/Ch-Ped
Gt/Ped combinations
Great/Chaire Tremulant
Swell Tremulant
Wind control stop (Great and Chaire)
Mechanical key action
Mechanical stop action (electrically assisted)