Chapel Choir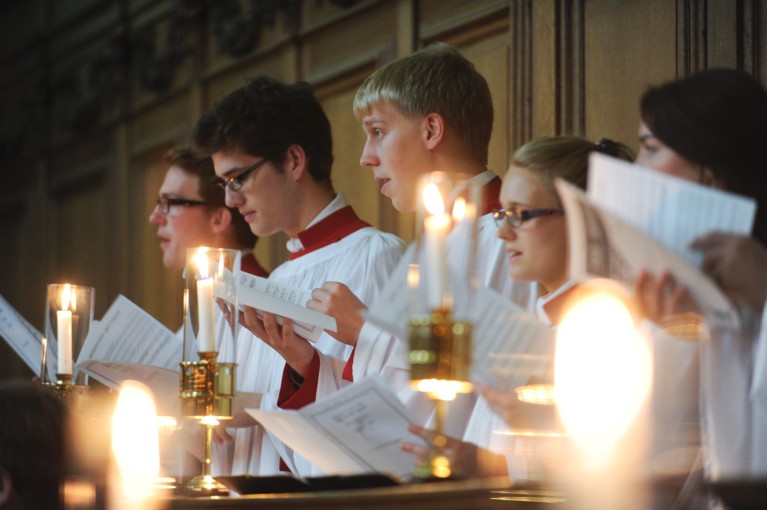 Emmanuel is one of the larger Cambridge colleges, with around 450 undergraduates, a fine campus in the centre of town, and a chapel designed by Christopher Wren. It has an extremely active musical life, in which the chapel music plays a central role. The choir's raison d'être is to sing the weekly Choral Eucharist and Evensong in the college chapel during term.
Eucharist takes place on Thursday evenings and Evensong on Sundays-making membership a relatively low time commitment. Rehearsals take place before these services and on Tuesday evenings. College occasions are marked with special sung services throughout the year. Besides these regular commitments, the choir makes occasional visits to other British churches and cathedrals, (most recently St George's Chapel, Windsor Castle, Norwich and Ely Cathedrals) and goes on regular foreign tours.
The choir has recently recorded a CD of choral works by E. W. Naylor, which was launched at a recital at the Temple Church, London in March 2014. In the same year the choir toured to New York, Connecticut and Boston and gave concerts at Trinity Church, Wall Street, Yale University and Harvard Memorial Church.
Since then, the choir has toured to Copenhagen, Malmö, Munich, Kraków and Barcelona. They also made a recording of well-known Christmas carols for Imagem Productions and their voices were heard on the Christmas special of BBC Eastenders. In March 2016 the choir gave a performance of Bach St John Passion with a professional baroque orchestra and also sang both Mozart Requiem and Haydn The Creation jointly with Queens' College Choir at St Martin-in-the-Fields, London.