Emmanuel's tradition of organ scholars has produced a wide variety of successes. Our scholars have gone on to play & conduct at Harvard and King's College, London. Others have become concert performers, as well as teaching & lecturing.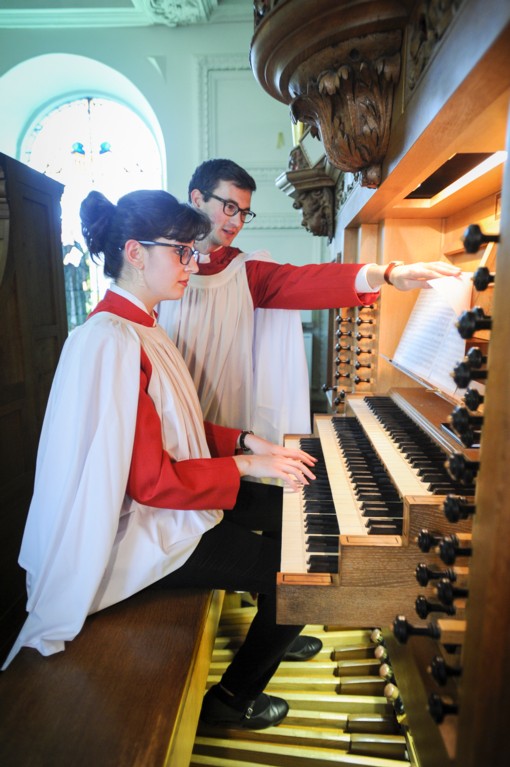 There are normally two organ scholars in residence at any one time, who share the playing for services & concerts. They also work with the Director of Chapel Music in training & conducting the choir, and setting up tours & events. The Emmanuel Organ Scholarship gives you the chance to learn from established experts. It also offers you conducting & leadership skills.
Many Emmanuel organ scholars read for a degree in Music, but this not a requirement. The degree embraces a wide range of papers: history, theory and practical. There is also the option of a recital as a part of the final exams.
The Scholarship provides free organ lessons, and optional free singing lessons. Both organ scholars also benefit from rent rebates, in addition to a small financial award. Other performances, such as weddings, carry other financial benefit. The Senior Organ Scholar occupies a set of rooms looking out over Front Court. Both scholars have pianos in their rooms.
The College has an excellent, three manual organ in the Gallery of the Chapel. The organ was completely rebuilt in 1988 by Kenneth Jones, using the original seventeenth–century Father Smith case. It has superbly responsive tracker action, piston capture system and a sequencer.
Emmanuel actively welcome enquiries and visits from potential organ scholars. These can take place both at the Organ Awards Open Day in Easter Term, and at other times. The College does not currently have any vacancies for 2024 and 2025. Please note: we do not accept organ scholarship applications for Chemical Engineering and Biotechnology, Computer Science, Engineering, Land Economy, Medicine, Natural Sciences and Veterinary Medicine.