Organ Scholarships
Emmanuel has a fine tradition of organ scholars, who have gone on to a wide variety of careers, including not just the cathedral/collegiate world (where alumni include Edward Jones, University Organist and Choirmaster at Harvard, and Joseph Fort, Director of Music at King's College London) but also concert careers as an organist or on some other instrument, teaching, lecturing and even banking.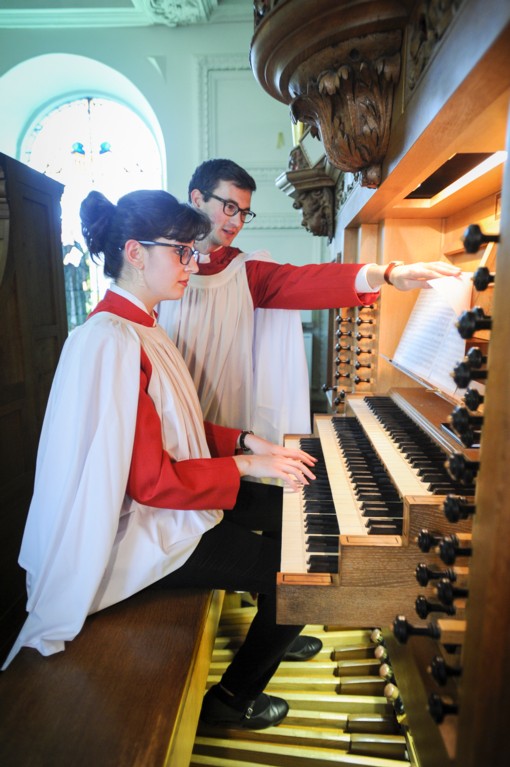 There are normally two organ scholars in residence at any one time, sharing the playing for services and concerts, and working with the Director of Chapel Music in running, training and conducting the choir, and organising tours and other events. The Emmanuel organ scholarship thus offers a valuable combination of opportunities to take responsibility and to learn by working with an established professional.
Many Emmanuel organ scholars read for a degree in Music. The degree embraces a wide range of historical, theoretical and practical papers, including the possibility of a recital as a part of the final exams. There is no requirement, however, to study Music, and with the exception of Land Economy any degree can in principle be combined with the organ scholarship: recent organ scholars have studied subjects included Engineering, Medicine and Natural Sciences. To find out more about the academic side of Emmanuel life, follow this link.
The organ scholarship brings with it free organ lessons with any teacher and optional free singing lessons. Both organ scholars also benefit from substantial rent rebates in addition to an honorarium; extras such as weddings carry additional fees. The Senior Organ Scholar occupies a fine set of rooms in Front Court and both scholars have pianos provided in their rooms. The greatest perk, though, is the College's organ, a beautiful three-manual instrument in the gallery of the Wren chapel. It was entirely rebuilt in 1988 by Kenneth Jones, using the original seventeenth-century Father Smith case. It has superbly responsive tracker action and an excellent tonal range which makes it one of very few instruments in Cambridge which can do proper justice to the full range of organ repertoire and choral accompaniments.
We actively welcome enquiries and visits from potential organ scholars, both at the Organ Awards open day in the summer term and at other times. The next vacancies are expected to be for entry in 2023 and 2024.