Old Court was built in 1634 and gives the impression of having changed very little since. Ron Gray's guide to College buildings describes it as a simple building and as 'one of the most pleasing in College'.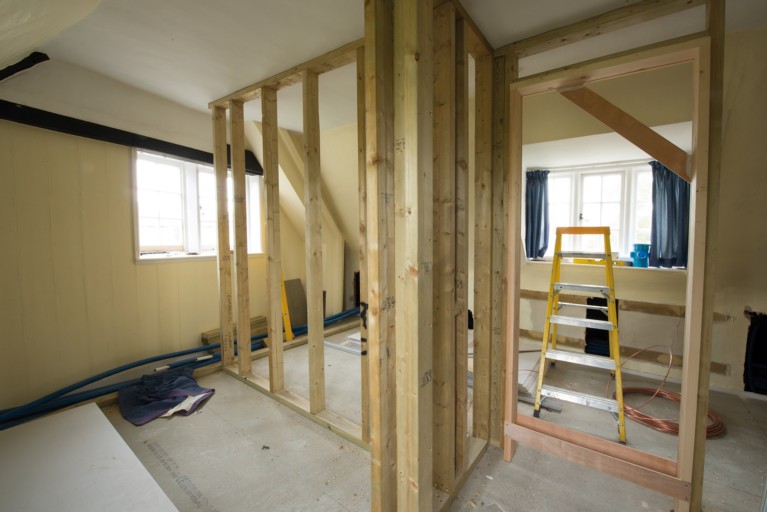 He continues: 'colour and proportions are good, the weathered stone entrances to staircases are preserved out of piety, and though the stairs are cramped, the rooms are spacious and welcoming'. The sets remain very popular amongst undergraduates: the annual ballot for them is always over-subscribed and they are the first rooms in College to be chosen.
That little has changed in Old Court over the past four centuries is doubtless one of its attractions. The structure and much of the fabric is original, the building having escaped too much destructive refurbishment, particularly during the twentieth century. There are wall paintings preserved in one set and oak carved panels elsewhere, most spectacularly in the set reserved for the Harvard Scholar. While such fine features are preserved, it is a building which is, and certainly looks, well used and lived in.
You may not think of Old Court as a purpose-built student accommodation block, but that, of course, is exactly what it is. It was built for the purposes, and to the standards, of seventeenth-century scholars. What is therefore most exciting from a conservation viewpoint is not the oak beams and original floorboards, but that the building continues to be used for exactly its original purpose, and that use has been uninterrupted for almost 400 years. Much has changed but successive generations of students have lived and studied in these sets, and they have been a central feature in the College's life.
Over time electricity, gas, hot and cold water, and finally central heating have been introduced. Modern fire detection systems and fire protection to the staircases have been installed. A wired computer network and more recently wireless routers have been added. In this way the accommodation has been slowly nudged towards modern standards. Some of the early work was undoubtedly destructive – routes for pipes, wires etc were created that damaged original materials – and some original features were lost. But, little by little, these changes kept the rooms in Old Court at the level of discomfort that each successive generation would just about tolerate.
WCs and bathrooms however have never been provided there. Some facilities behind the Bar in South Court are set aside for those living in Old Court, but in terms of convenience and comfort this isn't really an arrangement likely to be accepted by residents for too much longer. Twenty-first century students expect something more. Those who have lived in Old Court, or who have seen dressing-gown-clad students heading towards South Court, may think it unnecessary but the time has finally come to introduce modern plumbing.
Over the years various schemes have been considered. One involved utilising the small cupboards within each set (which currently house a fridge and microwave), but the space was insufficient and extensions into Chapman's Garden would have been required. This would have been very expensive and would not have obtained listed building consent. Similarly, the introduction of bathroom 'pods' into the sets would have been disruptive and the damage done by introducing new services and drains would have been unacceptable.
David Hobbs, our Buildings Manager since 2012, brought a new eye to the problem and immediately identified a simple solution. In the last few years fire regulations have prevented us from having residents in the outward-facing top-floor rooms on each staircase, and he realised that these rooms would provide sufficient space for a new bathroom with showers and WCs and a good-sized shared gyp room. Conversion of these two rooms would avoid the need to alter the other sets, something that would only detract from their attractiveness and threaten their historical authenticity.
While identifying this solution happened quickly, finalising the detail has been complex. It has involved lengthy discussions with the City Council's Conservation Officer and with English Heritage. In updating a building as precious as Old Court our first priority is to do no harm: we mustn't sacrifice or damage the original fabric. Ideally we would also like to undo some of the damage caused by earlier improvements. So David Hobbs has designed the new bathrooms and gyps to slot inside the existing structure. The users will see new partitions and modern finishes but behind them all of the original material will remain. In the future all that we are currently installing can be removed to reveal the room beneath as it was before the work began.
New pipework will be run through the existing chimney void: no new route will be required. For drainage we will create a false rainwater downpipe on the Chapman's Garden façade – exactly matching the existing ones there – and the foul water drain will be concealed within it. Again, visitors will be unaware of these changes and the work will be easy to undo.
The project to install the bathrooms and gyps is being undertaken by the College's maintenance team and it will be completed during this summer and so ready for use from October 2014. Starting next summer we will review the rest of Old Court, aiming to remove the sinks and pipework from within the sets, which by then will be redundant. We'll make good some of the damage caused when these modern conveniences were installed. We'll also remove the spaghetti-like mass of telecoms wires which over the years were strung around the outside of the building, and rationalise anything that needs to remain. Unbelievably, there was a time when BT responded to student requests for telephone lines without contacting the College, and would arrive on site unannounced and happily string new cables between windows and anywhere else they fancied.
Future residents will doubtless be thankful that they no longer have to walk in the cold, rain and snow to the bathrooms in South Court. A sad truth of College life is that within a couple of years the then Junior Members will neither know nor believe that such a ridiculous thing ever happened. They probably won't be interested in the detail of how this work has been done or the thought that lies behind it. However, it is important that we properly safeguard the College's ancient estate and pass it intact in conservation terms to the next generation. We need to learn from the rather more brutal approach that was adopted at times in the past and ensure that we do not repeat those mistakes.
Our greatest conservation asset is of course the College itself: an institution which has undertaken the same activities and pursued the same purposes on the same site since its foundation. The importance of Old Court lies in that context: it is a building whose exact original use continues 400 years on. Protecting the fabric of historic buildings while at the same time ensuring that they remain fit for modern uses is, as Old Court demonstrates, something of a challenge.