World War I
In the early summer of 1914 Emmanuel College was looking forward to the new academic year with confidence. Its popularity had been steadily increasing for some years and it was expecting around 80 new students; an impressive new building – North Court, in Emmanuel Street – had just been completed to provide accommodation for the growing student population.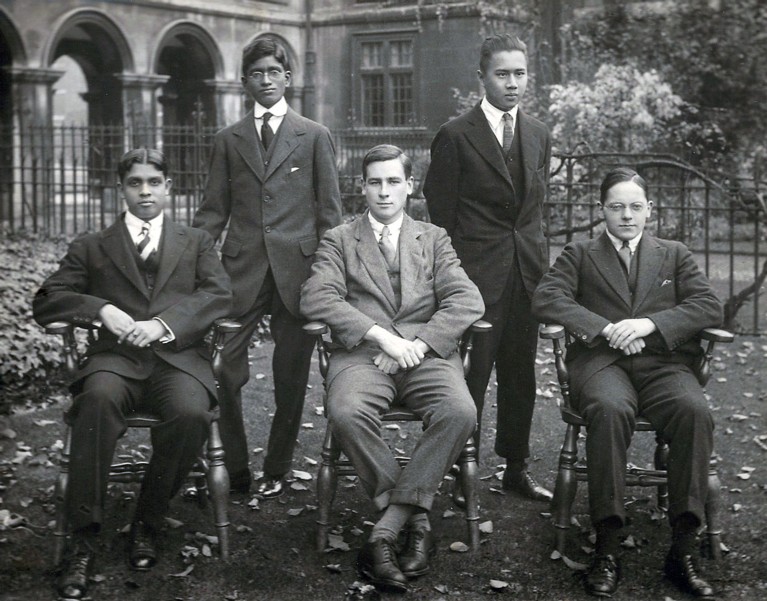 Matriculation photo, 1916. There were only 5 admissions to Emmanuel in this year, an all-time low.
The outbreak of war in the "Long Vac" and the resulting wave of enthusiastic enlistment not only reduced the number of admissions to 57, but also depleted the numbers of second and third year students. In subsequent years the number of admissions fell drastically and consisted almost entirely of overseas students, men medically unfit to fight, wounded ex-servicemen, or, towards the end of the war, medical students demobilised by the army. After the war ended the College had to cope with overwhelming numbers of returning students – in 1919 there were 233 new admissions.
The Fellowship, which in 1914 comprised the Master and 14 Fellows, had been reduced to half that size by 1916. Although few of the Fellows were liable for military service, several took up war work of one sort or another: two became army chaplains, two went into the Field Ambulance service, one worked for the Munitions Inventions Board and another went to the Censor's Office. The Fellowship also suffered one great loss: Geoffrey Day, a Junior Fellow who taught history and was very popular with colleagues and undergraduates alike, enlisted at the beginning of 1914 and was killed on the Western Front two years later; fortunately this was to be the only fatality among the Fellowship. A good many College servants went away to fight (two of them were to be killed), but the very small number of students meant that those left behind, Fellows and staff, were able to cope. As the war progressed the number of regulations issued by the College increased, an example of which is shown below. Fortunately food rationing did not become necessary until 1917.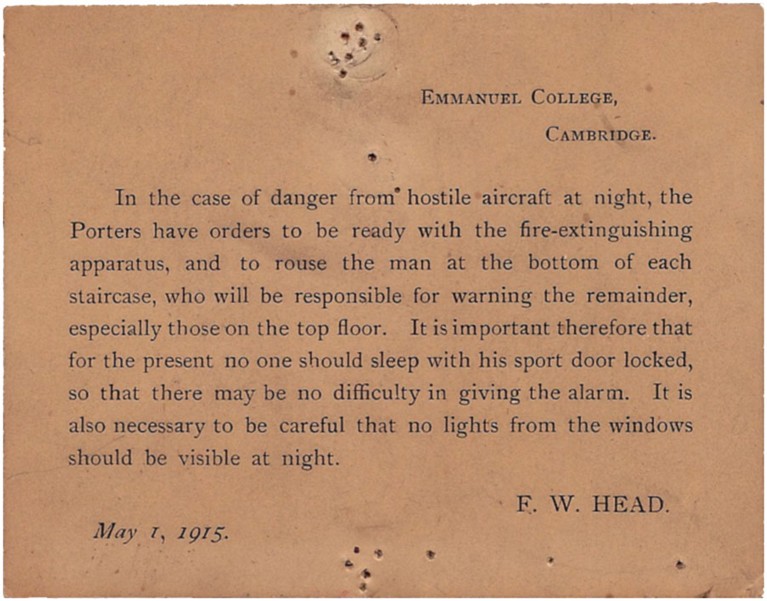 Wartime regulations
Soon after the outbreak of war North Court was taken over by the War Office and was used to house officers on short training courses from 1914 until 1919. The army also took over the College's Pavilion and Boat House, so that sport was severely disrupted. The first military occupants of North Court were the Welsh Fusiliers but later on it was home to successive groups of men of the "C" Company No.2 Cadet Battalion. The College Archives contain a photograph album compiled by Eric Jackes, one of the officers billeted at Emmanuel for a "Short Course" in 1917, and a page from that album is reproduced here. Although rather faded and blurred, the snapshots are a unique record of College life at that time.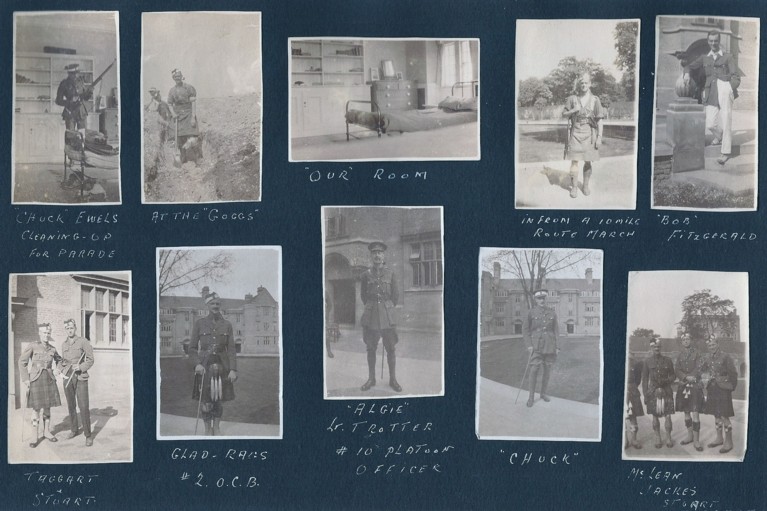 Jackes photograph album
The "C" Company men who were billeted in North Court between November 1916 and March 1917 produced a printed, semi-humorous "Chronicle" of their doings, called "The Glad Rag", the title page of which is reproduced here.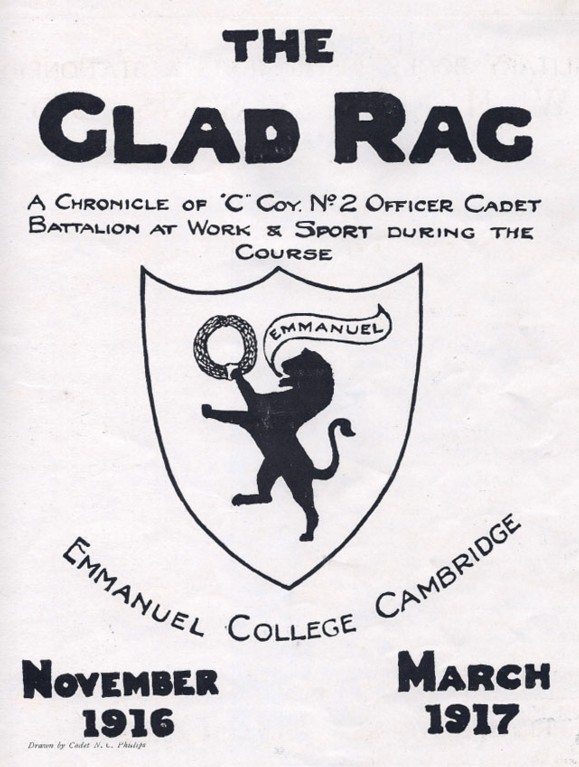 Glad Rag title page.
A year later another group of "C" Company men produced a similar publication, entitled "Cheerio". This included a cartoon which proposed a new crest for Emmanuel.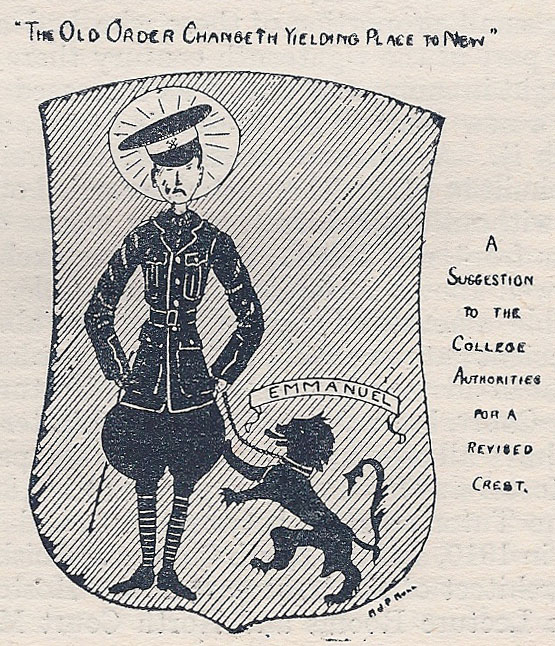 Cheerio cartoon
The College kept in touch with as many serving men as possible. P W Wood, one of the College Fellows, preserved the letters he received from Emmanuel men and published extracts from some of them in the Wartime Editions of the College Magazine, under the heading "Letters from the Fronts". Not all the correspondents served on the Western Front - many were stationed in Africa, India and other parts of the world and their letters shed much interesting light on these lesser-known theatres of war. The letter reproduced below is from Captain Thomas Howard, and is typical of many appreciative letters received by P W Wood; Howard thanks him for the August 1915 War Number of the Magazine and writes of how much he values the "thoughtfulness of the College Authorities in keeping so well in touch with members who are now away from Cambridge. I feel quite sure that we must all appreciate most vividly the knowledge that we are still remembered and still part of Emmanuel."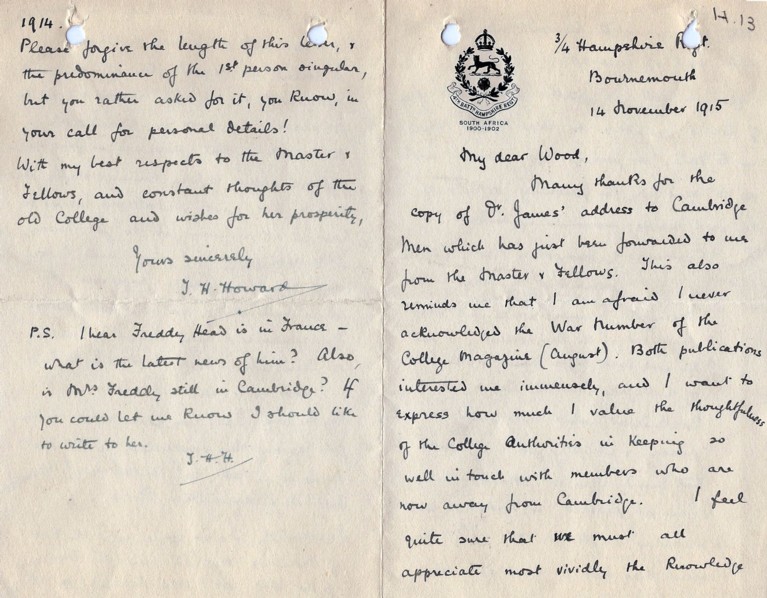 Letter from Capt. Thomas Howard to P W Wood, November 1915
The death toll of Emmanuel men rose steadily as the war progressed – 5 killed in 1914, 19 in 1915, 45 in 1916. It is only possible here to mention a few of the young men who died : below are two photographs of James Urquhart, one taken when he was an undergraduate and the other as a Lieutenant in the Northamptonshire Regiment. "Jimmy" was a fairly typical pre-War Emmanuel student; coming from a relatively modest background (the son of a Grimsby cooper), he entered Emmanuel in 1910 to study Natural Sciences and became a schoolteacher after graduating. He excelled at various sports – rowing, football and athletics. He enlisted in 1914 and was killed at Loos in 1915. Surviving family members cherished his memory and passed on to their descendants their recollections of him as a fine young man.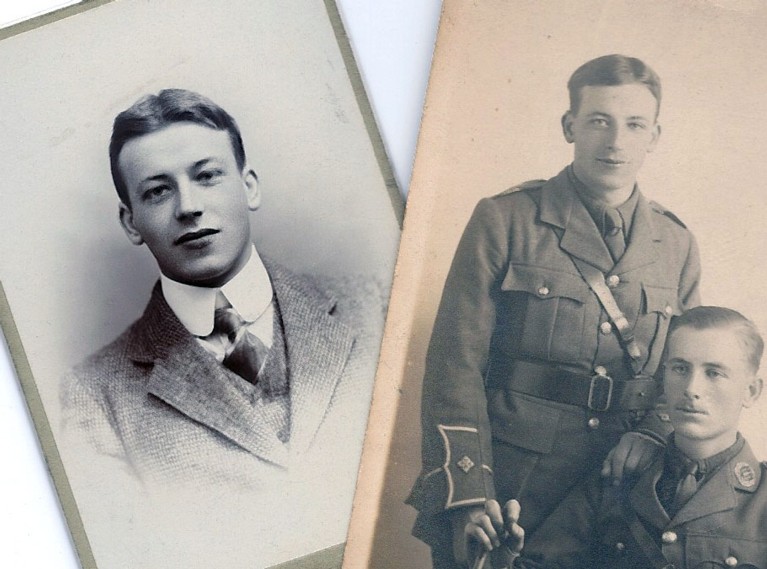 James Urquhart
Also reproduced are photographs of the three Nott brothers, Thomas, Cameron and Paton, who all served in the 6th Battalion of the Gloucestershire Regiment. They came to Emmanuel in 1907, 1912 and 1913 respectively and were a very close-knit trio. Paton was killed by shrapnel in April 1916 and his commanding officer wrote that he had "never seen such grief displayed by all ranks over any previous casualty". A year later Thomas, by then a Lieutenant Colonel, and Cameron, an acting Captain and his brother's Adjutant, were killed together when their dugout at Villers Faucon was destroyed by a hidden German mine.

Nott brothers
By the end of the War almost 130 Emmanuel men had been killed. Their names are recorded on the College War Memorial, which was designed by the sculptor Ernest Gillick (who also carved the figures on the cenotaph in George Square, Glasgow) and erected in January 1923.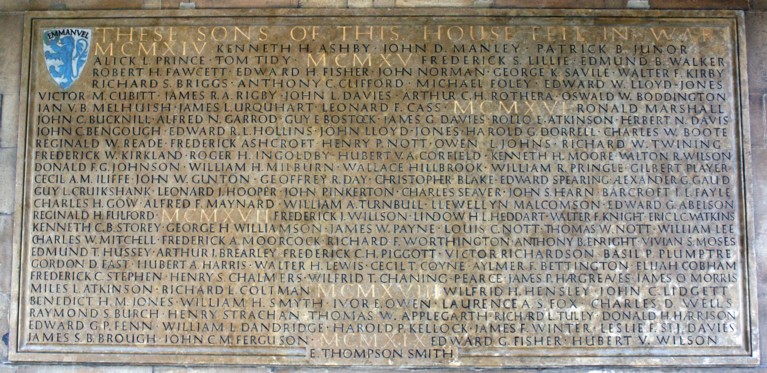 The War Memorial