Professor Alexandra Walsham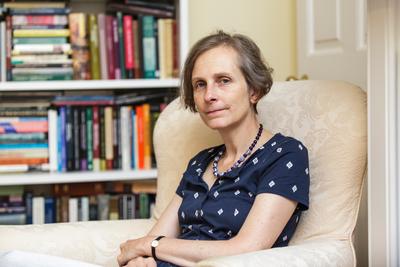 BA (Melbourne), MA (Melbourne), PhD, CBE, FBA, FRHS
Official Fellow
Professor of Modern History
Biography
I completed my undergraduate and Masters degrees at the University of Melbourne, before coming to Cambridge as a Commonwealth Scholar to study towards a doctorate at Trinity College. I was a research fellow at Emmanuel between 1993 and 1996. I then taught for fourteen years at the University of Exeter, where I was promoted to a personal chair and was Head of the History Department between 2007 and 2010. In 2010 I returned to Cambridge to take up the Professorship of Modern History. I currently serve as Chair of the Faculty of History. I have held visiting fellowships at the Folger Shakespeare Library, Washington DC, the Huntington Library, San Marino, California, and All Souls College, Oxford.
I am co-editor of the journal Past and Present and one of the series editors of Cambridge Studies in Early Modern British History (CUP). I also serve on the editorial boards of several other journals, including Archiv fur Reformationsgeschichte, Journal of Ecclesiastical History, The Seventeenth Century, Revue d'Histoire Ecclésiastique and British Catholic History. I am Honorary Vice-President of the Church of England Record Society and a former Vice-President of the Royal Historical Society. I was Chair of the Advisory Board of the Institute of Historical Research between 2015 and 2019.
I have been a Fellow of the Royal Historical Society since 1999 and was elected a Fellow of the British Academy in 2009 and of the Australian Academy of the Humanities in 2013. I was appointed a CBE for services to History in the Queen's Birthday Honours 2017.
---
Teaching Interests
I contribute to the teaching of the Historical Tripos Part I Papers 4 (Early Modern British Political History) and 9 (Early Modern British Economic and Social History). I teach a third year Special Subject on 'Memory in Early Modern England' and a Specified Subject on 'Persecution and Toleration in Britain, 1400-1700'. At MPhil level, I offer an option on 'Space, Place and Landscape in Early Modern History'. Since my return to Cambridge in 2010, I have been privileged to supervise many outstanding doctoral students.
---
Research
My research interests centre on the religious and cultural history of early modern Britain. Much of my work explores the immediate impact and long-term repercussions of the Protestant and Catholic Reformations in their British and European context. I have published on a range of themes, including post-Reformation Roman Catholicism; religious tolerance and intolerance; providence, miracles and the supernatural; the history of the book, the advent of printing, and the interconnections between oral, visual and written culture; religion and the landscape; the memory of the Reformation; age, ancestry and the relationship between religious and generational change. I am currently completing a monograph for OUP entitled Generations: Age, Ancestry and Memory in the English Reformations and based on the Ford Lectures in British History which I delivered at the University of Oxford in 2018. The research underpinning these was funded by a Leverhulme Major Research Fellowship for 2015-2018. I was also Principal Investigator of the AHRC collaborative project, 'Remembering the Reformation', which ran from 2016-2019 and was jointly based at the Universities of Cambridge and York.
Books
Church Papists: Catholicism, Conformity and Confessional Polemic in Early Modern England (Royal Historical Society Studies in History, 1993)
Providence in Early Modern England (Oxford University Press, 1999). Winner of the Longman-History Today Prize 2000 and the American Historical Association's Morris D. Forkosch Prize 2000.
Charitable Hatred: Tolerance and Intolerance in England 1500-1700 (Manchester UP, 2006)
The Reformation of the Landscape: Religion, Identity and Memory in Early Modern Britain and Ireland (Oxford UP, 2011). Joint winner of the Wolfson History Prize 2011; winner of the American Historical Association's Leo Gershoy Award 2011; winner of the Sixteenth Century Studies Conference Roland H. Bainton Prize 2011.
Catholic Reformation in Protestant Britain (Ashgate, 2014)
Edited Books
ed. with Julia Crick, The Uses of Script and Print 1300-1700 (Cambridge UP, 2004)
ed. with John Chynoweth and Nicholas Orme, Richard Carew, The Survey of Cornwall (Devon and Cornwall Record Society, 2004)
ed. with Peter Marshall, Angels in the Early Modern World (Cambridge UP, 2006)
ed. with E.A. Jones, Syon Abbey and its Books: Reading, Writing and Religion 1400-1700 (Boydell and Brewer, 2010)
ed. Relics and Remains, Past and Present Supplement 5 (Oxford UP, 2010)
ed. with John Doran and Charlotte Methuen, Religion and the Household, Studies in Church History 50 (Boydell and Brewer, 2014)
ed. with Liesbeth Corens and Kate Peters, The Social History of the Archive: Record Keeping in Early Modern Europe, Past and Present Supplement (Oxford, 2016)
ed. with Liesbeth Corens and Kate Peters, Archives and Information in the Early Modern World (Oxford, 2018).
ed. with Brian Cummings, Ceri Law, and Bronwyn Wallace, Memory and the English Reformation (Cambridge, 2020).
ed. with Brian Cummings, Ceri Law, and Karis Riley, Remembering the Reformation (Routledge, 2020).
For further publications see my Faculty of History webpage: https://www.hist.cam.ac.uk/directory/amw23@cam.ac.uk.
---
Subject
---
Email
---