George Archdall-Gratwicke (1787-1871)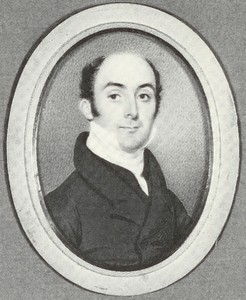 George John Archdall - he added the name Gratwicke only late in life, in 1863, by royal licence - was already about twenty-four years old when he entered Emmanuel in 1811. That he did not come earlier was due to his being interned while travelling in France, and only allowed an exit-permit (now preserved in the College) in 1810. He graduated B.A. in 1815, and in 1817 was elected a Fellow.
Little can be said of the next eighteen years, though we know that he served as Bursar, and during that time the College income showed a steady growth. He was elected Master in 1835, and there are some signs in the College order-book of the new broom, if in small matters. The repair and improvement of the Master's Lodge and outbuildings were to be expected; the College site was in 1837 tidied up by the purchase from the Cambridge Corporation of the narrow strip of land between the Fellows' Garden and Drummer Street. We find, too, enactments that junior members must be in chapel by the beginning of the Psalms; and that Fellows may not borrow MSS from the library unless by special order. More significant is an order of 1837 to take Counsel's opinion 'whether the Queen in Council or any other power short of an Act of Parliament can alter or amend any of our statutes'. The answer was apparently affirmative, and by 1844 (these things take time) a new book of statutes had been authorised by royal warrant, with the formal consent of the Baroness Le Despencer, as representative of the Founder, acting as Visitor. However, this was not a unilateral anticipation of the work of the Royal Commission of 1861. The number of the statutes is reduced from the original forty-four to thirty-four, chiefly by the omission of certain detailed provisions on discipline, and on stipends and allowances, which by lapse of time were socially or economically outmoded. The new book rationalised de facto changes, but it was concerned to preserve the status quo ante, not to look forward.
Archdall was already a man of seventy-four or so when the 1861 Commissioners brought change from outside; and one is not surprised to find, for example, that one of the new freedoms then conceded, to elect a man a Fellow although married, had no practical result until after his death.
He lived until 1871, and those who still recalled him thirty years later described him as 'a man of singular good sense, with the charm of an old-time courtesy'. It is one function of a Cambridge College to hold fast to what is good, even from a previous century.
---