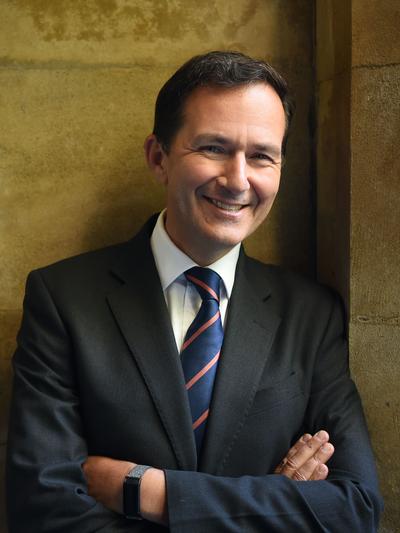 CB DSO OBE MA MPhil
Master
Doug Chalmers became the 28th Master of Emmanuel College, Cambridge on 1 October 2021. He came to the College from Whitehall where he had been the Director of Operations for the Ministry of Defence. An appointment that completed a period of Army service that began in 1984 when he enlisted as a Private Soldier in the infantry. Over those years he held a range of training, staff and command appointments while stationed in England, Wales, Scotland, Northern Ireland, Germany, Cyprus and the United States. He deployed from those bases frequently, witnessing the end of the Cold War, the breakup of Yugoslavia, a UN mission in Cambodia, 9/11 and its aftermath,the rise and fall of ISIS and a pandemic.
Over the years the Army enabled Doug to study the context behind these world events, initially through a US advanced studies programme in 1999, from which he graduated with an MA, and subsequently by taking a sabbatical to Cambridge to study International Relations, where he became a member of Trinity Hall. He was awarded an MPhil in 2007. His particular expertise, shaped by those periods of study and his personal experiences, was in understanding the causes (and perceptions) of tension, from all perspectives, and the local, regional and international political constraints that surrounded them. His service taught him that durable resolutions are hard and only come when multidisciplinary approaches align local needs and tolerances with international resources. Those experiences also made him a passionate advocate for diversityof thought, a climate of inclusion that enables challenge and the development of human potential. He believes that without those characteristics crafting and negotiating such approaches is impossible.
For operational service Doug was appointed a Member of the British Empire (MBE) in 2003, promoted to OBE in 2008 and awarded the Distinguished Service Order (DSO) in 2012. In 2016 Queen Margrethe II of Denmark made Doug a Commander First Class of the Order of the Dannebrog in recognition of welfare and charitable works conducted on behalf of her Regiment. In 2016, on exchange with the US Army, he was awarded a Legion of Merit for operational service, with a second award in 2018 for his part in delivering a range of personnel and maintenance support initiatives in Texas. In 2021 he was made a Companion of the Order of the Bath (CB) for services to Defence during the COVID pandemic.
As well as being our 28th Master, Doug sits on the management board for the University's Center for Geopolitics and is the Colonel Commandant of the British Army's Queen's Division.
Doug is married to Helen. During the MPhil they fell in love with Cambridge and made it home.
---
Email
---