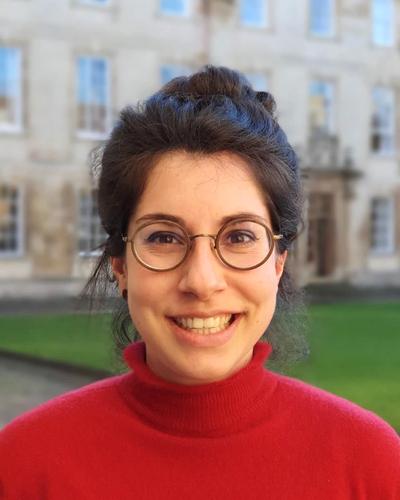 MA, PhD
Research Fellow
Teaching Associate & Affiliate Lecturer, Department of Social Anthropology
Biography
I am an anthropologist of France and of Catholicism, with a particular interest in Catholic political theology and environmentalism. I currently work as an Affiliated Lecturer and Teaching Associate at the Department of Social Anthropology. My doctoral research (Cambridge, 2020), entitled 'Caring for Our Common Home: Écologie Intégrale as Political Theology among French Catholics', was based on twelve months of fieldwork in Lyon, France, in 2016-2017.
I had previously completed two degrees at the University of Cambridge (Sidney Sussex College): the MRes in Social Anthropology from 2015-2016, and the BA in Archaeology & Anthropology from 2012-2015. Throughout, I pursued a focus on the anthropology of France; my undergraduate dissertation on cognac production in the region of Charente was awarded the Sue Benson Prize 2015.
---
Teaching Interests
Undergraduate Teaching
Paper SAN4g, Europe: Christian Europes (Lent Term 2022)
Postgraduate Teaching
Paper MP2, Systems of Power & Knowledge: The Anthropology of Religion (Lent Term 2022)
Undergraduate Supervision
Paper SAN1, Social Anthropology: The Comparative Perspective
Paper SAN2, The Foundations of Social Life
Paper SAN5, Ethical Life & the Anthropology of the Subject
Paper SAN9, Science & the Environment
Part IIB Dissertations in the anthropology of Christianity, the anthropology of Europe, and/or the anthropology of environmentalism.
---
Research
My research to date has focused on 'integral ecology', a new paradigm of Catholic political theology with growing influence in France. My PhD thesis, entitled 'Caring for Our Common Home: Ecologie Integrale as Political Theology among French Catholics', details the expanding philosophical and political legacy of Pope Francis's landmark ecological encyclical Laudato Si', contributing to the developing field of the anthropology of Catholicism. Moreover, it offers new directions in the anthropology of France, which has largely focused on the fraught relationship between the secular Republic and French Muslims: I offer a counterpoint engagement with French Catholicism, shedding light on the French bourgeoisie and its intellectual, cultural, and spiritual elites.
The term 'integral ecology', cornerstone of Pope Francis's 2015 encyclical Laudato Si': On Care for Our Common Home, indexes the synergy between climate change and global socioeconomic inequality. A political reading of Laudato Si' underpins young French Catholic intellectuals' advocacy of a holistic, environmental and human 'Common Good'. The theoretical aim of my thesis is to take seriously such 'worldly' commitments of religious actors. Building on anthropological studies of Catholicism, the ethical self-formation of religious agents, and religion in modern public spheres, I suggest political theology as a locus of anthropological and ethnographic investigation in its own right.
My interest in worldly Catholic praxis is paired with an ethnographic attentiveness to the socio-political setting of secular Republican France. I situate the rise of 'integral ecology' as an explicitly Catholic politics in the national aftermath of the 2012-2013 anti-same-sex-marriage and anti-surrogate-pregnancy protest 'La Manif Pour Tous'. Viewed by the public as a religious incursion into secular politics, it ineluctably set the stage for subsequent attempts by French Catholics to defend 'Nature', 'mankind', or any form of 'Common Home'. It is in this equivocal context that I ground my investigation of lay Catholics' efforts to combine religious, political, and philosophical epistemologies, and to develop modes of subjectivation for an 'integral ecology'.
Research interests
Europe; France; the anthropology of religion; the anthropology of politics, ethics, and activism; Republicanism and ethno-nationalism; anti-liberalism, degrowth, and subsidiarity; the anthropology of Catholicism, especially the Church Social Teaching, lay, and lapsed Catholics; secularism and public/private spheres.
---
Email
---