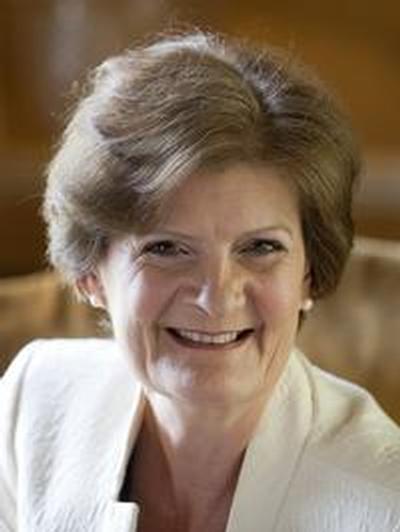 DBE, MA, MPhil
Life Fellow
Dame Fiona Reynolds DBE became Master of Emmanuel College, Cambridge in 2012. She came to the College from the National Trust, of which she has been Director-General since 2001. Her appointment there ceased at the end of 2012. Before her position with the Trust, she was Director of the Women's Unit in the Cabinet Office and was previously Director of the Council for the Protection of Rural England (now Campaign to Protect Rural England) and Secretary to the Council for National Parks.
Fiona also holds a number of non-Executive roles (see below).
Her book 'The Fight for Beauty' was published in 2016.
Fiona was appointed CBE for services to the environment and conservation in 1998. She is married with three daughters and the family home is near Cirencester. Fiona was appointed DBE in 2008.
Fiona was Master of Emmanuel from 2012, moving on to chair the National Audit Office in 2021.
At a Glance:
Born in 1958
Married with three daughters
Husband Bob Merrill is a trained teacher and works for the local charity Mindsong in Gloucestershire.
Key Dates
1958: Born in Alston, Cumbria
1969-76: Went to school in Rugby, Warwickshire
1976-79: Studied Geography and Land Economy at Cambridge University (BA Hons 1st Class)
1980-81: MPhil in Land Economy, Cambridge University
1980-87: Secretary to the Council for National Parks
1987-92: Assistant Director (Policy), Council for the Protection of Rural England (CPRE)
1992-98: Director (CPRE)
1998-2000: Director of the Women's Unit, Cabinet Office (civil service post)
2001-12: Director-General, the National Trust
2012 - 2021: Master of Emmanuel College, Cambridge
2012 - 17: Non-Executive Director of the BBC and from December 2012 Senior Independent Director of the Executive Board
2021: Chair of the National Audit Office
Non-Executive Director of Wessex Water, Chair of the Cambridge University Botanic Garden, Chair of the Green Alliance, Chair of the International National Trust Organisation, Chair of the Cathedrals Fabric Commission for England & Trustee of the Grosvenor Estate
---