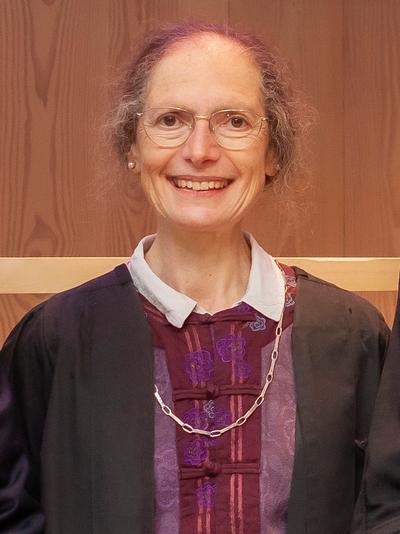 PhD, MA (Oxon & Sheff), FSA, MCLIP
Official Fellow; Member of the College Council; Fellow Librarian; Fellow Archivist; Development Director; Editor of the College Magazine; Curator of the Museum of College Life
Biography
Sarah Bendall was born in Cambridge and educated at the Perse School for Girls. She read Geography at Jesus College, Oxford, and then became a Librarian, studying for an MA in Librarianship at Sheffield University. She first came to Emmanuel in 1984, when she was appointed sub-librarian in the College Library. She also matriculated as a member of the College at that time.
After two years working in the College Library, she became a research student at Emmanuel, and carried out research into estate maps of Cambridgeshire. She was awarded a PhD in 1989 and was elected into a research fellowship at Emmanuel from October 1988. From 1991 to 1994 she was a supernumerary fellow, working first on a history of the College and then on a new catalogue of the College's special collection of the Library of William Sancroft, Archbishop of Canterbury. She was College Archivist from 1989 to 1994, and edited the College Magazine between 1991 and 1994.
In 1994, she became a Senior Research Fellow and Librarian at Merton College, Oxford, and was also the Archivist there from 1995. In September 2000, she returned to Emmanuel as Fellow and Development Director. She is also Fellow Librarian, Fellow Archivist and Curator of the Douglas Finlay Museum of College Life.
She is a keen amateur cellist and spends much of her leisure time playing and listening to classical music.
---
Research
As time permits, she continues to pursue her research interests in the history of cartography, a field in which she has several publications, including Maps, Land and Society: a History, with a Carto-Bibliography of Cambridgeshire Estate Maps c.1600-1836 (Cambridge University Press, 1992) and Dictionary of Land Surveyors and Local Map-Makers of Great Britain and Ireland, 1530-1850 (British Library, 1997).
She is also interested in college history, and was one of the three authors of A History of Emmanuel College Cambridge (Boydell Press, 1999). She is currently part of a team that is writing a history of Trinity College and is contributing chapters about the history of that college's estates. She is Treasurer of the J B Harley Research Fellowships Trust and Secretary of the Cambridgeshire Records Society.
---
Email
---