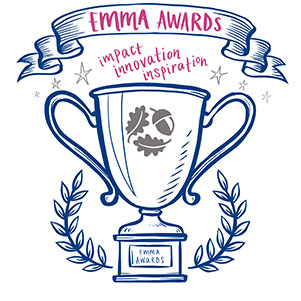 Our Emma Awards celebrated members who embody the spirit of all things Emma, whether that be impact, innovation or inspiration. All of the nominations were submitted by Emma members, and our eventual winners were voted for by the Emmanuel community. We announced the winners as part of our Emma enables launch on 26 June, but you can also read their statements, along with all the nominees and their inspiring stories below.
Winners
Emma Impact - Michelle Still (1982) - "Thank you so much to all who voted for me. I am both surprised and touched by this. I was so impressed by the other nominees, many doing so much to help the current cohort of students in difficult times, but I am very happy to receive the award with my joint winner. My time at Emmanuel transformed my path through life, from the inspirational role models of my tutors and the career opportunities it opened up for me, to the lifelong friends and husband it introduced me to. Thank you for then and now."
Alan Baker (1970) - ""I am flattered to have been voted a joint-winner of the Emma Impact Award. I had the good fortune to be elected in 1970 as Emmanuel's first Fellow in Geography. For me, Emma has been and is a vibrant, cultural, community, an extended family. I have relished seeing the college reach out to embrace excluded groups: witness our decisions in the 1970s to admit women and in the 1980s to rely on national examinations instead of the Cambridge Colleges' Examination when assessing applicants for admission, and the strenuous efforts made - and still being made - to encourage applications from all kinds of schools and from all parts of the country. Today, Emma also strives to include: more post-doctoral researchers as college members. For more than half-a-century, Emmanuel has been one of my three loves - the others being (as this is not a Bobby Seagull quiz, no guessing or calculating required) Sandra, my wife, and the historical geography of France."
Emma Innovation - Paul Fellows (1979) - "I'm especially pleased to receive this Emma Innovation Award as it comes with the knowledge that it was voted for by the membership of College whose support and recognition means a lot to me!"
Emma Inspiration - Janet Gough (1980) - "Gosh, well this was a delightful surprise – and thank you to whoever nominated me and all those who supported me. I'm so pleased to be part of the Emma Enables development campaign, and equally as a long-term advocate for historic church buildings, to raise awareness of the joys, history and usefulness of our cathedrals and church buildings.Church of England churches represents 45% of England's Grade 1 listed built heritage and they're close to all of us – not just concentrated in London and other cities. Churches are also vital and fantastic social centres– my own church counted 14 activities last month from Alcoholics Anonymous meetings to practice space for Holland Park Opera that take place regularly outside services in our church. And yet unlike museums and other heritage buildings, historic churches receive no regular government or central funding. I hope in current circumstances many more people this year will visit and be welcomed by the UK's cathedrals and churches, jewels in the crown of Europe's built heritage and oozing local and national history."
---
Emma Impact
This award celebrates members who made a real impact on the Emma community, whether they were an influential ECSU president, a student activist who changed College life, or a trailblazer who led the way in social progress.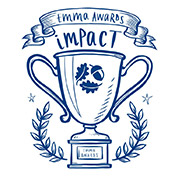 Sandy McCleery (2013) - "Sandy raised the standards of college rugby, by inviting distinguished Emma members to come back and coach them. The results led to our winning Cuppers in 2015 / 16. "
Simon Church (1982) - "Simon was Boat Club captain in the early 1980s. He died tragically young but the enthusiasm he put into the Boat Club laid the foundations for the success it enjoys today."
Grace Clements (2002) - "Grace encouraged many of her contemporaries to get involved in athletics, so much so that we won Cuppers because we had so many points, bringing into the 2000s a reminder of the long string of wins we'd had in the 1960s and 1970s."

Michelle Still (1982)

-

"Michelle became ECSU's second woman president in 1983, when the college had been mixed for less than half a decade. Her election confirmed that the student body was evolving in positive ways; she was in office for the quatercentenary & met the Queen on her visit to Emmanuel in 1984. For a girl from a state school in Gloucestershire with no family history of university attendance, she fulfilled her responsibilities with great aplomb & helped normalise women holding office in college organisations. She was, as she herself has said, an inadvertent pioneer, & got on with the job with enthusiastic good grace."

Maurits Bogaards (2020) -

"Maurits served as welfare officer for the MCR throughout the pandemic. Working hard to provide new ways of supporting one-another and raising the profile of mental health in college, he innovated on distanced check-ins and new resources to deal with lockdown and isolation. Changing the way welfare is provided at Emma, he deserves to be nominated for the individual attention he brought to students and lasting impact in caring for the graduate community!"

Miranda (Master's cat) - "Miranda plays a big part in college life. She's to be found in the Porters' Lodge, in students' rooms, in the laundry, in the gardens. She brings joy to all and makes Emma feel homely. Cares disappear when stroking her or hearing her purr.

Cath Churchill (2019)

-

"As Women's Officer she made period products available in all college bathrooms. It sounds small, but it has had a real impact for menstruating students in college."

Callum Mantell (2011) -

"Callum deserves to be recognised for the significant time, energy and commitment he has given to EBC over the past 10 years. He was a very successful Captain in 2017, seeing both men's and women's first boats get blades in May Bumps, and he has been on the committee for 8 out of the last 10 years including keeping alumni well-connected as Member Relations Officer. Callum also gives a huge amount of time to coaching on top of coxing, helping others to get the most out of rowing too. The Boat Club wouldn't be the same today without Callum's work over the past 10 years and such a high level of commitment merits celebration!"

Clem Edwards (2008) -

"Brought incredible enthusiasm, energy and commitment to the role of Welfare Officer on ECSU, dedicating herself to improving student wellbeing and introducing the incredible exam-term tea and cake sessions in the bar!"

Charlotte McGuire (2019) -

"She's the nicest, most considerate President! Has done so much for ECSU and for the college, and spent so much time and effort into making the community better above and beyond her responsibilities as Pres (Pay it Forward, ballotting surveys etc.)"

David Sprague (

1971

) -

"Services to rowing and the College Boat Club. Rowed for the University, Captain of boats and coached more than a generation of College rowers."

Alex Mistlin (2015) -

"Alex has already made a big impact as a journalist at the Guardian. He has written compellingly on a number of subjects, including race, the politics of the North, and the politics of place. He now reports from Manchester, where he is shining a light on communities and issues that have too long stayed out of the national press."

Freddie Davidson (2016) -

"Freddie was selected to row for Cambridge in the Boat Race during his first year as an undergraduate – a truly remarkable achievement! He also helped Emma to win blades in the May bumps – fittingly this was in the 'Spirit of '56 ' boat, donated to mark 60 years since the 1956 team won blades."

Pete Twitchett -

"As boatman of EBC for 13 years and counting, Pete has supported countless students. His impact extends far beyond rowing; Pete is always there with a word of advice and a cup of tea. He's been a friend and a rock to so many and the reason why EBC remains a family for all sorts of people, far beyond their time at Emma."

Alan Baker (1970) -

"Alan Baker was Senior Tutor during my time at Emma, while I was active in ECSU and other areas of college life. He and I coordinated our presence at meetings of the governing body, helping to overcome potential conflict between undergraduates and certain fellows. He was very supportive of me when I changed my tripos midstream and we remained good friends following my graduation. He visited us in Belgium for a judo competition between our local club and the CU team. I believe he knew how to deal with college politics as he did local politics in Cambridge and inspired many like me."
---
Emma Innovation
This award celebrates members who have shown a real innovative spirit, during their time at Emma or beyond. It could be someone who has gone on to great things in science, technology or sustainability, or something more light-hearted, such as a friend who's always inventing something, or a particularly notable entry to the Cardboard Boat Race.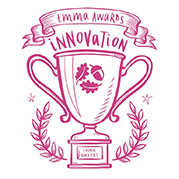 Emma McIlroy (2002) -

"Emma founded Wildfang, a feminist clothing line which combats gender-stereotyping, uses models of 3 different sizes in their shoots, and gives big sums away each year to organisations supporting human rights, reproductive rights and immigrants' rights. Emma has also given a hugely inspiring TED talk and is focused on using her entrepreneurial spirit for good."

Paul Fellows (1979) -

"Paul has been a major force in the high tech scene in Cambridge and the world. He created the RiscOS operating system for the ARM processor which is still a popular choice for use on the Rasberry Pi today. He pioneered Internet TV as CTO of Amino, floated on aim for > £100m and also the "Internet of things" through his work at Alertme (bought as Hive by British Gas for >£60m). In spare time he runs the Cambridge Astronomical Association and has lead the public observing evenings at the University observatories."

Daniel Morgenthau (2003) -

"Daniel's Portland Restaurant opened in London in 2015 and won a Michelin star within 8 months of opening; it has retained it ever since. He's had a tough year, but he has three restaurants open for business again now."

Joe Shaw (2007) -

"Joe co-founded Sing Inside, a charity that runs singing workshops in prisons, building confidence, breaking down social stigma and creating and strengthening communities."
---
Emma Inspiration
This award celebrates members who inspire others through their embodiment of the spirit of all things Emma, whether through inspirational community work, or simply an act of kindness or friendship.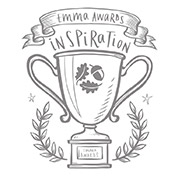 Anthony Newman (1991) -

"Anthony founded Ape2o, an anti-plastic-bottle water company which provides a network of public water vending machines that use micro-filtration and UV light to purify mains water for a 25p contactless payment; they also offer 100% plastic-free, steel refillable bottles; and a promise to use 10% of all topline sales to fund ocean, beach and river clean ups and anti-plastic education projects. Anthony is using an innovative spirit for the benefit of the environment, making it easier and more convenient for us to act in an environmentally-friendly way."

Janet Gough (1980) - Janet has become the leading expert in the cathedrals and churches of England having first worked for the Church of England and then written books and lecturing on the subject. She has even delivered a lecture over lockdown to the Emmanuel Society! I could write more but think how she inspires can be seen by looking at her website https://janet-gough.com/ .
Keith Sumption (1978) - "Keith lead the One Health programme to prevent zoonotic pandemics and strengthen animal health across the UN system, and as first British Chief Veterinary Officer in the UN system. It was travelling in Africa as student at Emma that first made Keith believe that international service was where he was most needed."

Henrietta Hill (1991)

- "Henri is an incredibly inspiring QC who has spent her career in human rights law, entering the field at a time when it was a niche and new area. She has represented the families of 22 of those who lost their lives in the Hillsborough disaster as well as Jean Charles de Menezes. She's an expert in discrimination law and representing those who have been wrongly convicted and imprisoned. She is a lawyer at the highest level while also raising a family and getting involved in amazing projects on the side. For example, Henri organised a 'Corona Quilt' project to bring the community together during the pandemic. I don't know how she has time for all of this but it's certainly inspiring!"
Ian Reynolds (1961) - There was a week's donation period each year for blood donation and the college giving the most pints got a barrel of beer. As Trinity is the largest college they invariably won. Ian first donated in 1963 after a conversation at lunch with two athletic sorts - rowing, rugby etc. One said "I am not going to give blood; I have an experiment to do in the lab. It is not that I am afraid." His friend replied, "No, I have an essay to write this afternoon." Ian thought they are both afraid and so am I, so I will go this afternoon. He has now given 140 pints! Ian describes this as perhaps his greatest achievement from Emma.
Jill Attenborough (1985) -

"Jill is CEO of The Country Trust, which makes it possible for hundreds of volunteer farmers and landowners to welcome thousands of disadvantaged young children from all backgrounds and faiths onto their farms to share their passion for food, farming and the countryside."

Devon Curtis (2007) -

"Devon is an inspiration to one and all, whose tireless devotion to African politics is something we should all wish to emulate."

Dr Stephen Barclay (2014) -

"Dr Barclay is the kindest, most caring member of staff at Cambridge University. He's a bit of a legend, and an all-round inspirational man."

Alfie Eltis (2019) -

"Has a genuine friendliness towards everyone."

David Collinson (1984) - "David founded the Wild Wheelchairs Project, which has built a much-needed wheelchair manufacturing facility in Ethiopia as well as enabling amputees to climb mountains and participate in other incredible feats."

Amy Cragg (2015)

-

"Amy was the college's access officer during her stint on ECSU and has continued to display her commitment to widening access to higher education in her role as a teacher at Ark Globe academy in Elephant and Castle, South London as part Teach First."

Peter Samuelson (1970) - "Peter and his cousin, actress Emma Samms, founded the Starlight Children's Foundation

bringing entertainment and technology to children in hospitals. Merging with the Starbright Foundation, also founded by Peter - the Starlight Starbright Children's Foundation

reached 1.5 million UK children in 2019/20.

Peter's newest charity - First Star Scholars brings hope and stability to young people in care in their quest for higher Education –only 6% of care leavers enter HE – the programme guides scholars through GCSEs and A' levels, filling educational gaps, providing support, stability and most importantly - aspiration – often missing from the lives of those in care."