15 December 2022

During the First World War, the college's Acting Senior Tutor, Philip Worsley ('PW') Wood, kept in touch with as many serving Emmanuel men as possible. Their letters and greetings cards to him are preserved in the college archives, with other WWI material.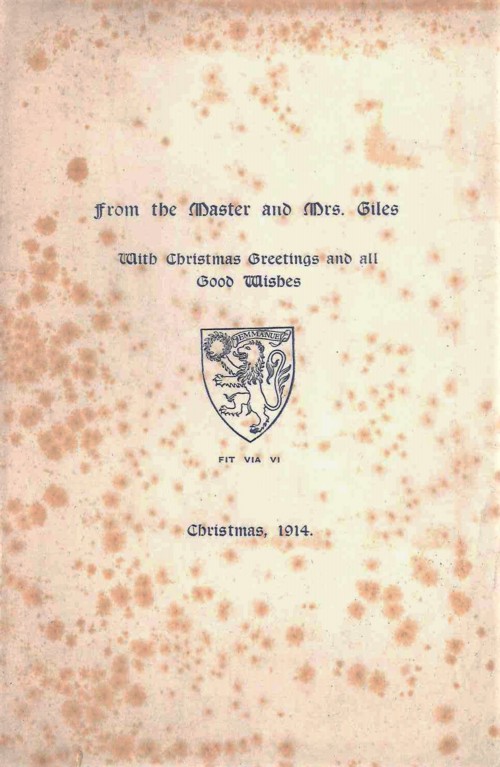 The college Christmas card, 1914
The official 1914 Christmas card sent out by the Master, Dr Peter Giles, and his wife, Mary, included a printed war list of Emma combatants. It was a lengthy list, as there had been a great deal of enthusiastic enlistment, resulting in the college being much emptier by Christmas than it had been at the beginning of Michaelmas term. The Giles's only son, Alan (not an Emma student), had shot off to London the morning after war was declared, in order to join the army. By December 1914, however, the rising number of casualties and the dawning realisation that the war was not, as predicted, going to be over in a few weeks, had had a profound effect on the nation's mood. The austere appearance of the Master's Christmas card reflects this change.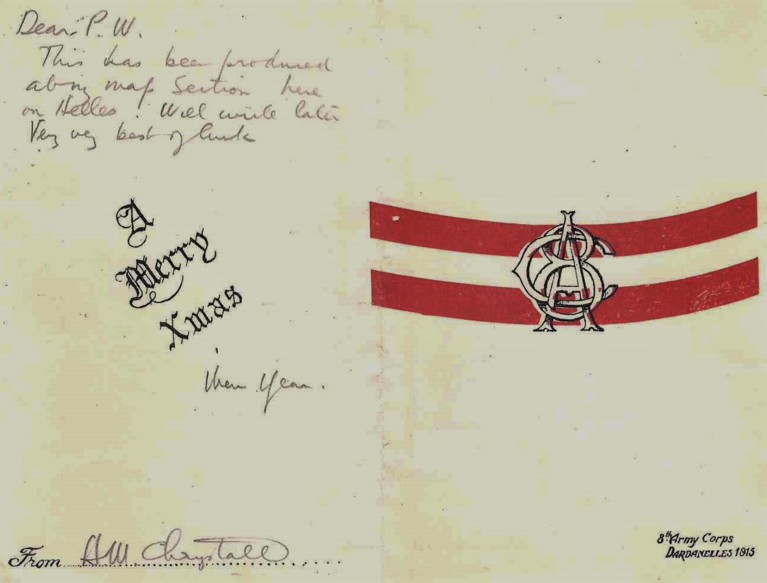 Christmas card sent by Harvey Chrystall in 1915
A year later the mood was even grimmer. Harvey Chrystall (1909), a New Zealander, was attached to the 8th Army Corps, and saw action in Gallipoli. The Christmas card he sent to PW in 1915 had been produced by the map section of the 8th Army Corps, to which he had been attached. A cartoon inside the card alluded to the battles of Krithia and Achi Baba. Shortly after sending the card, Chrystall suffered a severe trauma when 'a shell burst close to him at Cape Helles'. Invalided to England, his convalescence was agonisingly slow, as detailed in his mother's letters to PW, but he did eventually recover.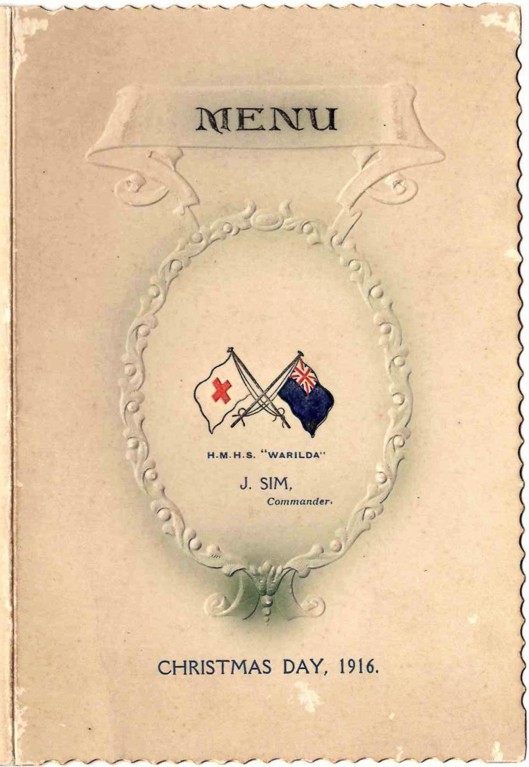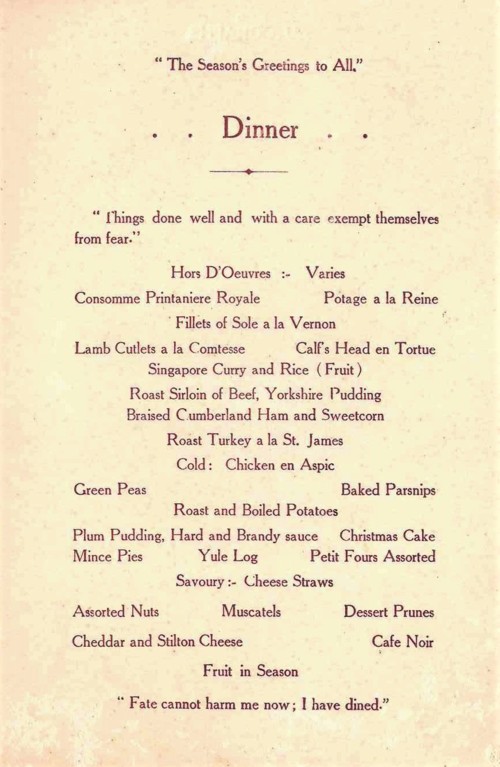 Christmas Dinner menu, HMHS Warilda, 1916
Another of PW's regular correspondents was Edward Welbourne (1912), later a fellow and master of Emma. After graduating in 1915 he joined the Durham Light Infantry, and in an attack on the German trenches on 26 November 1916, probably near Ypres, his leg was badly wounded. He later received the Military Cross for his part in this action. After a month in a French hospital, Welbourne was invalided home, informing PW that he spent Christmas Day partly on a hospital train, and partly on 'a boat in Havre, a boat on which I fared sumptuously and yet quietly'. The 'boat' was in fact a hospital ship, the ill-fated HMHS Warilda, later torpedoed and sunk by a German submarine. Welbourne preserved the ship's Christmas dinner menu card. The bill of fare certainly does seem astonishingly lavish, especially bearing in mind that many of the wounded would not have had much of an appetite.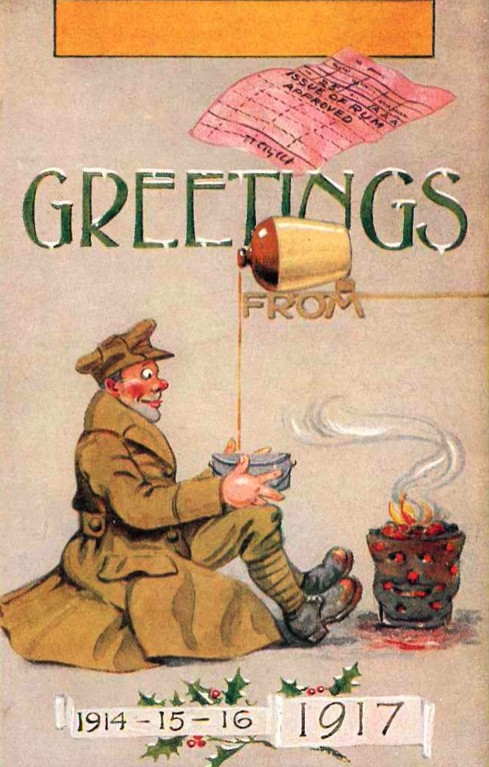 Military Christmas card collected by T S Hele, 1917
Welbourne's immediate predecessor as master of Emmanuel had been Thomas Shirley Hele, who served in that office 1935-50. A medical student at Emma, Hele had qualified in 1907 and was elected a fellow in 1911. During the war he served with the Royal Army Medical Corps, passing the last two years of the conflict near Salonika. Throughout his overseas service he wrote long, vivid and semi-legible letters to his wife and family, later pasting them into scrapbooks along with other war mementoes. These included postcards, some of which were special 'military' ones designed to be sent as Christmas cards. The 1917 postcard shown here had no doubt been enclosed in one of Hele's letters home, as it does not bear any message.
Amanda Goode, College Archivist
Back to All Blog Posts