15 December 2022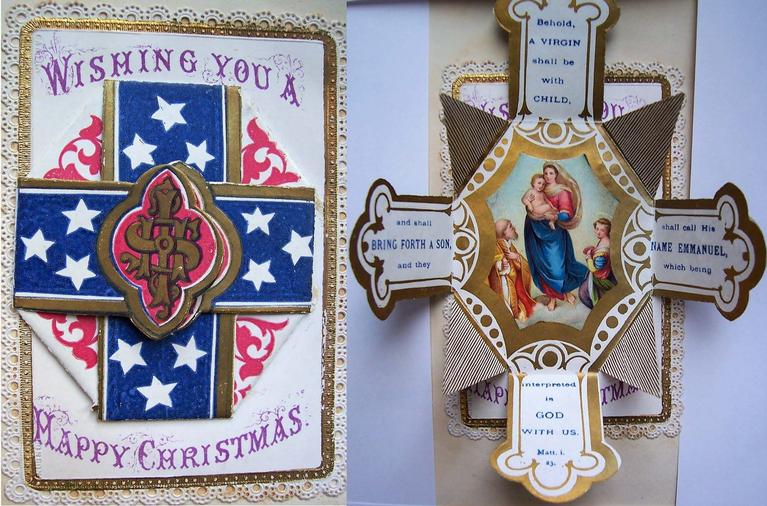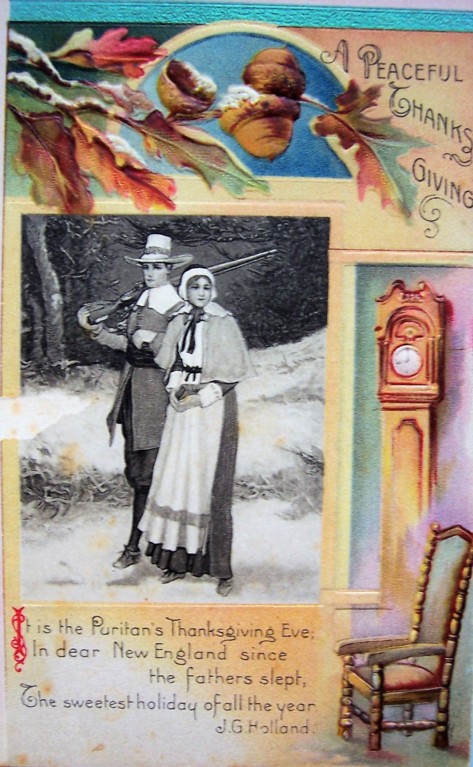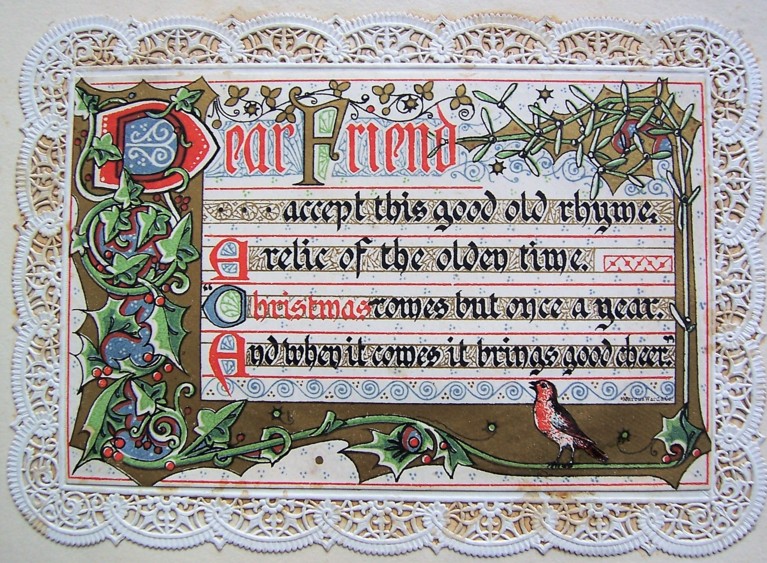 One unusual message for 'A Merry Christmas' is in the form of a fan – perhaps for a Christmas dance – with a text declaring 'Dance beneath the bough … Christmas makes us glad … Who would dare be sad?'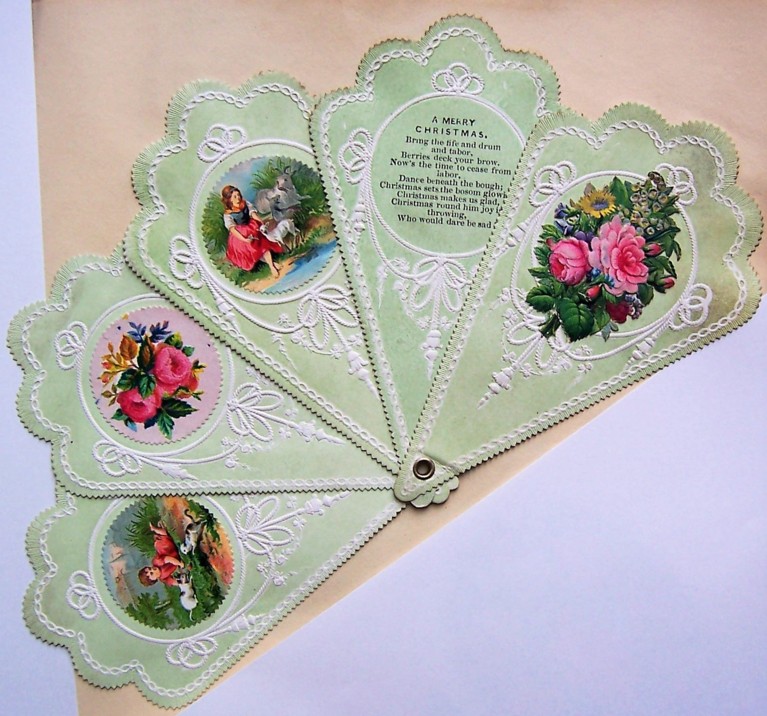 Decoration of the fan, not with holly and snow-scenes, but with the lush flowers of summer and sentimental depictions of small children, is characteristic of the decorative themes of Victorian Christmas and New Year cards.
To a modern eye it appears strange that greeting cards sent at Christmas and New Year should feature roses and other summer flowers hard to find in the middle of a nineteenth-century winter.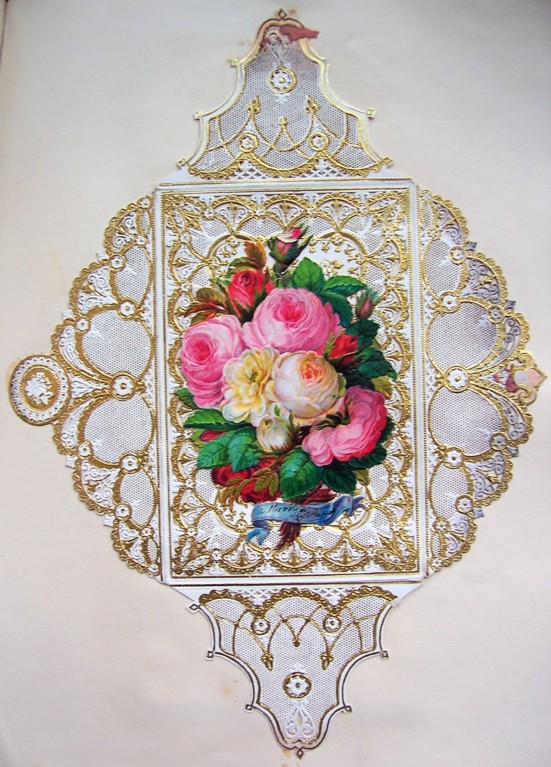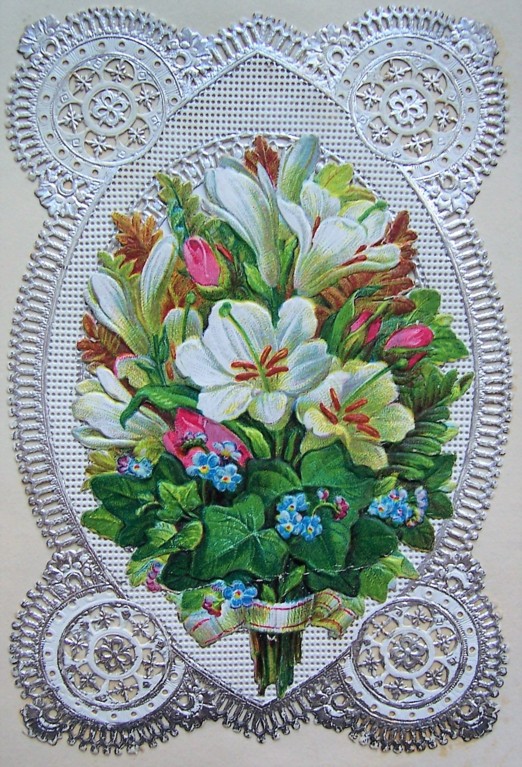 But this, it seems, was precisely the point, as one card in the collection makes explicit.
Rather than dwell on the snows of New Year 1870 as one card does, another card wishes its recipient a Merry Christmas with a picture of exotic orchids, ladybirds and a purple hair-streak butterfly, adding in the text: 'Our gorgeous early blooms are from a greenhouse home, | Till our own flowers and butterflies shall come'. Bringing cheer at mid-winter is the prospect of summer's return.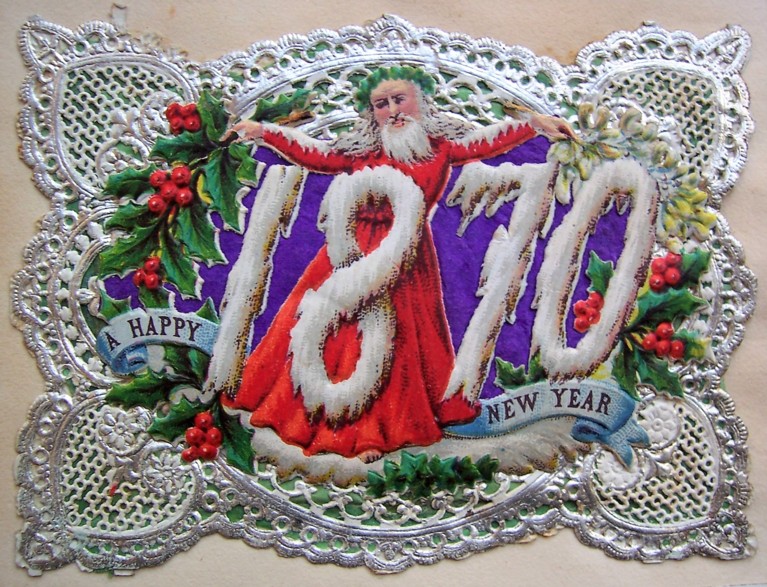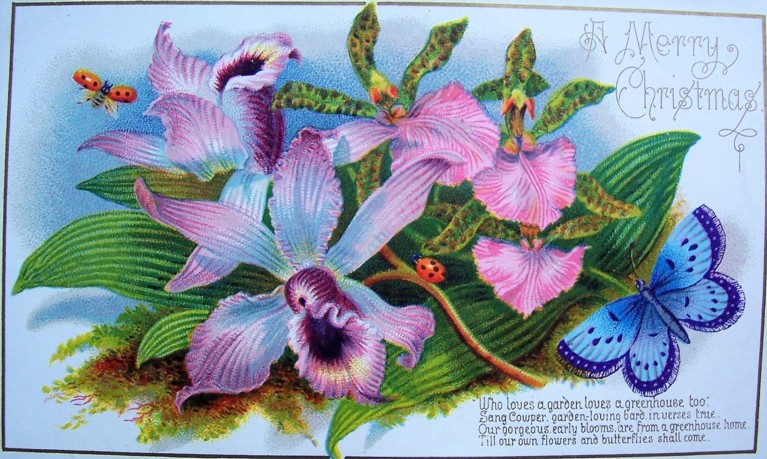 With some cards, the focus is upon a piece of improving text in verse about the season. One New Year message, surrounded by flowers, urges 'Let us model our spirit to chance and change', which sounds very distant from our age of health and safety.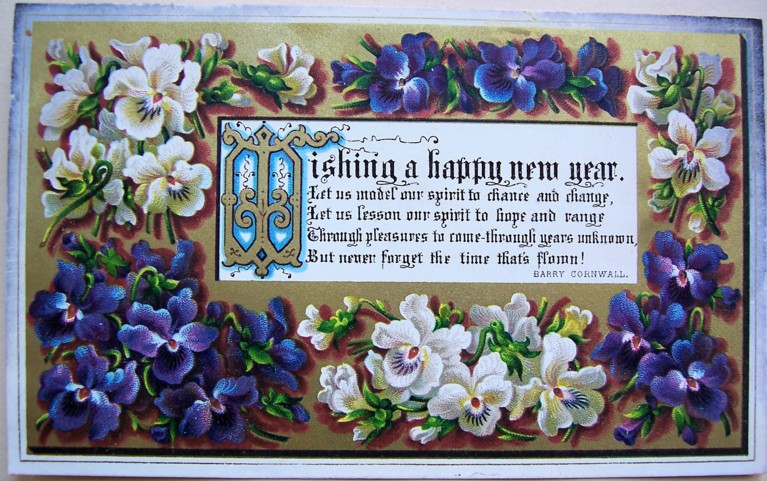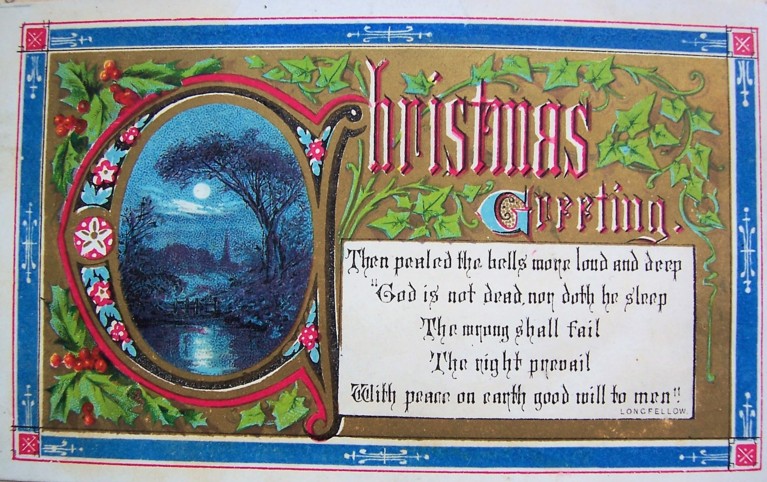 The distinctly un-Christmassy card features stern lines by Longfellow set against a wintry moonlight scene: 'God is not dead, | Nor doth he sleep. | The wrong shall fail, | The right prevail'. One to tuck behind the aspidistra, perhaps. But, on the whole, the taste of those who sent this particular selection of cards noticeably avoids pious references to the religious significance of Christmas.
Some cards summon up the season with saccharine images of small children at play.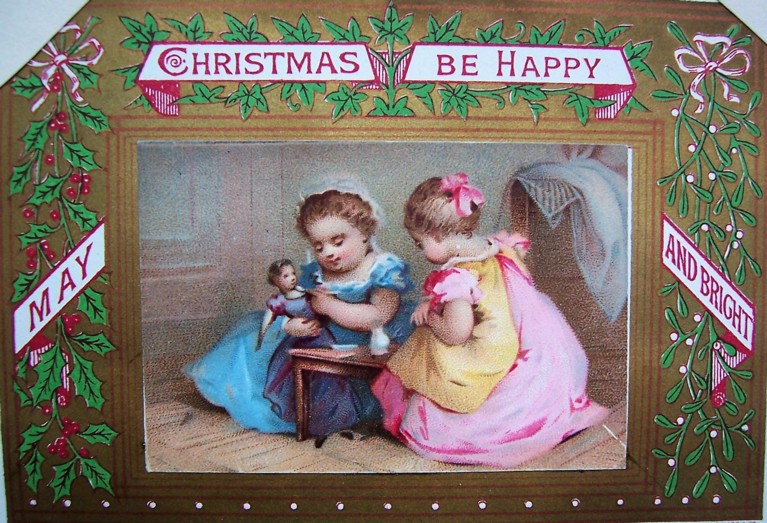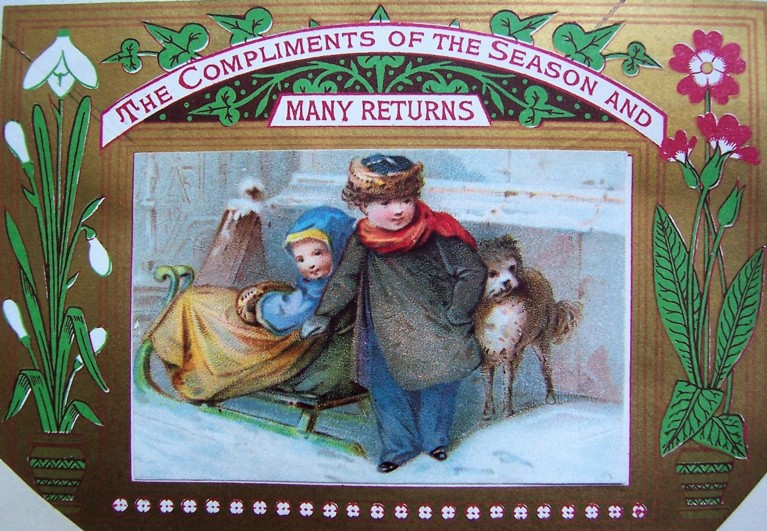 New Year cards often include a wish for 'Many Happy Returns', a sentiment later more common on birthday cards.
One New Year's card shows rather older children gazing seriously out of the picture and into the future, once again framed by a lush wreath of summer flowers.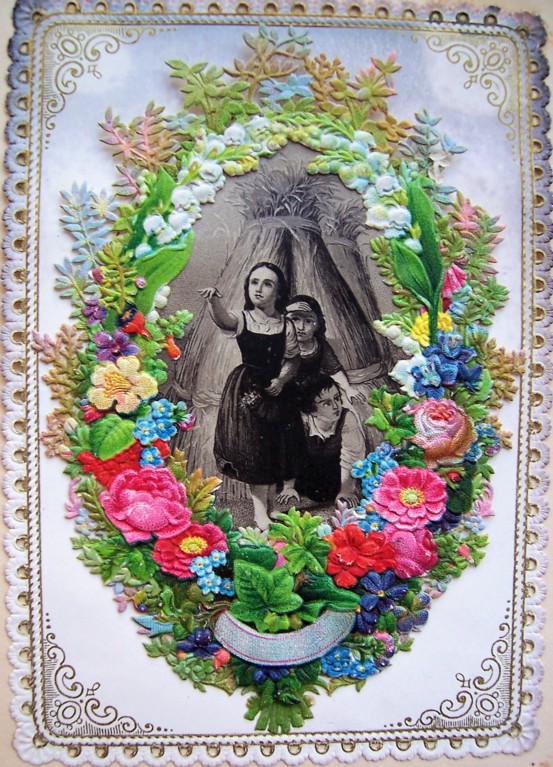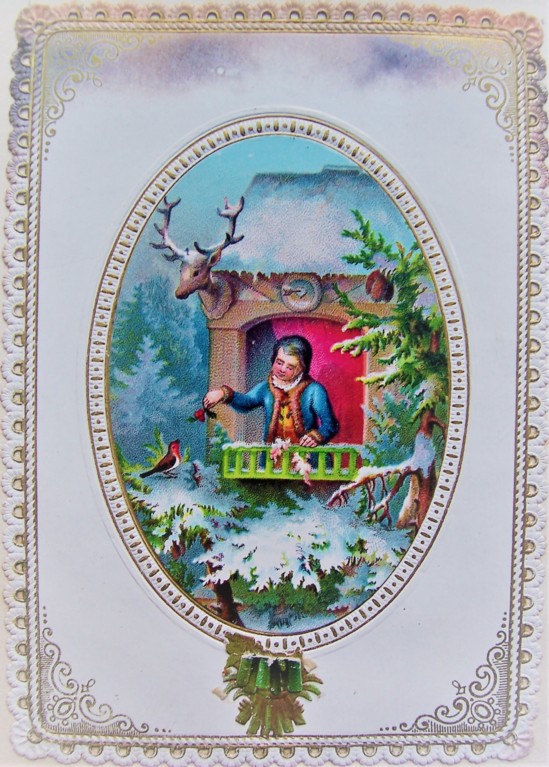 This rather mysterious Christmas card shows a young man on a balcony surrounded by items that probably carry coded meanings. A reindeer's antlered head is fixed to the outside of the building, and above the man's head is a small masonry heart pierced by an arrow, while the whole scene is filled with snowy pines, so perhaps 'the dear – heart – pines'? Pine cones are invested with multiple symbolic meanings, but one possibly meaning is secrecy. Three pine cones hang to the right, and the man holds out three holly berries to a robin, but why? (Victorian postmen wore red uniforms and were known as 'robins'). This is apparently a Christmas card for a lover to send, where not all may be as it seems.
We wish all our readers a Merry Christmas and a very Happy New Year!
Barry Windeatt (Keeper of Rare Books)
Images by Helen Carron (College Librarian)
Back to All Blog Posts