19 April 2022

April has been and nearly gone in a flash! The weather has been mixed: some sun, some rain and most definitely some more strong winds. On the whole, though, a dry start to the spring. In the garden this month, the gardening team have continued to revive the Paddock to its former glory. It has required watering during the dry spells, but overall is looking quite a bit greener since my last report.
The magnolia looked fabulous by the Jester, but the petals were hit by a succession of frosts, followed by very strong winds, and so its glory was far too short–lived this year. Elsewhere, the blossom has looked amazing. The cherry trees around the Paddock and the Malus 'Rudolf' in the Fellows' Garden has been pretty. The gardeners have been busy dead–heading the daffodils on the Paddock meadows, to ensure things look good this year and provide enough energy for the flowers for next. We were extremely pleased with the daffodil extension around the Medlar tree in the Fellows' Garden. It worked well for year one.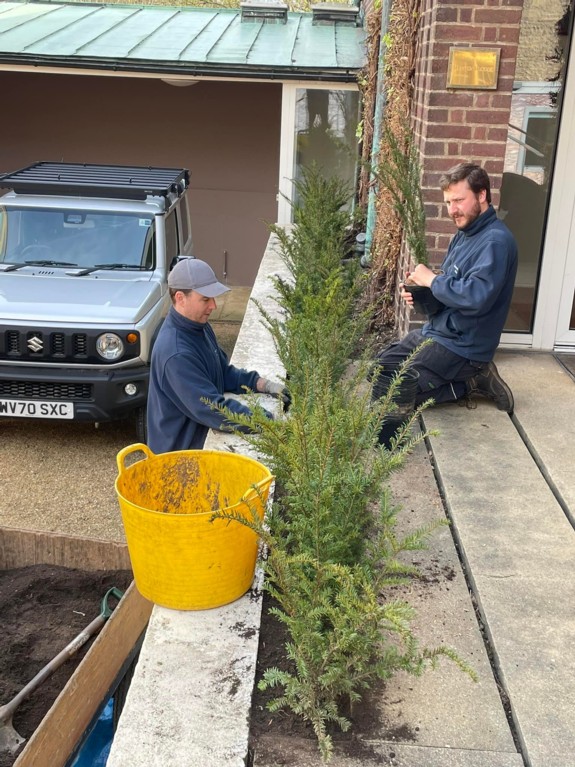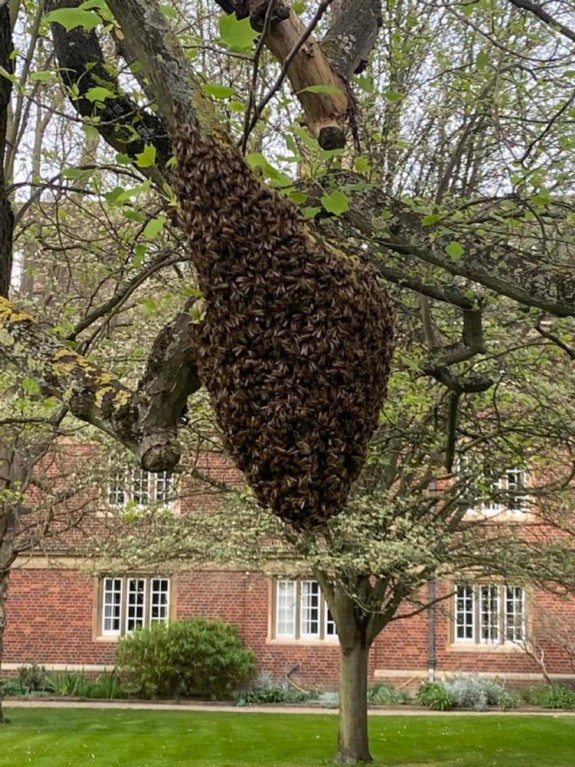 This month's projects included the planting of three espalier apple trees down at the Boathouse. These were planted and attached to training wires, to help with the formal framework. These should be heavy cropping once established.
We also installed a new yew hedge as part of new planting at the Master's Lodge (L: Jon and Doug planting the hedge). Once established, the neatly clipped hedge should add to the architecture of the house, mirroring its clean and crisp lines. We have also added planting around the Master's pond, which we reconstructed over the winter. In the recent warmer weather around the bank holiday, bee swarms could be found around the gardens (Above L: Bee swarm in Chapman's Garden). These were dealt with promptly by the local beekeeper.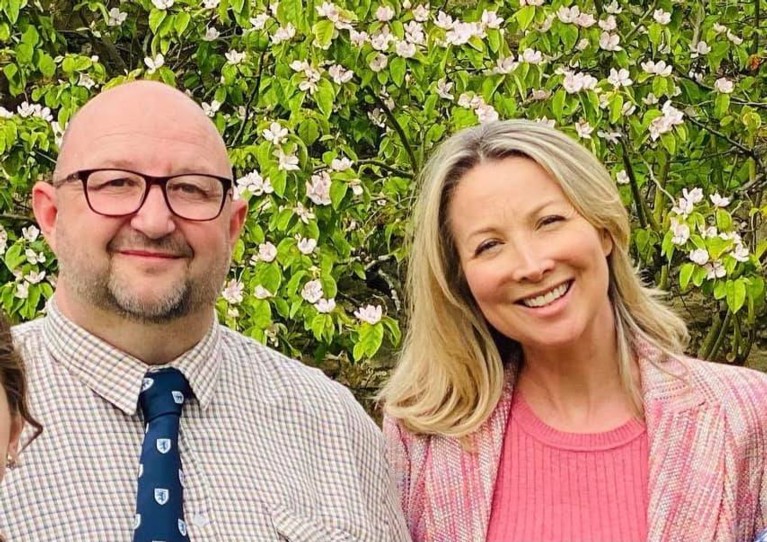 Lastly, we have to talk about some special visitors to the garden. It's not every day that I am contacted by an RHS gold medal garden designer, TV presenter, model and actress. I had the great pleasure of showing Kate Durr and her family around the gardens, as she was in Cambridge and had heard such wonderful things about the Emmanuel gardens (L: Brendon with Kate). She brought her husband—actor Jason Durr—along for the tour as well. You may know Jason from the theatre, or acting on our television screens in Heartbeat and Casualty. All in all, a pleasant time to be around the garden.
Brendon Sims (Head Gardener)
Back to All Blog Posts