22 March 2022

As I sit and write this update, the sun is gloriously shining and spring is most definitely here. The spring bulbs are in full bloom, and the herbaceous plants are awakening. The College grounds seem lush and full of life and there is an optimism of what is to come.
It has been an extremely busy time in the garden department: preparing the gardens, and getting things neat and tidy from the winter period. Lawns have been striped, hedges sharpened, edges edged, and seeds sown in the glasshouse.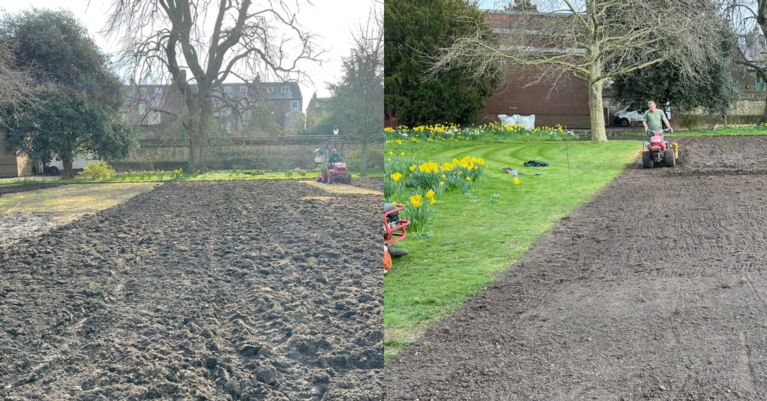 The major project this month has been the repair and seeding of the Paddock (L). The Paddock had been severely damaged by this winter's construction work, and the tennis court levels badly affected. Contractors were employed to prepare the vast area, and they expertly worked tirelessly to get the area neat and level once more. It has now been seeded and in the hands of the gods to grow. It shouldn't take long—if the weather is kind—to be back to grass soon.
The garden department also has some tremendous news. I encouraged my staff who were eligible to enter the 'Young Horticulturist of the Year' Competition. This is a competition to test the talents of the country's greatest horticultural minds. Douglas Day and Jonathan Strauss (Below L) both got through to the Eastern Regional Finals held at Somerleyton Hall in Suffolk. This in itself is a huge achievement for the pair, placing them in the top 64 in the country.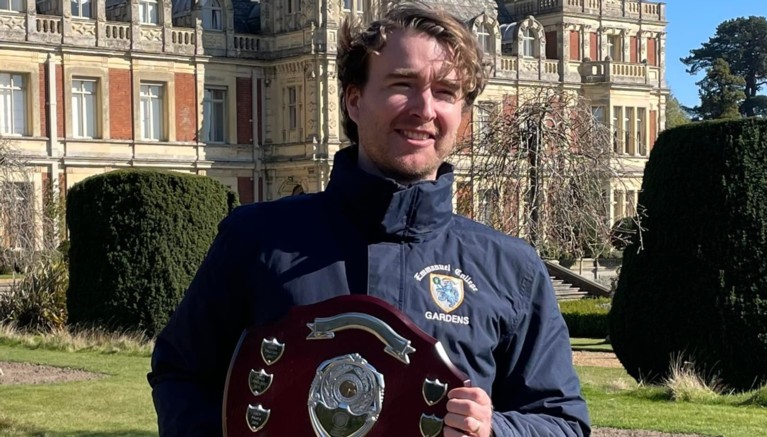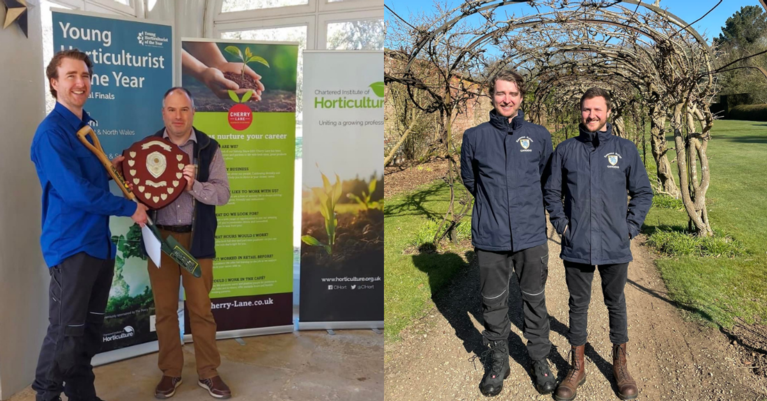 In a final that was packed with extreme talent, Jonathan Strauss went on to win the Eastern region final (Above R). Jonathan now will compete in the Grand Final, held at the University of Warwick on 7 May. The garden department and I are extremely proud of both lads!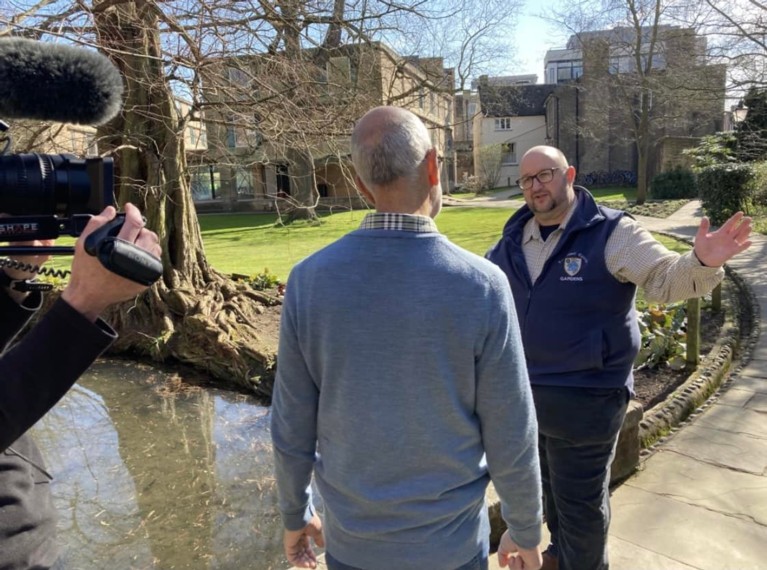 Finally, the news continues. Last week, Emmanuel had the film crews in. Tony Eva from Cambs Climate is making a documentary film about Hobson's Conduit. The film crew spent the day in glorious sunshine, interviewing me (R), and filming our wonderful grounds. The film crew were extremely impressed with the beauty that the gardens had to offer. The film is likely to be completed towards the end of the year, and will be released in film festivals and arts cinema releases. There was even talk of Netflix!
Brendon Sims (Head Gardener)
Back to All Blog Posts