8 March 2022

Emmanuel College is fortunate in possessing a fine collection of heraldic stained glass panels, the most prominent being the shields set into the bay windows of the Hall.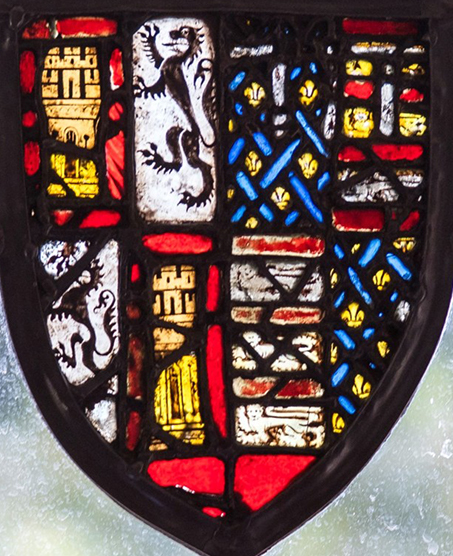 These comprise twelve Victorian roundels commemorating college benefactors, and four Elizabethan oval panels showing the coats of arms of members of the Founder's (Mildmay) family.
Less familiar, perhaps, are the five smaller glass panels displayed in a nearby room, three of which were collected by an eighteenth–century Master of the college, Richard Farmer, the other two being gifts from old members. Although all five are of antiquarian interest, one is of exceptional historical importance and has had, moreover, a truly adventurous history, having twice (arguably thrice) come within a whisker of annihilation.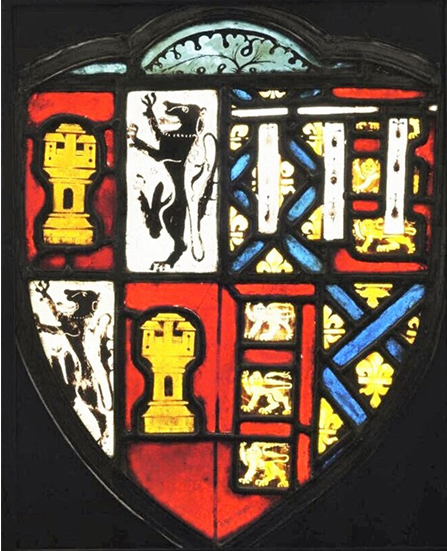 The panel in question (Plate 1—L: Emmanuel's John of Gaunt glass panel) depicts the escutcheon of John of Gaunt, fourth son of Edward III and founder of the house of Lancaster. The shield shows the royal arms of England (three golden lions passant) quartering those of France (golden fleur–de–lis), impaling the arms of the royal house of Castile and Leon (a golden castle and a purple lion rampant, respectively). This configuration dates the glass to between 1372 and 1387, the period in which Gaunt was laying claim to the kingship of Castile and Leon in right of his wife, Constanza. There are few surviving contemporary representations of this particular version of Gaunt's arms, especially in stained glass, but Emma's shield is not quite unique, for another example is held in the Victoria & Albert Museum (Plate 2—Above R: Shield in the V&A, originally from Horace Walpole's collection at Strawberry Hill). A comparison of the two panels shows that the V&A glass is in rather better condition, but given our shield's chequered career, this is hardly surprising.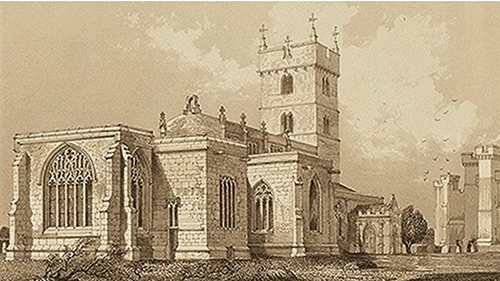 Emma's panel was originally made for a window in the parish church of Brancepeth, County Durham (Plate 3—L: St Brandon's, Brancepeth in 1843, with the chancel in the foreground). It has been suggested that it was set up by John, Lord Neville—owner of Brancepeth Castle—to commemorate the years he served as a soldier with Gaunt in Spain, but it is perhaps more likely that its presence was due to Gaunt's owning the Brancepeth advowson (the right to appoint a clergyman to a parish) between about 1372 and 1397.
If so, the panel could have been installed either on the orders of Gaunt himself, or by a grateful priest who had received the nomination. Having survived unscathed the various bouts of iconoclasm perpetrated in the sixteenth and seventeenth centuries, it is ironic that the shield subsequently faced destruction during a Victorian church restoration scheme. Its near–miraculous survival was due to the quick thinking of a sharp–eyed young man named James Francis Hodgson.
Recalling the event many years later, Hodgson, who was by then a Revd Dr and the vicar of Witton–le–Wear, Co. Durham, wrote: 'This exceedingly precious, national, historical, and local relic was rescued by myself from [the] vestry floor of Brancepeth Church, about 70 years ago. It was embedded in a thick coat of skinny brown paint and evidently doomed to a swift and thorough destruction'. Dr Hodgson believed that the shield had originally been displayed in one of the northern windows of the chancel, 'from which the restorers had removed all the tracery', and if his recollections are accurate, his timely intervention must have occurred in 1850 or thereabouts, for he died in 1922, aged 92.
After extricating the panel from the puddle of membraneous paint, Hodgson treasured it until the end of his long life, at which point it passed to his friend Alfred Skirrow Robinson, a medical practitioner in the seaside town of Redcar. Dr Robinson, a graduate of Emmanuel College, shared Hodgson's keen interest in the local history of County Durham and North Yorkshire, and he naturally took great care of his precious bequest. On a tragic night in October 1941, however, the ancient glass panel was once again imperiled…
Amanda Goode, College Archivist
Back to All Blog Posts