3 March 2022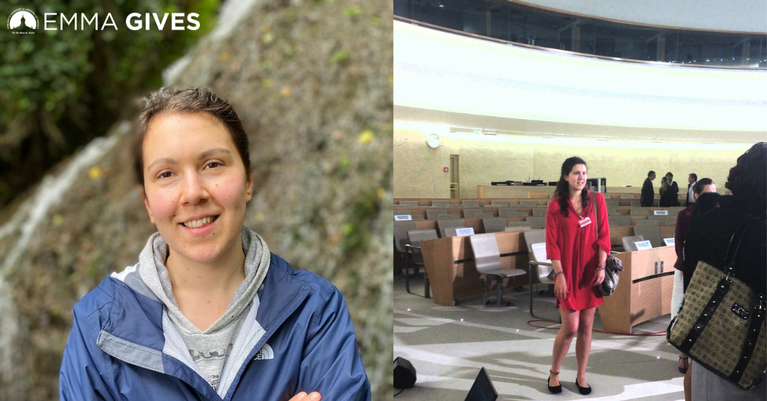 During her time at Emma, Elsa (MML, 2014) undertook an unpaid internship with legal rights NGO International Bridges to Justice. In this Q&A we asked her to reflect on the value of this internship several years on. As part of our Giving Day, we're fundraising for the Emma experience programme, providing more support for students to take up internships and placements during their time at Emma.
Q: You graduated from Emma back in 2018. What have you been up to since then?
A: I eventually got into journalism, first as a local news reporter and now writing about health and Covid-19 as health correspondent for the Scotsman newspaper, based in Edinburgh.
Q: During your time at Emma, you did a nine-week unpaid placement at International Bridges to Justice. Why did you want to work with IJB in particular at that time?
A: Firstly I wanted to support a charity whose work I really believed in, I watched Karen Tse's TED talk and it was brilliant to get to meet and work with her. The practices they are trying to prevent have no place in the 21st century and on a tight budget they couldn't afford to pay interns. But it was also really good career experience for me: I wasn't sure what I wanted to do, and law, charity work and working abroad were all high on my list.
Q: What do you feel you gained from the internship, that you couldn't have gained from academic study alone?
A: It was an excellent insight into working in the charity sector, and while it's not a legal internship it was a good look at what human rights lawyers can do. It was also based in Geneva, and as a MML student it was an opportunity to practise my French and experience living abroad – good preparation for the year abroad. I had also considered working for the UN so it was valuable to be in that atmosphere, with a lot of UN interns and contacts around, and get to visit the headquarters representing IBJ at an event.
Q: Reflecting on the past few years, how has your internship with IJB helped you in your life and career since?
A: In the end I didn't go into law or charity work, but there was another aspect of my internship which turned out to be invaluable for my career. I had been involved in student journalism and some freelance marketing and web development work already, and IBJ had taken me on as a communications intern. I wrote briefings and articles, and they gave me full control of updating the website and posting on social media. Having this on my CV was brilliant when I was looking for more work experience, internships and eventually jobs in media later on.
Q: Why do you think it's important that more Emma students are encouraged and supported to take on internships or voluntary/charity work during their time here?
A: Getting out of the bubble, meeting new people and seeing something of the world is always going to be a good thing. The funding I got from Emma (and elsewhere) allowed me to take an unpaid internship, which I wouldn't have been able to do otherwise, to do something that really interested me, and to work for a charity I believed in. It still amazes me that this resource was available, it was a real privilege.
Read Elsa's original piece about her internship.
Back to All Blog Posts