7 April 2022

On her twenty–first birthday—21 April 1947—Princess Elizabeth was with her parents and younger sister on a tour of South Africa. In a speech broadcast from Cape Town, the Princess dedicated her life to the service of the Commonwealth:"I declare before you all that my whole life whether it be long or short shall be devoted to your service and the service of our great imperial family to which we all belong."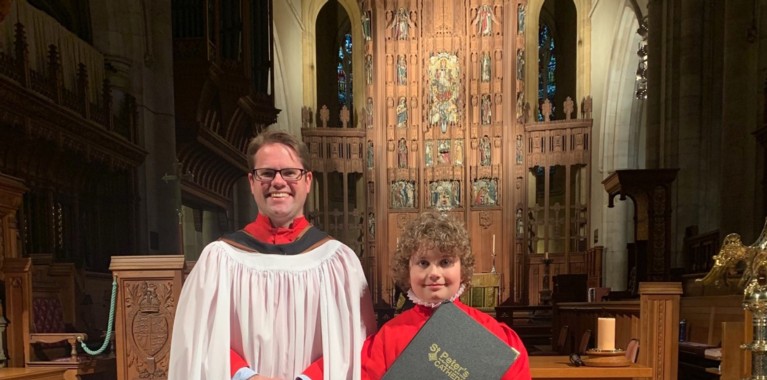 All too soon afterwards, with the untimely death of King George VI, the young Princess became Queen, and has impeccably delivered on that promise for 70 years. On the seventieth anniversary of The Queen's accession, in our corner of the Commonwealth, South Australians paid tribute to The Queen's duty and service at a special Choral Eucharist at St Peter's Cathedral, Adelaide attended by dignitaries, politicians and other community leaders.
Family Robinson, aka my family, has a special connection here, with the youngest in our family, 11 year–old Joseph (above, with Anthony Hunt), being one of the treble choristers. With my own connections to Cambridge and Emmanuel, and special memories of singing with chapel choirs and the University Chorus, it is wonderful to have the next generation of our family immersed in activities that see the great English sacred choral music tradition preserved.
The St Peter's Cathedral Choir thrives through the efforts of a dedicated team. Of course, there are the choristers themselves—the adult Lay Clerks and the young trebles, both girls and boys (and the parents who get them to rehearsals and services, there being no cathedral school, meaning that choristers are drawn from the general Adelaide community). We have a highly talented organist David Heah (who also holds down a position a petroleum engineer with a major mining corporate in his 'spare time')—his postludes are always eagerly anticipated by the congregation.
Our Director of Music, Anthony Hunt, returned to his hometown Adelaide in 2020 to take up the role, alongside a companion position as Chorus Master for the State Opera of South Australia. Hunt's musical credentials are impressive. After conservatorium studies in Australia, he studied as a repetiteur on the Royal Academy of Music's specialist opera course. That saw him serve as Chorus Master for Opera Australia in Sydney for several years, before the postings in Adelaide. His role with the Cathedral Choir is completion of a full circle, as Hunt sang there as a boy treble himself. An Associate of the Royal Academy of Music, Hunt has sympathies for the beautiful Renaissance polyphonic masses and motets, but also ensures that his repertoire choices for the Choir bring in new material that has a good sense of drama and importantly is enjoyable to sing and works the treble's voices, especially those wonderful top notes. He regularly composes as well—just last week saw the Choir 'premiere' his new Communion Service for Trebles.
Under his stewardship, the treble complement is steadily growing, with recruitment through open-access activities such as the annual choir winter school; and once the worst of the COVID–19 restrictions are passed, he has plans to renew the choir's tradition of touring abroad. The overall ambition, in Hunt's own words is to simply, "let more kids have the chance enjoy this wonderful and unique experience".
The other choir 'pillar' is Canon Precentor of the Cathedral, Jenny Wilson. In the Robinson household she is known as 'Cathedral Jenny', differentiating her from our son's schoolteacher of the same name! As Precentor, for the past decade, Wilson has played an active role in the music and liturgy of St Peter's. She has made the role her own, supporting the Friday evening 'choir suppers' (a quick meal break for trebles in what is a long 4–hour preparatory rehearsal for the services ahead); and designing a confirmation course especially for trebles, based on the mass setting and evensong canticles and their connection to the confirmation vows, so the young choristers "are infused with, and connect with those special words that they sing every week."
As 'Cathedral Jenny' observes, people engage with cathedral services in different ways—through just sitting quietly within such beautiful and stately architecture, by engaging with the readings, and via the community fellowship. But Wilson knows that many come particularly for the music. As they bring their own joys, sorrows and journeys of life, the music helps them reflect on their story as it interweaves with faith. She observes, "the choir and clergy join together in making a connection with the people who come to the cathedral, and music is the language that they use."
The musical activities of the Cathedral are supported by the St Peter's Cathedral Music Foundation, a growing capital fund sustained by philanthropic donations and revenue from annual concert series. The Foundation provides for choral, organ and conducting scholarships for young musicians, contributes to the costs associated with instruments (especially the organ), assists with the purchase of new choral music, and commissions new works for the Choir's repertoire. As Hunt notes, "the scholarships mean we can nurture a pipeline of future possible cathedral organists, or perhaps open a new door to a professional life in music for a young person."
Perhaps the final say should be left to young Joseph. When asked for his thoughts on his choral experience, he says, "It is incredibly hard work, but when you get really good fun services with beautiful music, it is all worth it."
Back to All Blog Posts