24 February 2022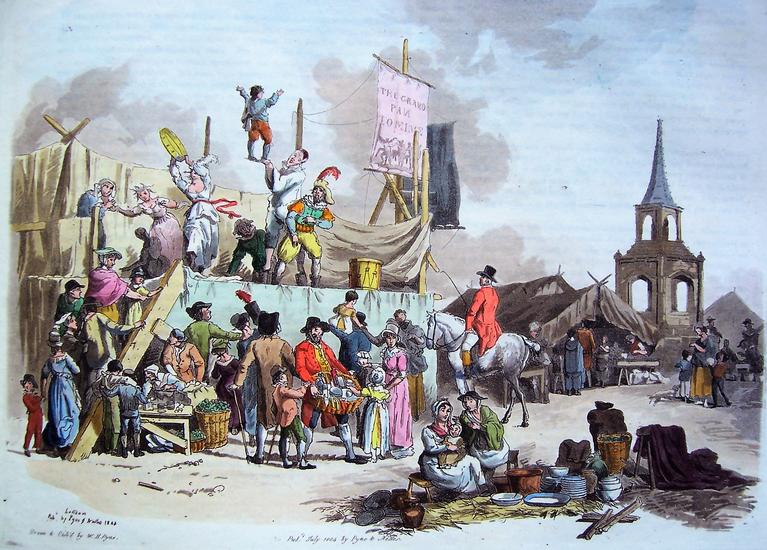 Emmanuel's copy of William Henry Pyne's Microcosm, or A Picturesque Delineation of the Arts, Agriculture, Manufactures, etc, of Great Britain (1808) is indeed a microcosm or world in miniature that presents – in over six hundred hand-coloured images – an encyclopaedia of human activity, largely of work and but also some play.
As an artist himself, Pyne complained that artists did not put the same effort into representing human figures as they did into their landscapes that included those figures. Pyne recommended budding artists to study those artists 'who have most excelled in forming pictures representing the peasantry of our country' (among others he picks out Gainsborough and Morland). But Pyne also led by example in producing many genre studies, recording the activities of working people for both amateur and professional artists to copy, so creating more lifelike depictions of figures at work. This is why his Microcosm advertises itself as recording figures of people at work 'for the Embellishment of Landscape', although it is now prized as a uniquely full and lovingly detailed record of those past lives of toil that might otherwise go unrecorded, along with implements and technologies long superseded.
All kinds of rural economic activities are represented, but the technology that Pyne records is strictly pre-industrial and probably based on sketches made in the south of England: even the colliery that he depicts is working by horse-power, although steam-engines had already been in use in the Northern coal-fields for decades. Here in Plate 2 the two top images show figures working at the weighing of coals, while at the bottom is a machine for raising the coals from the pit.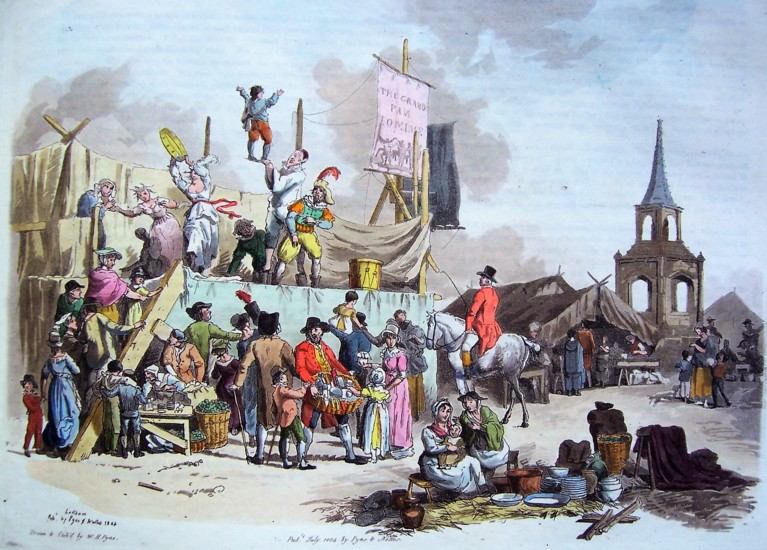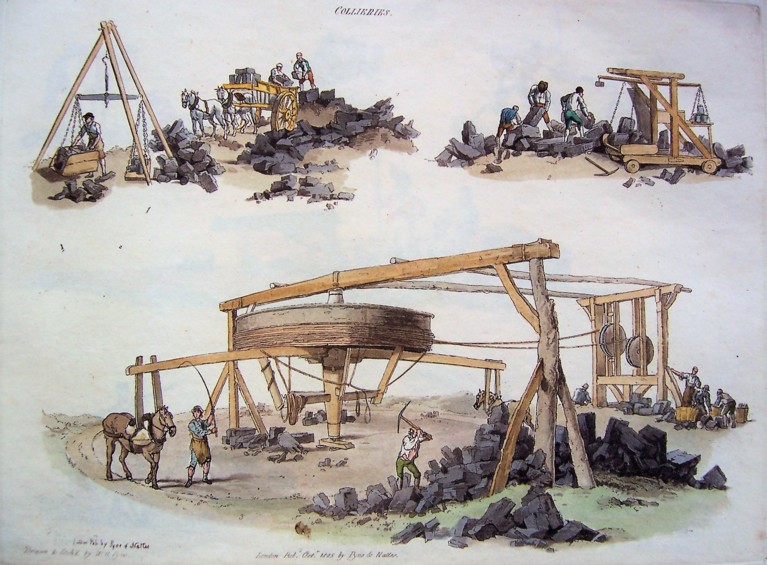 In the plate showing figures operating some enormous cranes, the two cranes at the top are for raising timber; bottom left is a crane operated on a wharf, and bottom right a crane for raising stone.
Another plate shows, top and bottom, the unrelated activities of rope-making and the woodland industry of charcoal burning, a skilled three-day process of charring in turf-sided ovens the wood seen being collected on the left.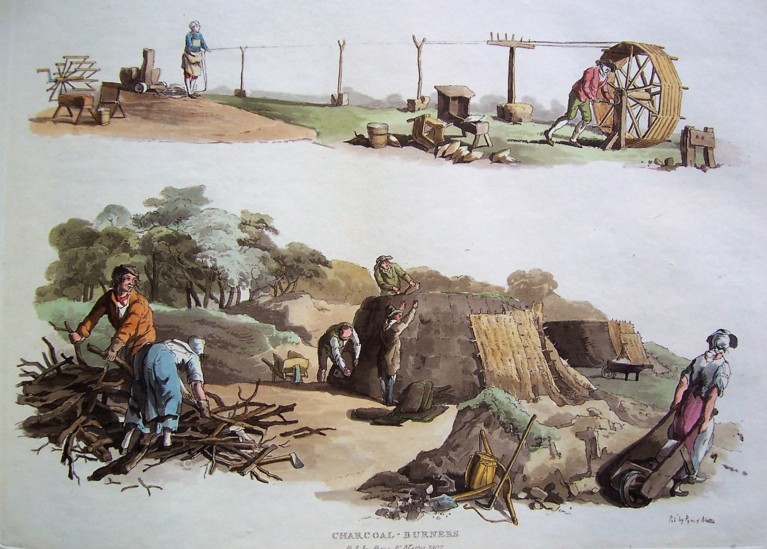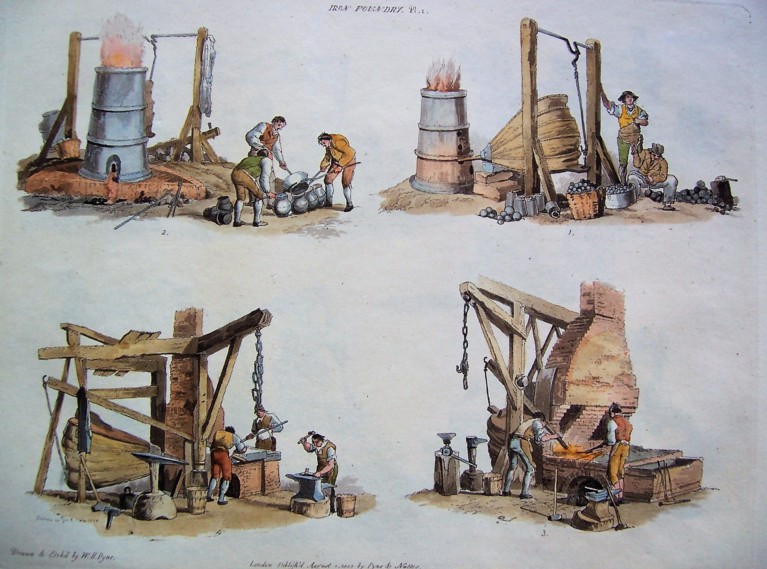 Much more industrial are the various processes in the iron foundry. The top two images show figures busy with the casting of cannon balls (Britain is engaged in long years of the Napoleonic Wars). The furnace is serviced by great bellows that are being worked by a (not shown) horse-driven machine connected by an axle. Bottom left is a forge with a bellows blown by means of a lever; bottom right, two men work at a forge, with a crane to move heavy items from fire to anvil.
Activities enabled in mills are a favourite subject, as here, where a pump raises buckets by means of a wheel turned by a windlass, and a horse mill is used to grind the flint used in glass-making.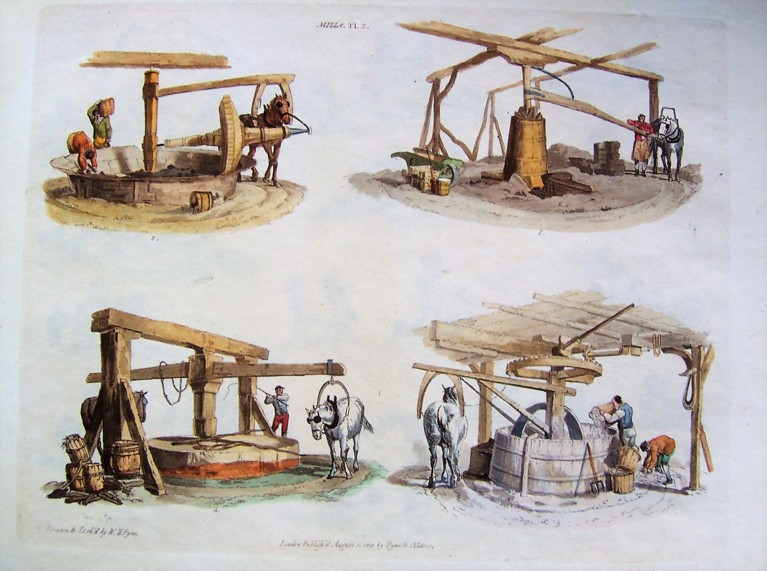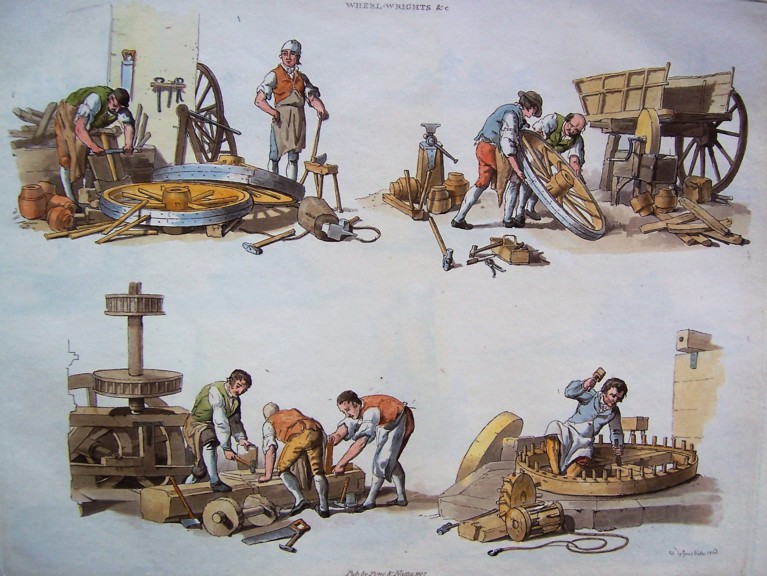 Wheelwrights were skilled workers in the different woods used for different parts of wheels, and the figures here are shown making cartwheels, adjusting a cartwheel, and also applying their skills to repair mill-machinery, as they traditionally did.
Other mills and their workers depicted by Pyne include mills used by tanners, by potters for grinding clay, for raising water, and for grinding chalk used in lime.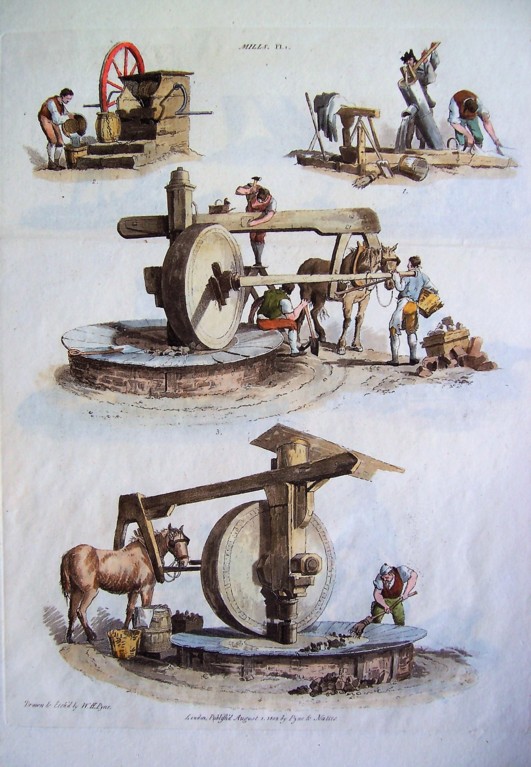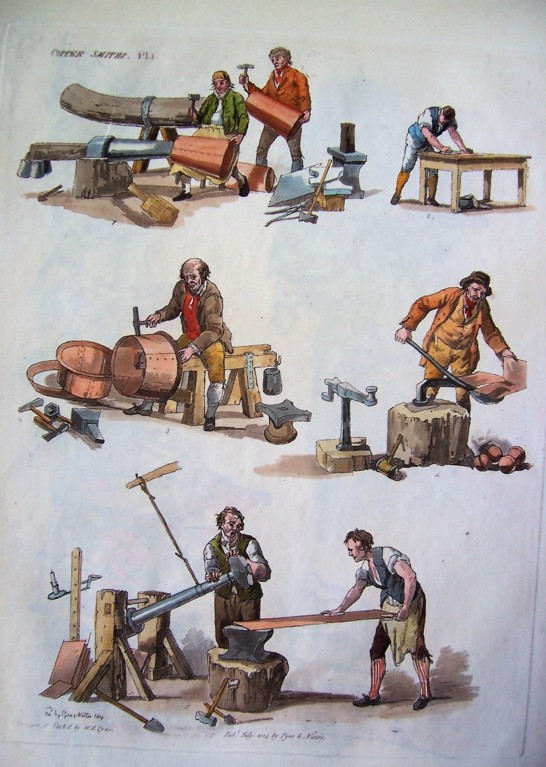 Pyne's study of copper smiths shows figures making chimney-tops, polishing copper plate, making a copper, cutting up a sheet of copper with shears, and beating copper with a heavy hammer steadied on a strap.
At a period when beer (and, in western counties, cider) were staples for working people, Pyne shows figures busily engaged in brewing and cider making, with scenes of grinding malt and brewing, and a horse mill for bruising the cider apples that are being collected.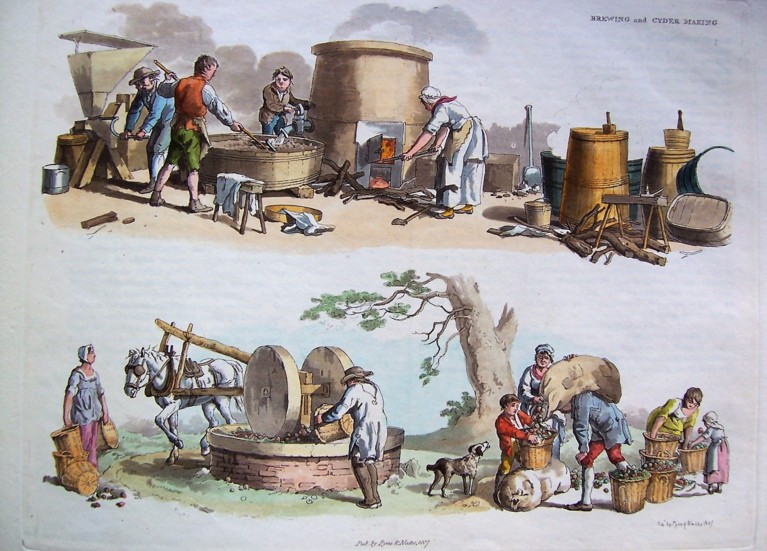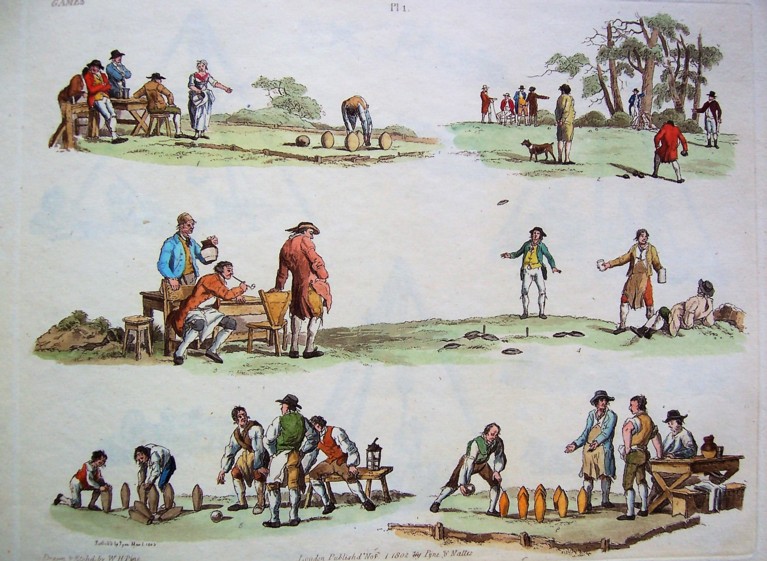 Pyne also includes plates showing enjoyment of traditional rural sports and pastimes: here, several forms of skittles, a game of quoits, and (top right) a game of bowls – the latter a pastime that (Pyne deplores) is fast falling out of fashion at the time and being replaced by cricket.
Yet one of Pyne's most striking plates features no towering machinery but simply offers its own tribute to the men who mow the hay.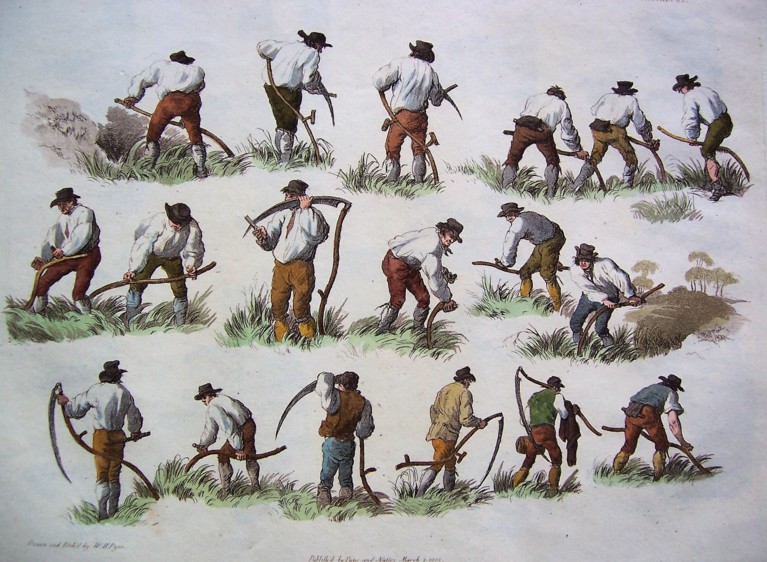 Three rows of six mowers are shown in various attitudes, at work or sharpening their scythes. Traditionally they work in groups of three, and each makes a sweep at the same time. The second cuts what is left by the first, and the third what is left by the second, 'and they come so near each other … that the beholder is apt to be in a state of continual alarm for their safety – but from the mechanical exactness of the semi-circle which they form, acquired by practice, seldom any accident occurs …' A figure in the bottom row carries a keg of refreshment. For Pyne, humble skill and toil, or early industrial processes, are worthy of an artist's attention, and he creates art out of the most ordinary materials, suggesting movement and bustle by recording figures in different stages of work. With its sketch book immediacy, the Microcosm conveys a sense of the dignity of labour, sees grace in drudgery, and in so doing makes the common man visible.
Barry Windeatt (Keeper of Rare Books)
Images by Helen Carron (College Librarian)
Back to All Blog Posts