1 December 2021

Emmanuel's portrait of Sir William Temple (1628–1699) is a copy of a contemporary portrait by Sir Peter Lely, commissioned by the College long afterwards in 1753, to memorialize a distinguished member of Emmanuel.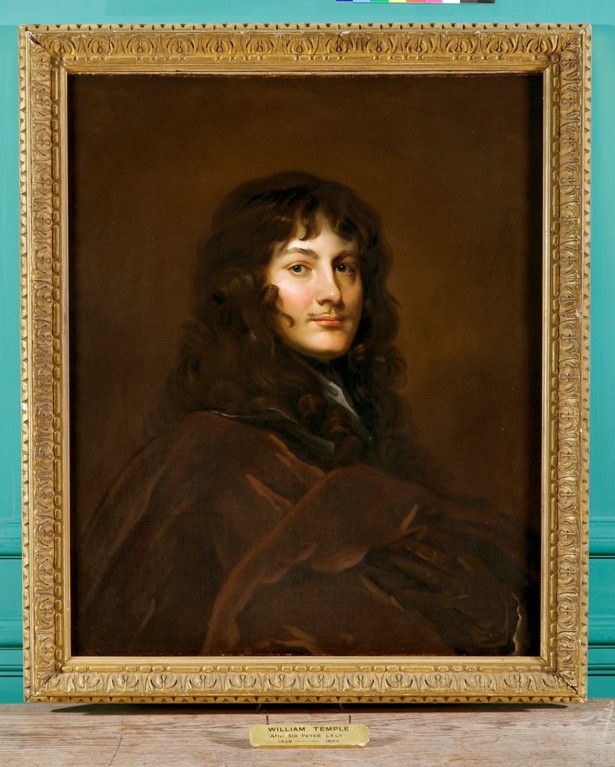 Temple was a much–travelled diplomat, especially informed about the Netherlands, of which he wrote a history (Plate 1—L: Copy of Lely's portrait, now in the Mountbatten collection, Broadlands, Hampshire & Plate 2—R: Miniature by Richard Gibson, c.1660, presented in by Mr Tim Kent, matric. 1950).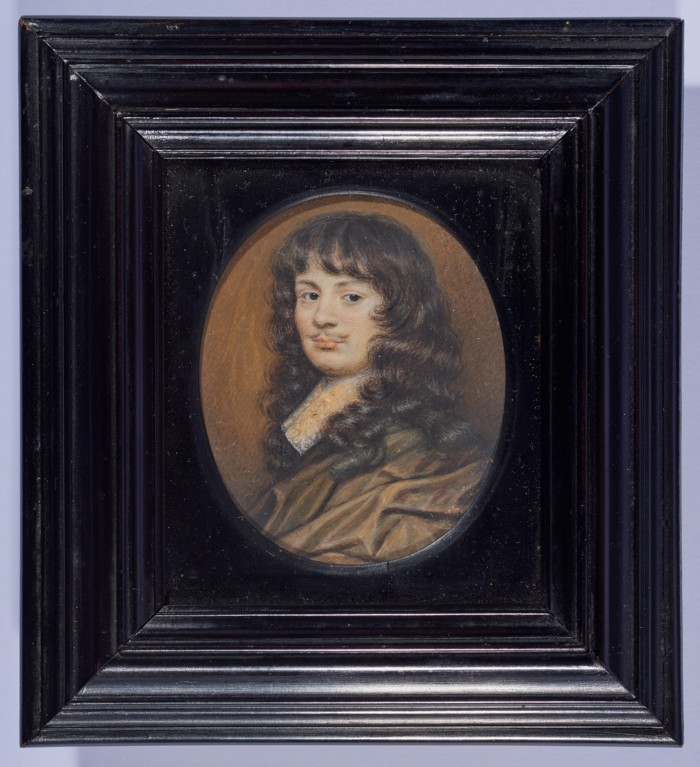 Temple negotiated the marriage of Charles II's niece Mary to his nephew William of Orange, which would prove constitutionally pivotal when the Glorious Revolution of 1688 brought William and Mary to the throne. Tasked by Charles II to reform the system of governance, Temple devised a 'Privy Council Ministry' which, if implemented, would have been a forerunner of Cabinet government—but Charles II was suspicious of the implications for exercise of the royal prerogative.
In retrospect, Temple's life appears that of one who set aside great office in favour of private life, study, and the pleasures of rural retirement and his garden—in 1685, he noted with satisfaction that he had not been to London for five years. His marriage to Dorothy Osborne had been a love match, opposed by both families, and only achieved after a clandestine courtship of seven years, during which Dorothy turned down both a Duke and a son of Cromwell. Seventy–nine of her witty, spirited letters to Temple survive from these years apart. But sorrows lay ahead: seven of their nine children died in infancy, a daughter died at fourteen of smallpox, and their surviving son drowned himself in his twenties, apparently overcome with anxieties a few days after being appointed Secretary–at–War by William III (Plate 3: the College Hall, with furniture donated by Sir William Temple).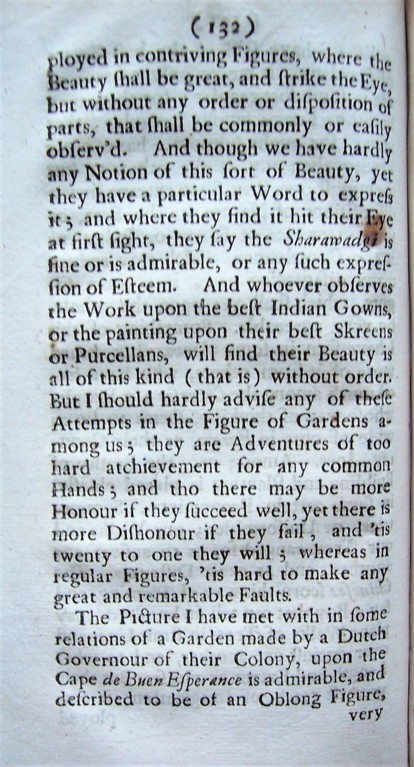 Temple had retired to a house at Farnham in Surrey which he renamed Moor Park, and where he set out to emulate the gardens of the more famous Moor Park in Hertfordshire. In his lengthy essay: 'Upon the Gardens of Epicurus; or of Gardening in the Year 1685' (Plate 3—L: Temple's On the Gardens of Epicurus …' discussing 'sharawadgi), Temple briefly discusses what he understands as a Chinese concept of beauty without order, which he reports is termed sharawadgi. At a time when straight lines, regularity and symmetries were in vogue in gardening, Temple shows remarkable openness to this sharawadgi principle of planned naturalness of appearance in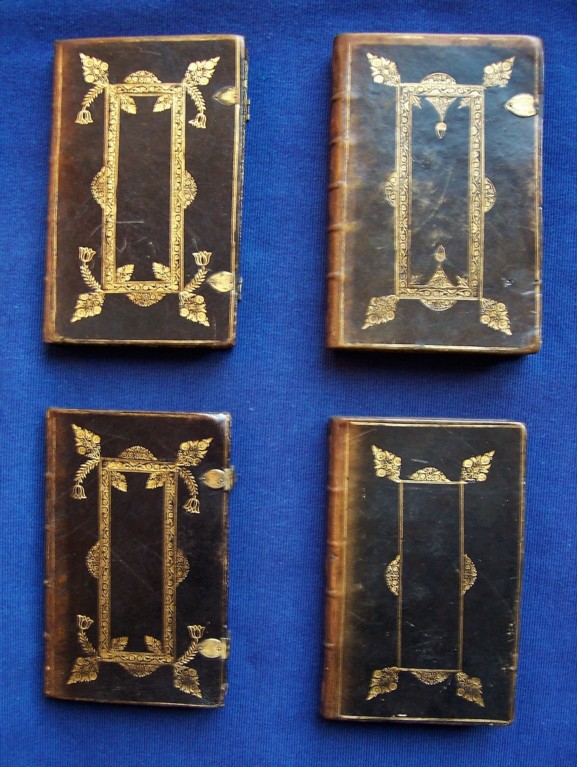 garden and landscape design, where straight lines are to be avoided, so as to present a more naturalistic appearance (and surviving plans of his garden suggest he may have implemented his interpretation of this). Although Temple's understanding of sharawadgi in its original cultural context—more probably of Japanese derivation—was partial and inaccurate, he had started something about planned irregularity and naturalness, that later writers took up and developed. In this sense, Temple has some claim to be an originator of what became the English landscape garden and its principles (Plate 4—R: Bindings of inscribed volumes of his writings, presented to the College by Temple).
It was at Moor Park that Temple employed the young Jonathan Swift as his secretary, from 1689 onwards. Swift would later express great admiration for Temple, and it is presumably a kind of homage to his patron that Swift makes the hero of his Gulliver's Travels (1726) an alumnus of Temple's old Cambridge college. In the opening lines Lemuel Gulliver writes of himself: "My Father had a small Estate in Nottinghamshire; I was the Third of Five Sons. He sent me to Emanuel Colledge in Cambridge at Fourteen Years, and where I resided three Years and applied my self close to my Studies…"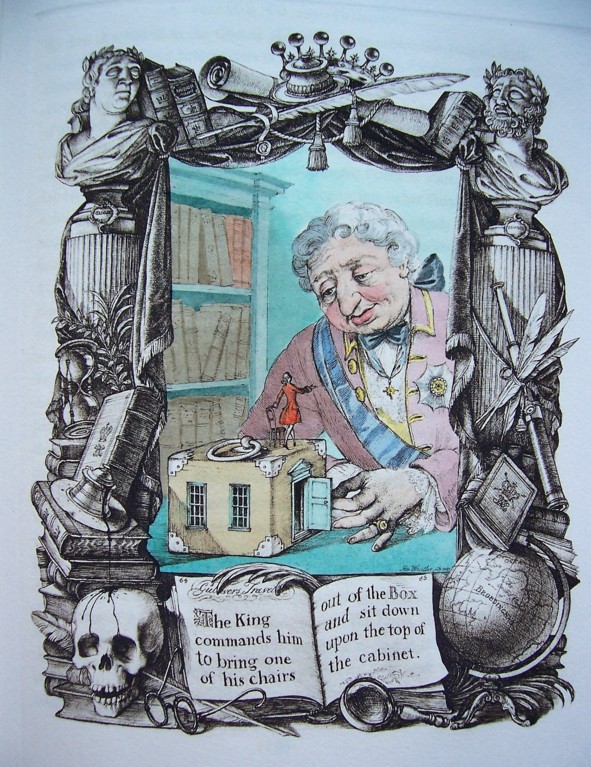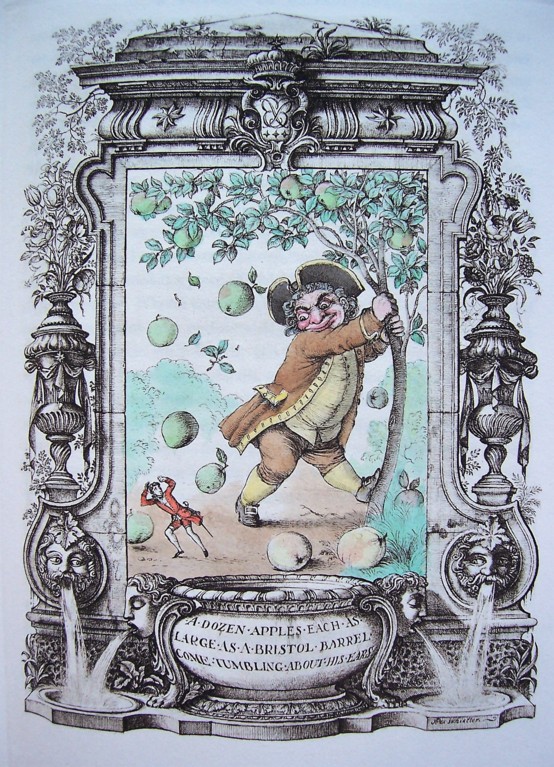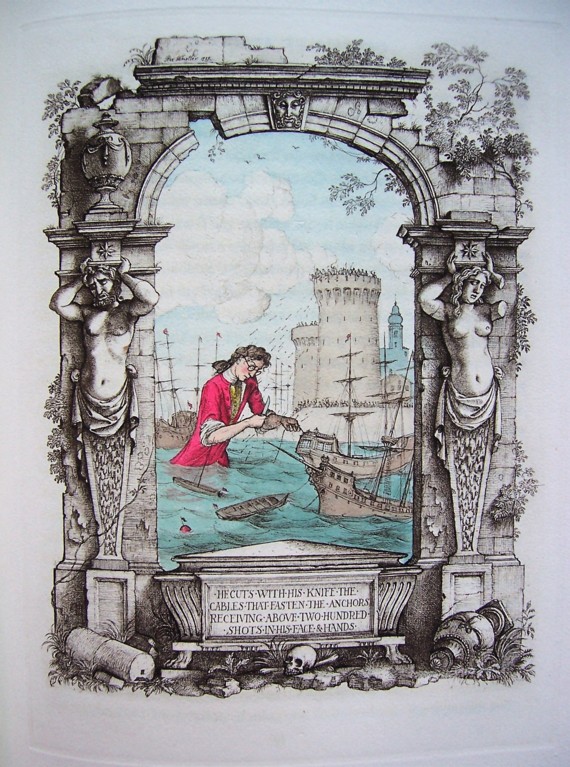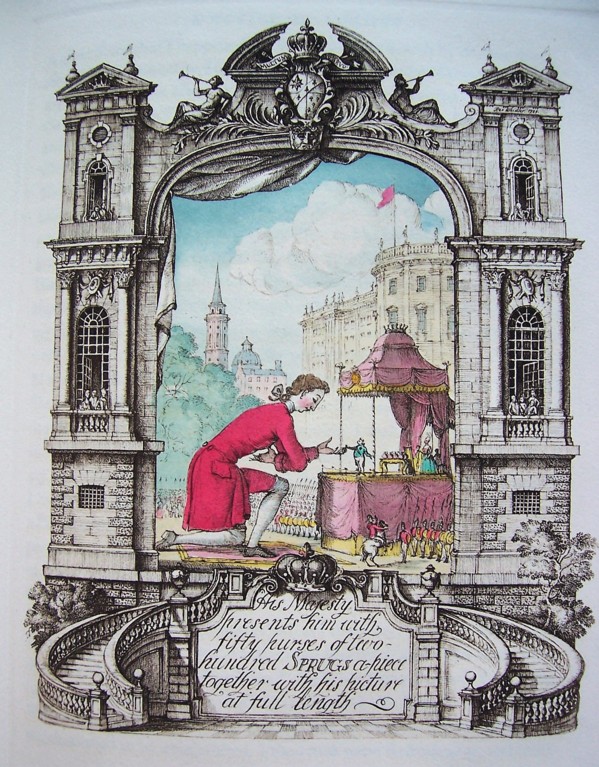 Plates 6–9—Above L–R: Gulliver's Travels, illustrated by Rex Whistler; Far L: Gulliver captures the fleet of Lilliput's equally miniature rivals, the empire of Blefuscu; Centre L: Gulliver is received in state by the Emperor of Lilliput; Centre R: Gulliver narrowly escapes death from gigantic falling apples in Brobdingnag; Far R: Standing on the special case made to house him, Gulliver describes the state of Europe to the King of Brobdingnag. His Majesty is unimpressed, and horrified to learn of the use of guns and cannons
In Emmanuel's Graham Watson Collection is a beautiful limited edition of Gulliver's Travels, published by the Cresset Press in 1930 with illustrations by Rex Whistler (1905–1944), an interwar painter, illustrator and designer who was killed in action near Caen in Normandy. Whistler's plates show incidents in Gulliver's travels, where he finds himself first a giant visiting a kingdom of tiny people in Lilliput, and then, by a reversal of fortunes, a tiny person visiting a realm of benevolent giants in the kingdom of Brobdingnag. Emma members can be intrepid, but they can hardly hope to surpass the fantastical adventures of this fictitious alumnus of Sir William Temple's old college.
Barry Windeatt (Keeper of Rare Books)
Images by Helen Carron (College Librarian)
Back to All Blog Posts