20 October 2021

The recent appointment of Emmanuel's new Master, Doug Chalmers, generated a query as to whether he was the 28th or 29th person to hold that office, for there is a discrepancy between the official college canon, which regards him as the 28th, and certain other listings.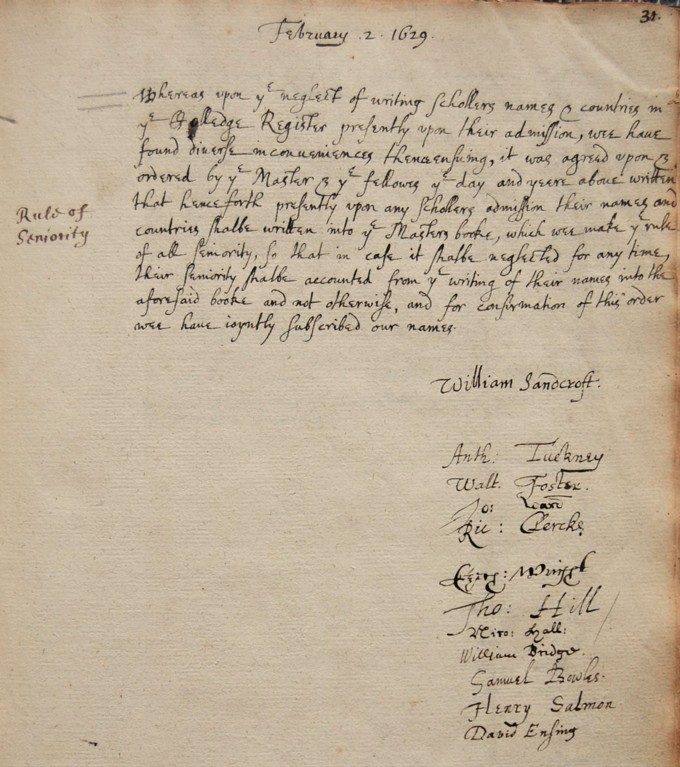 The anomaly arises from the debatable status of Dr Thomas Hill, stated in several printed sources to have been Master of Emmanuel 1644–45. It might well be asked how there could be any doubt in such a case, but the answer lies in the dire effect the Civil War had on institutional record keeping. (L: Signatures of Hill & Tuckney)
In the purge of Royalist heads of house and dons at Cambridge University carried out by the Earl of Manchester in the spring of 1644, one casualty was Richard Holdsworth, Master of Emma, who was formally deprived of his office in April, although he had already been in prison for some months. What happened next is unclear. The earliest official history of Emmanuel, written in 1904 by the college librarian and former Fellow, Evelyn Shuckburgh, states that following Holdsworth's ejectment, Lord Manchester 'seems to have sent' the college an official notification of Hill's appointment; a carefully–worded phrase papering over the fact that no such document is known to exist.
Thomas Hill was a graduate (BA 1622, BD 1633) and sometime Fellow of Emma. A staunch Puritan, he became rector of Titchmarsh, Northants, in 1633, and was a founder member of the Westminster Assembly of Divines, a body set up in 1643 to advise on the reform of the established Church; an ideal candidate, then, in the eyes of Lord Manchester, to take over the headship of Emmanuel. But did he in fact do so? Three sermons Hill preached in London in 1644, in April, August and November, were printed soon afterwards, and in none of them does he call himself Master of Emmanuel. In a later sermon, delivered in 1648, Hill refers to 'Imanuel–Colledg…where I had both my first Universitie beeing, and wel–beeing', but, again, does not say he had been its head of house. It is worth noting that after Hill was appointed to the headship of Trinity in April 1645, he invariably styles himself Master of that college in his publications.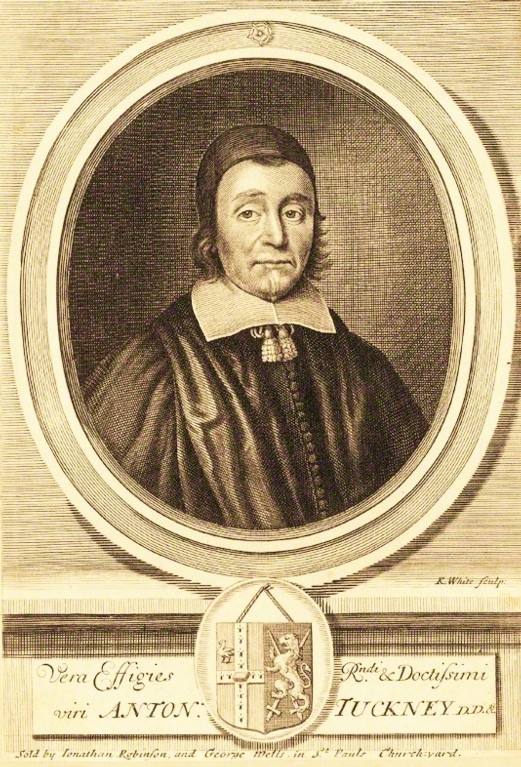 There is, though, one contemporary piece of evidence suggesting that Thomas Hill was at least considered for the mastership of Emma. The eulogy at Hill's funeral in December 1653 (Below: Tuckney's eulogy for Thomas Hill) was given by his old friend Dr Anthony Tuckney, who earlier that year had exchanged the Mastership of Emmanuel, to which he had been appointed in April 1645, for that of St John's (Cambridge heads of house were moved around like chessmen during this period). Tuckney (L: Portrait of Anthony Tuckney) recalled that Hill had been 'ordered to be Master of Emanuel Colledge…which not being a sphere large enough for his activity, he was from thence removed to the Mastership of Trinity Colledge'.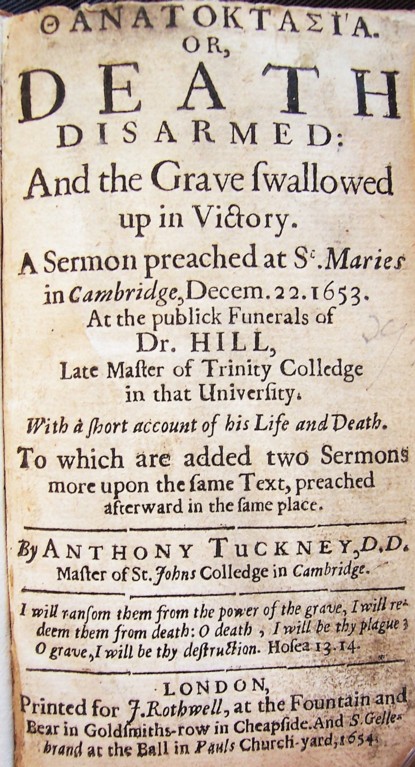 In view of this statement, it seems pretty certain that Hill was put forward for the Emma mastership, and may have accepted it provisionally. He is most unlikely to have acted in that capacity, though, since he remained in London for much of 1644, as noted above, and he may well have had scruples about intruding himself into his old college, where Holdsworth was still regarded as the rightful head. It is surely significant that a seventeenth–century listing of Emmanuel dons, held in the college archives, shows Tuckney succeeding Holdsworth as Master, with 'Thomas Hyll' only described as a Fellow.
Since Dr Hill's headship of Emma seems to have been notional, at best, there are no plans to add him to the official roll–call of college masters. A final mystery: given the disruptions to Emma's mastership in the mid–1640s, it is surprising to see, in the college accounts, the continuing half–yearly payments of £30 to 'The Master his wages'. One wonders very much to whom (if any), of the various candidates, the money was being paid!
Amanda Goode, College Archivist
Back to All Blog Posts