21 October 2021

Now that we are well into what John Keats, in his 'Ode to Autumn', calls the 'Season of mists and mellow fruitfulness' – which conspires with the maturing sun
To bend with apples the mossed cottage-trees
And fill all fruit with ripeness to the core –
it is just the moment to look at the hand-coloured books in the College's Graham Watson Collection that celebrate and document in lavish illustration the fruit grown in nineteenth-century Britain. At a time when fruit was only briefly available in season, illustrators urgently seized the opportunity to catch the transient perfection of prize specimens, and acquatint gave them for the first time a method for doing this. Even so, many of the fruits depicted would not do for Waitrose: they are honestly shown with marks and flaws on the skin, and they can be irregular.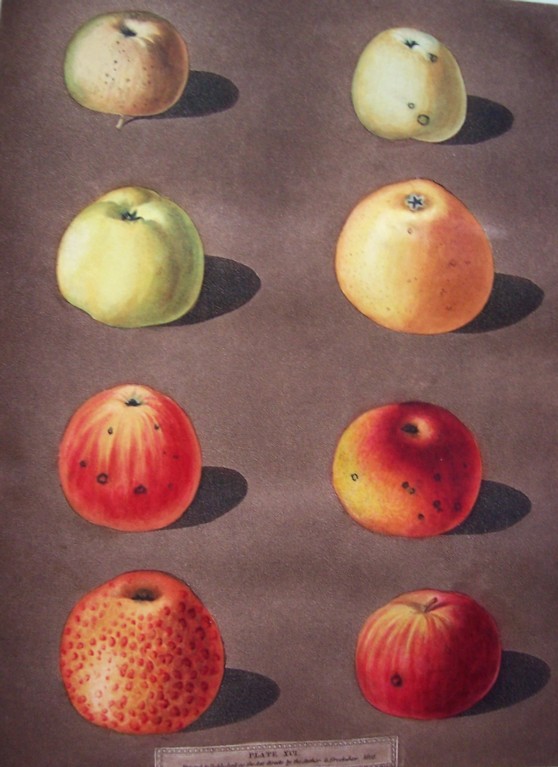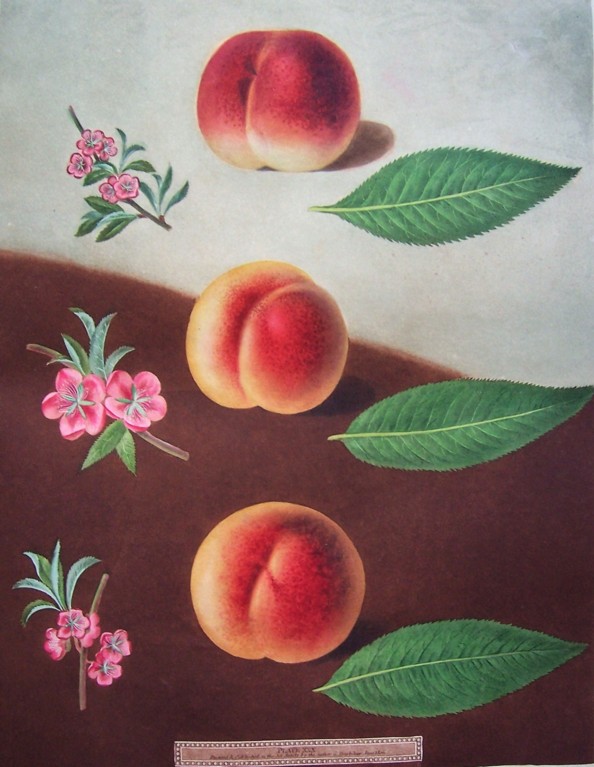 The greatest fruit book – and among a handful of the greatest hand-coloured books – of the period is George Brookshaw's Pomona Britannica of 1804-12 (Pomona being the Roman goddess of fruit and fruit trees). There are 90 very large plates (each 32 x 41 cms), illustrating 256 varieties of British fruit, in which the richly coloured fruits seem to float against dramatically dark backgrounds, as in these plates of apple and peach varieties. [Plates 1 and 2]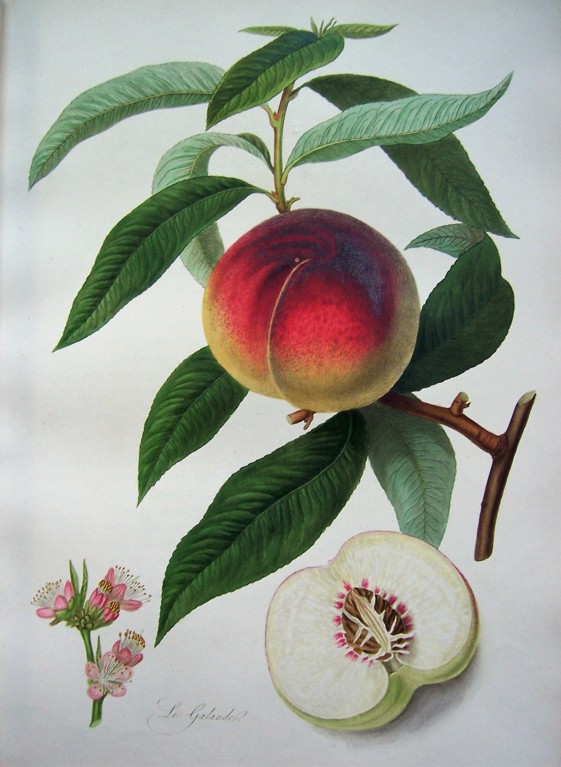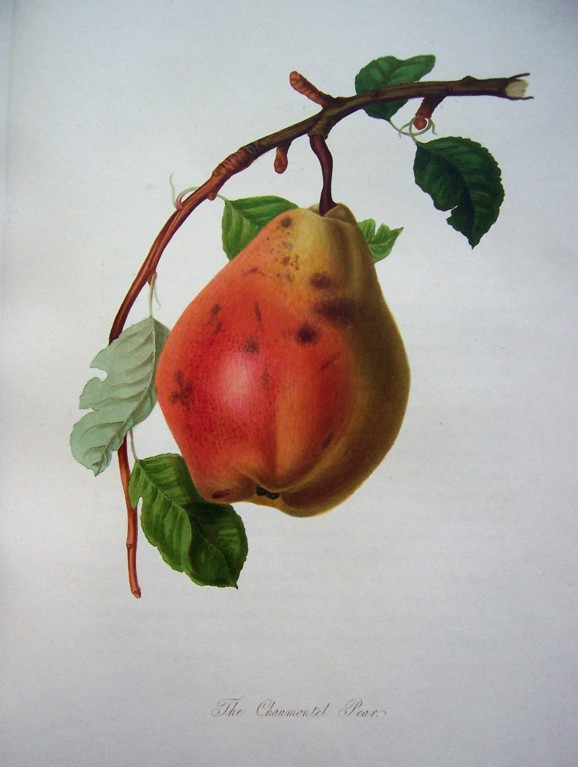 But fruit books were in the air, and other preeminent examples were published. William Hooker's now very rare Pomona Londiniensis (1818) contains 49 quite superlative hand-coloured acquatints 'of the Most Esteemed Fruits Cultivated in the British Gardens', including these of a peach and a pear. [Plates 3 and 4]
Anyone who has struggled to paint fruit for a still-life will be in some awe of the skill in depicting that pear, including the dark marks on the skin.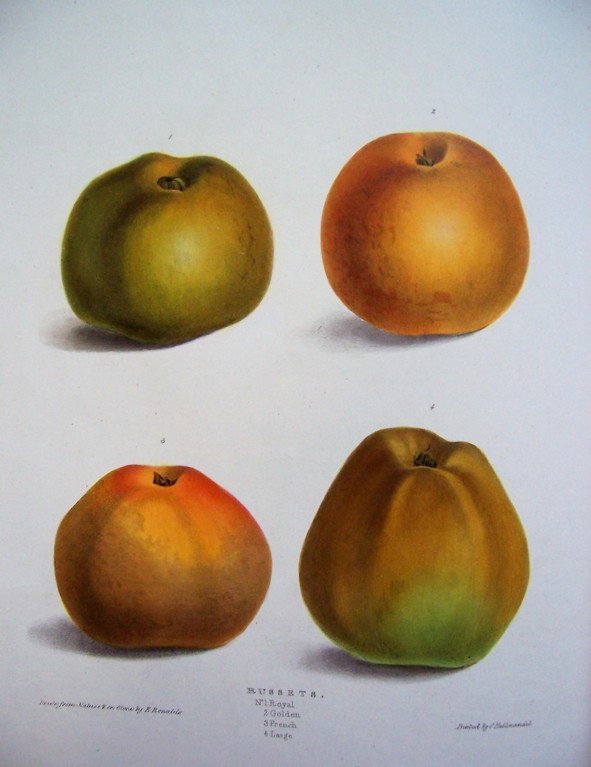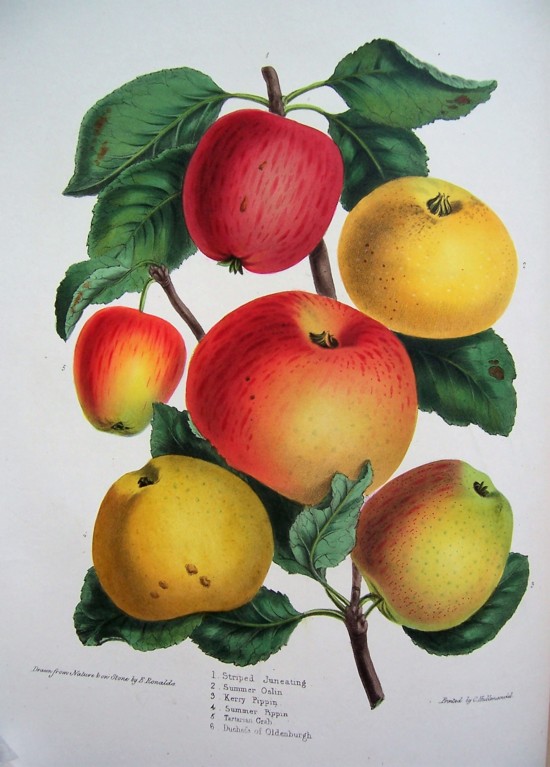 Also skilful, but in the newer technique of lithography, is Hugh Ronald's A Concise Description of Selected Apples (1831), which depicts 179 different varieties in 42 hand-coloured lithographs 'Drawn from Nature on the Stone by His Daughter'. Each plate records that Elizabeth Ronalds drew it on the stone and that it was printed by the contemporary genius of lithography, Charles Hullmandel. [Plates 5 and 6]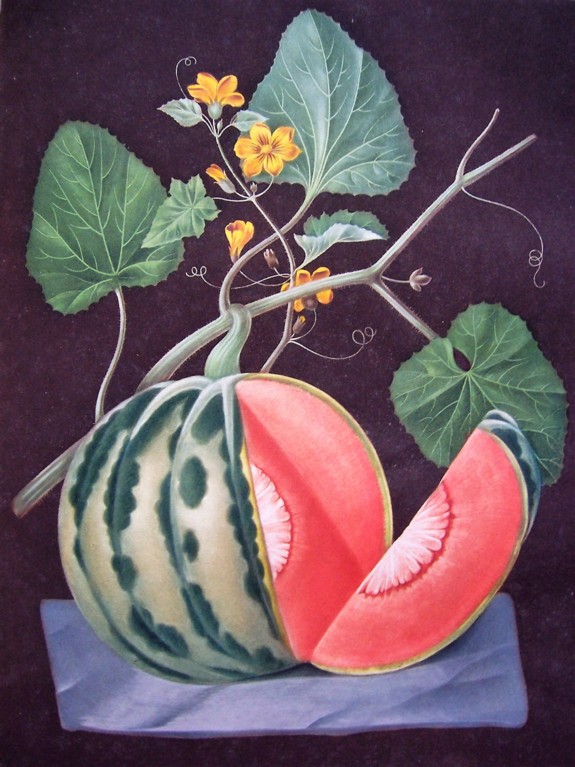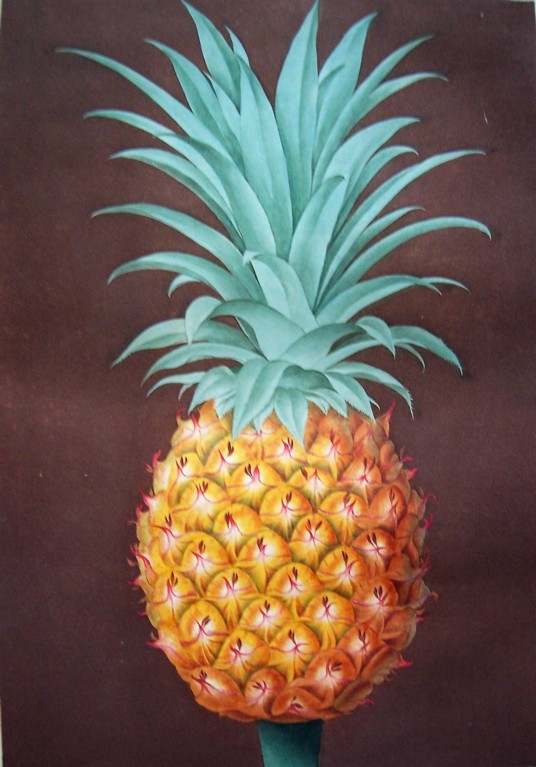 The sheer scale of Brookshaw's Pomona allows it to have encyclopaedic ambition. Different varieties are illustrated of such hothouse exotica as melons and pineapples, with learned text on their good and bad points. [Plates 7 and 8]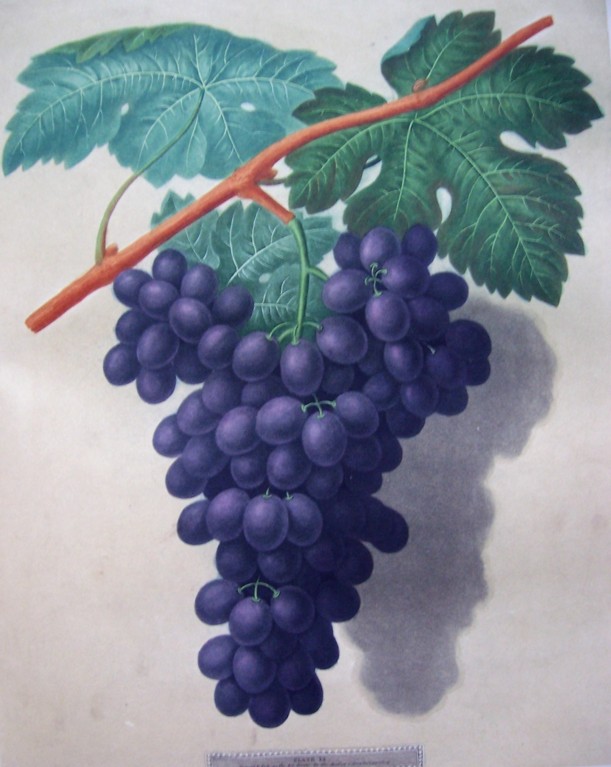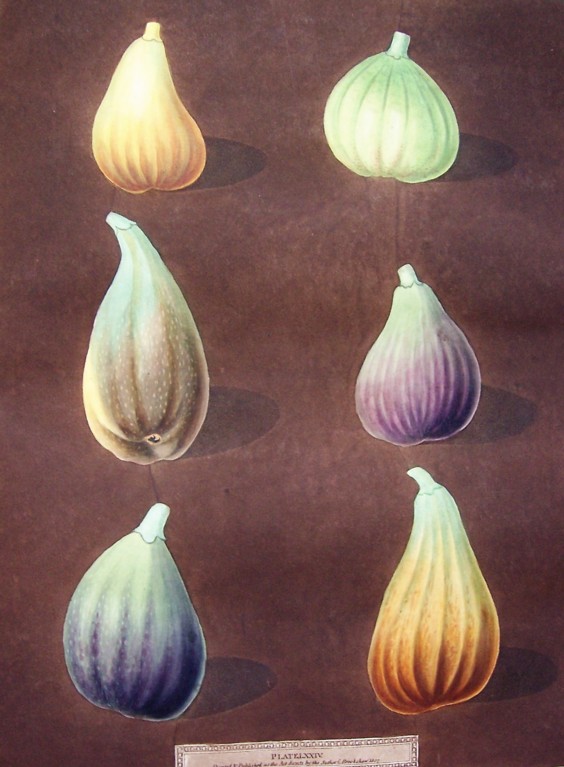 Keats had written of autumn's power 'To load and bless | With fruit the vines that round the thatch-eaves run', and Brookshaw's many richly-coloured plates of grapes and figs catch all the completeness of autumn and can make any viewer feel peckish.
[Plates 9 and 10]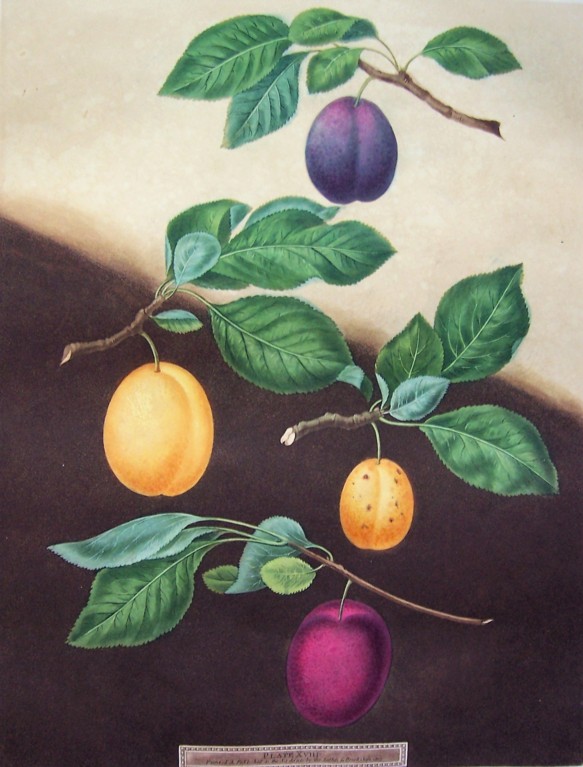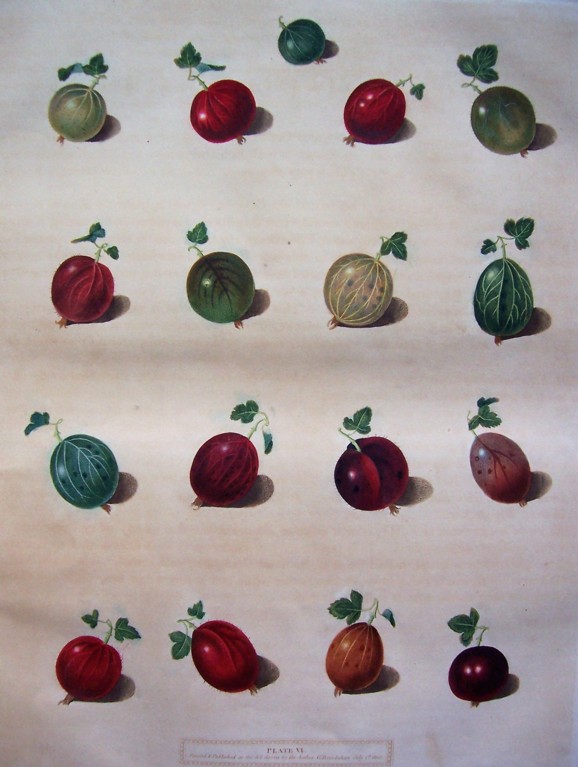 Some of Brookshaw's fruit studies are the elegant compositions of someone who also published manuals on how to paint, but even a plate recording sixteen British varieties of gooseberry has its own beauty. [Plates 11 and 12]
Very much later, and using different printing technology in two weighty volumes, Robert Hogg and Henry Bull's The Herefordshire Pomona (Hereford, 1885) documents in 77 chromolithographed plates the more than 400 varieties of apples and pears then grown in Herefordshire. (The plates are 'drawn and coloured from Nature by Miss Ellis and Miss Bull'). [Plate 13]
Text and plates in all these books sadly underline the dismal disappearance of so many old native varieties of fruit of all kinds, but perhaps apples are especially lamented. The Herefordshire Pomona chronicles (among so many others) 'Monstrous Pippin', 'Jolly Beggar', 'Kentish Fill-Basket', 'Queen of Sauce', 'Hoary Morning' and 'Bastard Rough Coat' – they have been succeeded by 'Pink Ladies', 'Jazz Apples' and 'Golden Delicious'. The sheer beauty of these glorious books is a monument to Apple Love, Apple Lore, and a kind of Apple Worship. Pomona would be pleased.
Barry Windeatt (Keeper of Rare Books)
Images by Helen Carron (College Librarian)P
Back to All Blog Posts