17 August 2021

Having studied English at Emma, Ruth Zealey (2003) moved to live in Istanbul for 11 years with husband Mark (Sidney Sussex, 2003). She tells us about Turkish Iznik ceramics, and her journey learning the craft: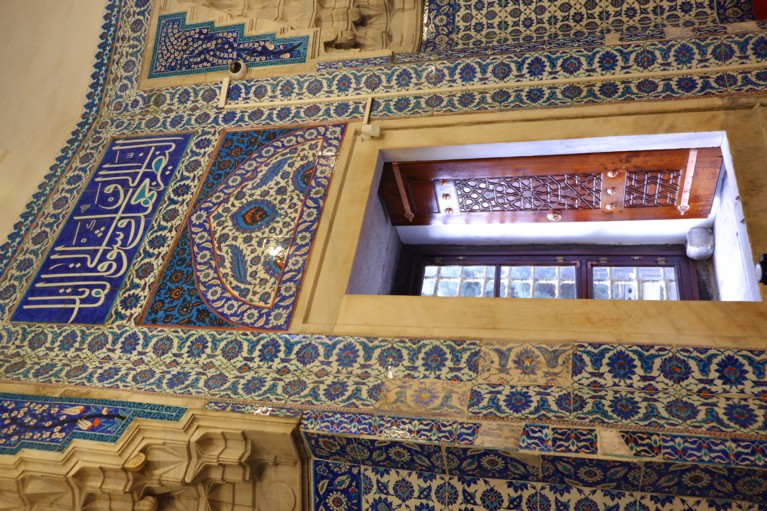 In the mid–sixteenth century, just before Emma was founded, and while the rose of the Tudors still bloomed in England, it was the noble tulip that emblazoned the Ottoman empire in glazed cobalt glory, and later gave Istanbul's most famous site its nickname: The Blue Mosque. Traditional blue and white chinaware travelling westwards along the Silk Road had inspired local artisans to create their own çini (chinaware), most famously in the workshops at Iznik (Nicaea). Here, the artists used local clays and pigments to introduce greens, and later an audaciously brilliant coral red, to the palette, depicting forms and flowers from their own frame of reference. Under the eager patronage of Sultan Süleyman, Iznikware became the décor of choice for mosques, palaces and even the mausoleum of Süleyman's treasured wife, Hürrem [L: Tiles at the Mausoleum of Hürrem Sultan].
But by the seventeenth century, demand had waned. As workshops closed down, artisans and apprentices moved on. The techniques of the trade, passed down, not written, were gradually lost from collective narrative memory. (Of course, each culture remembers differently. One night a close Turkish friend saw a vivid dream from God. "Write it down," I told her, "you must make a record so you don't forget!" "I am," she said, "I'm telling you!")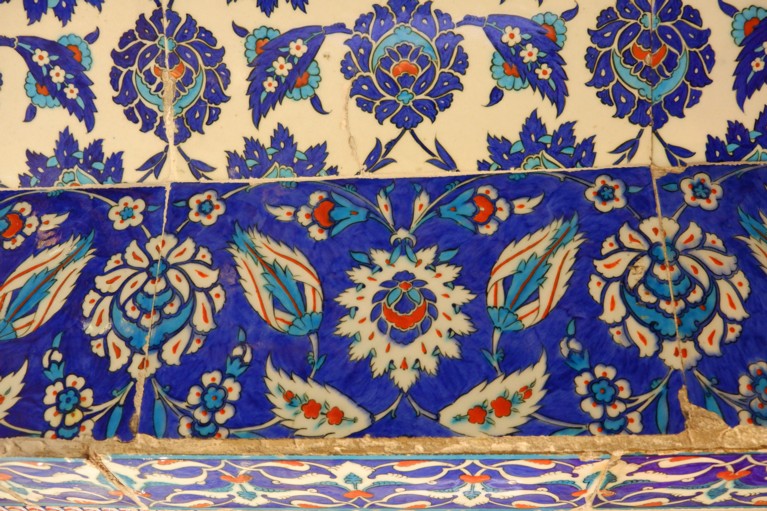 Over the past 35 years, Turkish artists, historians and scientists have partnered in a multi–disciplinary endeavour to rediscover and reproduce Iznik's lost formulas and forgotten techniques, and to reintroduce çini to the modern cultural conversation [R: Stylized tulips at the Mausoleum of Hürrem Sultan]. Today, travellers in Istanbul admire the Iznik Foundation's newly commissioned tile panels, throughout the Istanbul Underground (Metro) Network (https://www.iznik.com/).
Just after we moved to our first Istanbul flat, a neighbour invited me over. I prised off my shoes, slid into the proffered slippers, and tiptoed into her spotless salon. As we sipped our Turkish coffee, she told me about a free çini course run locally for women by the borough council, to encourage lifelong learning and entrepreneurship. A month or so later, with very rudimentary Turkish, I joined the class, and added lale, gül and at k?ll? f?rça (tulip, rose and horse hair brush) to my vocabulary list. I was the odd foreigner in a group of welcoming, warm Turkish ladies, later moving to study at a private workshop, under the tutelage of a local teacher.
Artistically speaking, the highlight was having my work feature in an exhibition in Istanbul's historic quarter. Our pieces were fittingly displayed, reverently below the original ?znik tiles which clothe the mosque complex there. But the true privilege was being embraced into the community as an apprentice. Studying a local art form feels like being invited in to the heart and soul of your new home culture. You take off your shoes and humble yourself, leaving behind your old ways, and assuming the new shape and style graciously offered to you. My Istanbul friends gave me the name 'Gül' (Rose), but I return to the UK bearing a fond affection for the tulip too.
Back to All Blog Posts