10 August 2021

As we look forward to the start of term, and welcoming a new cohort of freshers into the college community, John Newman (1964) has shared with us his memories of joining Emmanuel: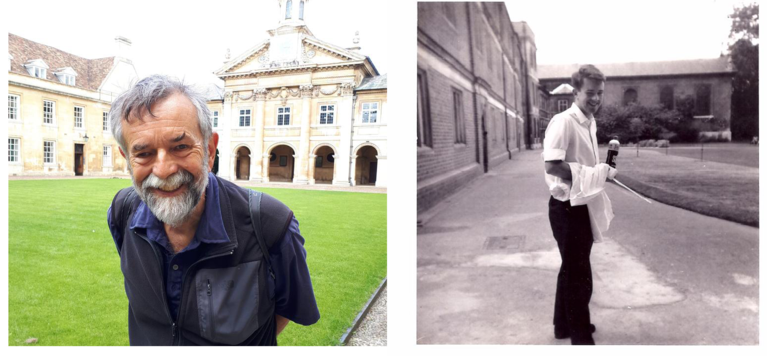 It was a very fortuitous accident that I came to be a member of Emma. My Headmaster summoned me to his study and said "here is your application to Emmanuel College, Cambridge". Obedient in those days, I replied "yes, sir" and duly applied. That year (1963) Emmanuel was experimenting with entries based on AL results, and I struck very lucky. This unlikely sequence of events has led to my having been a member of a truly caring community for nearly sixty years now—something I greatly value—and my three years as an undergraduate, and one for PGCE, were glorious.
Emmanuel is rightly a place with a focus on serious study, but it is so much more than that. It is a beautiful place, and I still get a buzz coming through the college gates and especially again seeing Front Court, the Chapel, or the Paddock [Above L: John recently, in Front Court]. There was such a range of activities within the college—in my case including the Chapel and its Choir, the orchestra, the 'Messiah', formal debates, and a little occasional sport. There was also so much that we in Emmanuel did, outside formal college structures—I went punting, learned a little croquet, regularly went singing in a mental hospital, tried to keep my ancient bike roadworthy (indeed even with brakes!), and there was much informal discussion that was so important to me in working out, and being tested on, my beliefs. I met such a range of people in formal hall (and the food was pretty good too). The staff I met were unfailingly kind and helpful [Above R: John in the Paddock 'off to the Laundry' c. 1965].
I went down in 1968, but I love coming back, and my wife was made so welcome that she felt an honorary member of the college. Truly, I am privileged to be a member of such a wonderful community: "floreat Emmanuel!"
Back to All Blog Posts