16 June 2021

Tucked away in the cupboard below one of the bookcases housing the Graham Watson Collection of hand-coloured books in Emmanuel Library is a set of remarkable books from the 1940s.
'Britain in Pictures' (BIP), published by Collins, was a series of books appearing between 1941 and 1950 as a significant contribution to wartime propaganda. The blurb on the first dust-jackets declared 'The English have never been good at describing themselves or their ways, either for their own benefit or the benefit of others'. Designed to boost morale at home, and to represent Britain winningly to potential supporters in the USA and elsewhere, the books set out to record the British way of life, and Britain's contribution to arts and science. There were BIPs on Britain's history, institutions, literature, art and crafts, social life, sports and character, as too its plants and animals. The choice of subjects implicitly champions the role of individuals within traditions, with BIPs on British scientists, engineers, botanists, polar explorers, mountaineers, seamen, merchant adventurers, furniture-makers.
Three million copies had been sold by 1951.
The books were the brainchild of Hilda Matheson (1888-1940), a woman of phenomenal energy and intellect who had been recruited for 'special work' by the new Ministry of Information after a colourful career in intelligence and the infant BBC (where her tendency to favour Lord Reith with her frank advice had led to an early parting of ways). Matheson's idea – realised by others after her early death – was to recruit the best of contemporary writers to describe Britain and its people's achievements. If this was 'propaganda,' it was also the most eloquent case for Britain as a free society. Not everyone was tempted by Matheson's invitation: Virginia Woolf wrote to a friend: 'she asked me to write some damned book for some damned series. It was to be patriotic; at the same time intellectual; also badly paid'.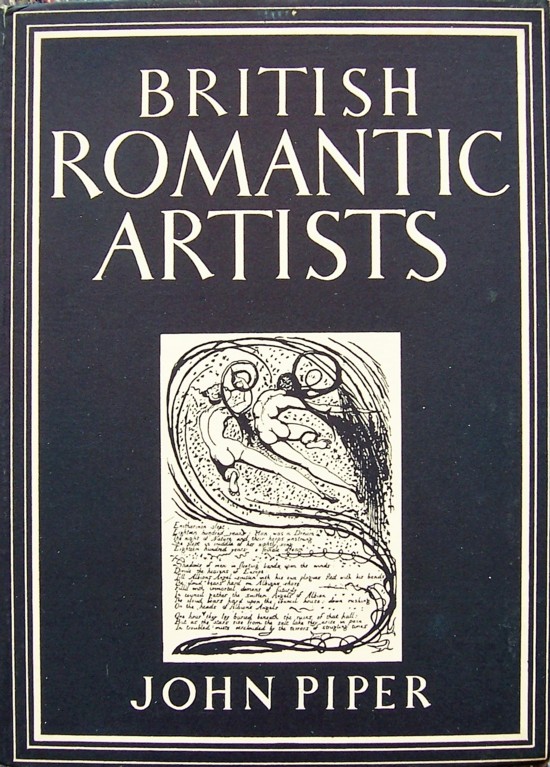 The series was eventually published in 126 volumes, each with their uniform trademark covers in block colours and with a strikingly simple jacket illustration (Plate 1). The design of the books and their distinctive covers was the work of a group of Austrian-Jewish refugees in London. These were also approachably slim volumes, usually of around 48 pages including generous illustration. In total, the 126 volumes contained 1040 colour plates and 2869 black-and-white illustrations (which were a nightmare to access in wartime). As such they present a library of what the 1940s valued in British art and illustration both of the past and of the present.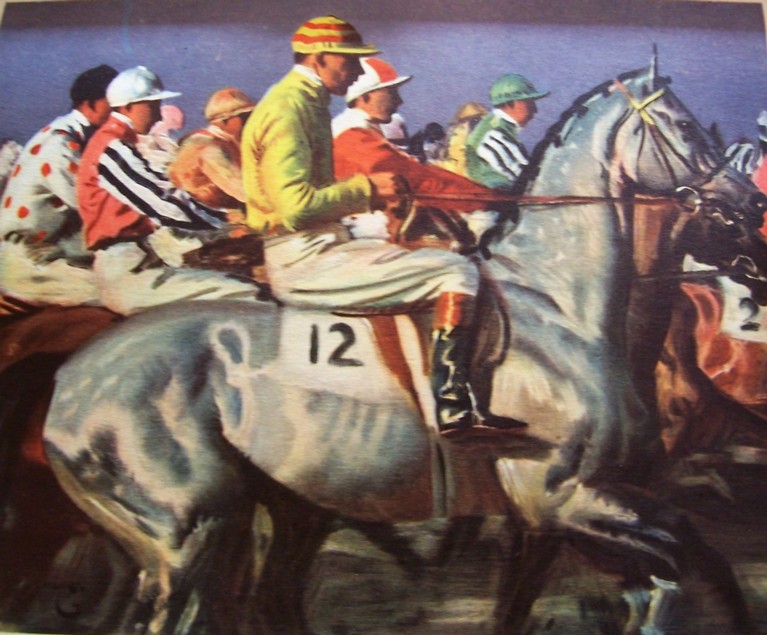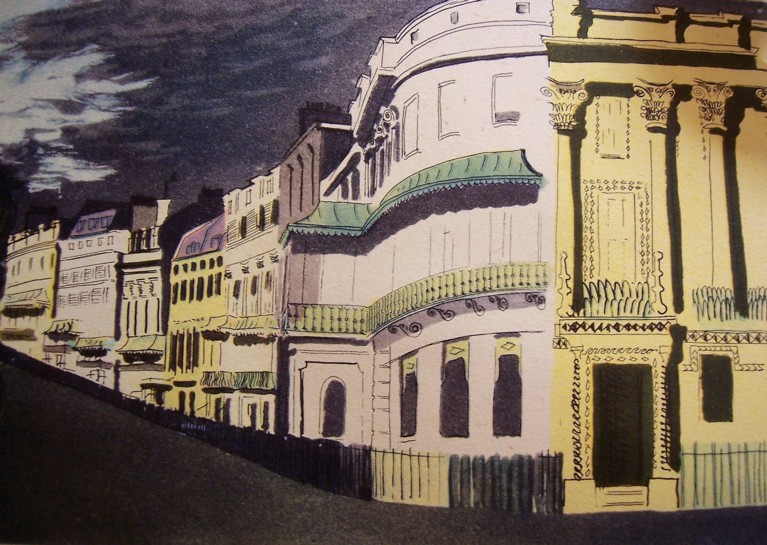 BIPs can embrace all aspects of British life. The BIP on British Sport (1941) includes the excitement at the start of a horse-race (Plate 2). John Betjeman's English Cities and Small Towns (1943) has a characteristic John Piper street-scape of the elegance of Brighton (Plate 3). British Weather (1946) includes – how could it not? – a variety of striking pictures (Plate 4), while The English at the Seaside (1947) comments phlegmatically that in the new age of the hydrogen bomb one might as well be at the seaside as anywhere (Plate 5). George Orwell's remarkable BIP essay on The English People (1947) includes contemporary paintings of soldiers and civilians enjoying a peaceful evening (Plate 6) and the hop-picking in Kent that was the working summer holiday of generations of East Enders (Plate 7).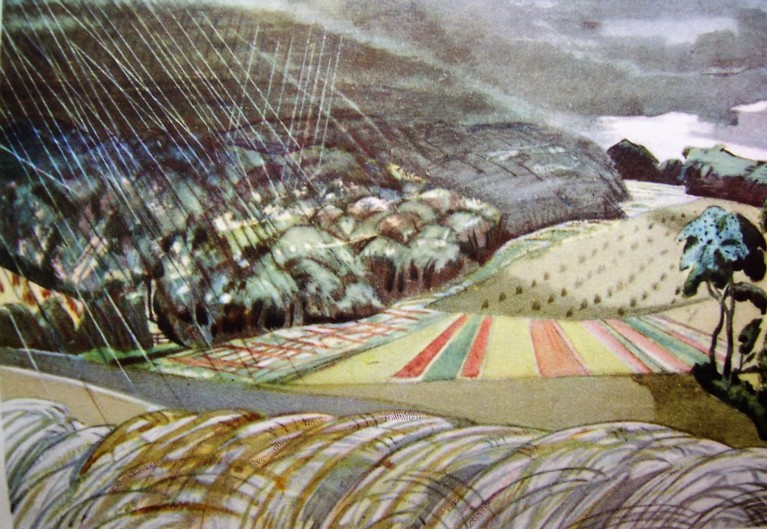 Wartime experience inevitably impinges. English Social Services (1941) is illustrated by a Henry Moore drawing in which some of Moore's characteristic reclining figures appear to have taken refuge in an air-raid shelter (Plate 8). Aircraft and the skies are a constant presence, whether it is RAF bombers en route to Dunkirk (Plate 9), or a German daytime bombing raid on London, with a red trolley-bus helpless in the centre of the picture (Plate 10). A sketch by Eric Ravilious is uniquely atmospheric in representing clouds seen from a plane (Plate 11). In her BIP on Battlefields in Britain (1944) the Civil War historian Dame Veronica Wedgwood ends her account of the field of Culloden by echoing a poem of Stephen Spender: 'With it the tale of fighting on British soil comes to an end, to re-open in a different element close on two hundred years later, when those few who, in the skies above this island saved the civilisation of the world, outfought and outmanoeuvred the German attack and "left the quivering air signed with their honour"' (Plate 12).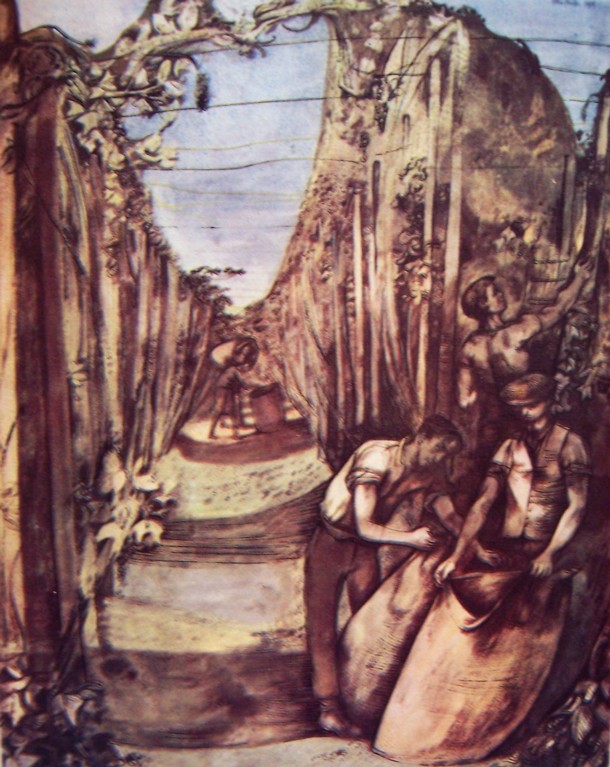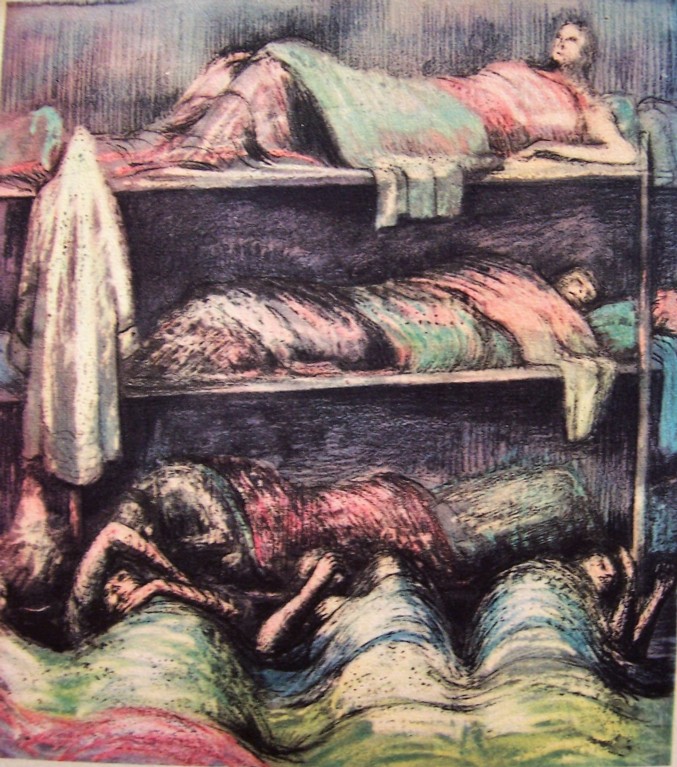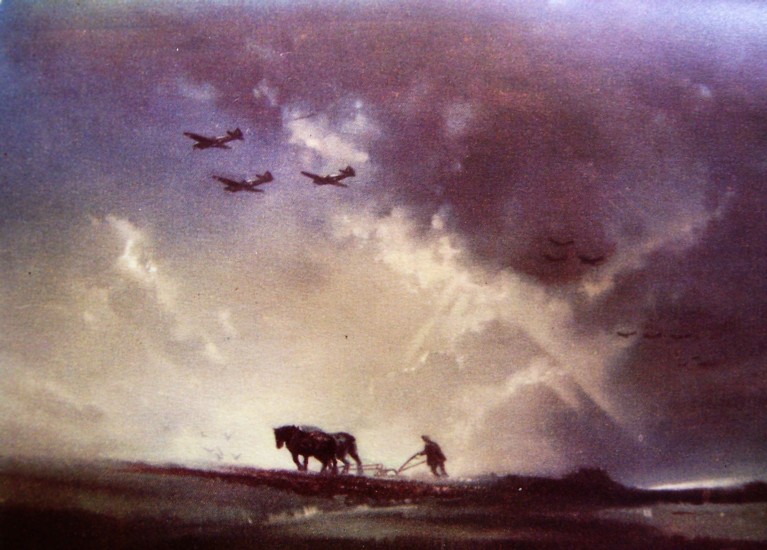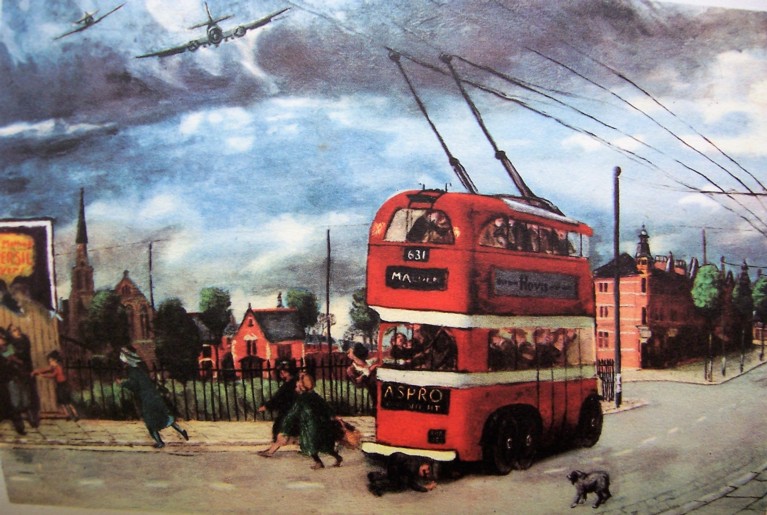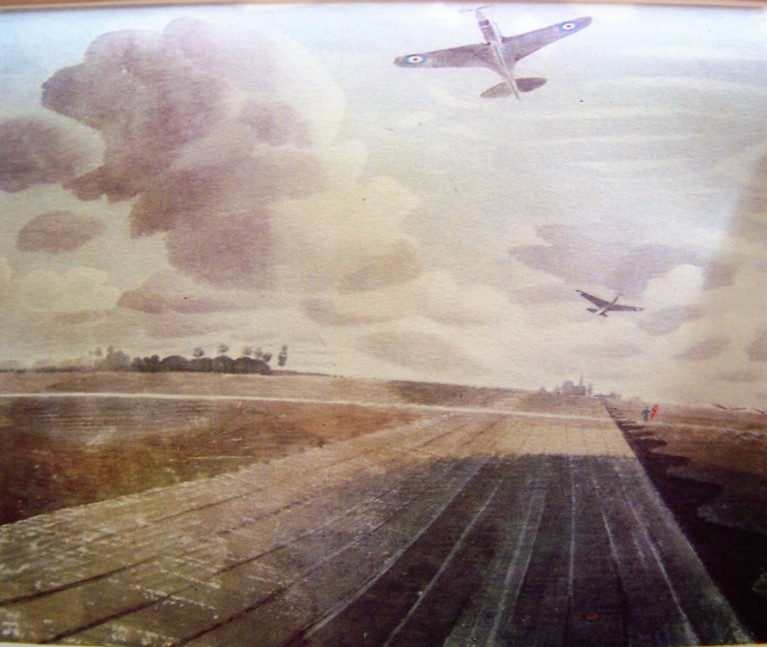 Yet although the series title 'Britain in Pictures' implied picture books, Matheson's determination to recruit the best writers meant that the text of many of the volumes was exceptionally good. Prominent novelists and poets agreed to write, including Edmund Blunden, Elizabeth Bowen, Graham Greene, Rose Macaulay, Vita Sackville-West and Edith Sitwell. Cecil Beaton wrote on British Photographers and Michael Ayrton on British Drawings. The great Bishop Bell of Chichester wrote on The English Church. The BIP on British Cartoonists, Caricaturists and Comic Artists was written by the wartime cartoonist David Low, who knew he was on the Gestapo's list for 'elimination' in the event of the German conquest of Britain (Plate 13). Experts in all fields were recruited for their ability to write cogently for a mass audience: 'dumbing down' is a dismal compromise still many decades in the future.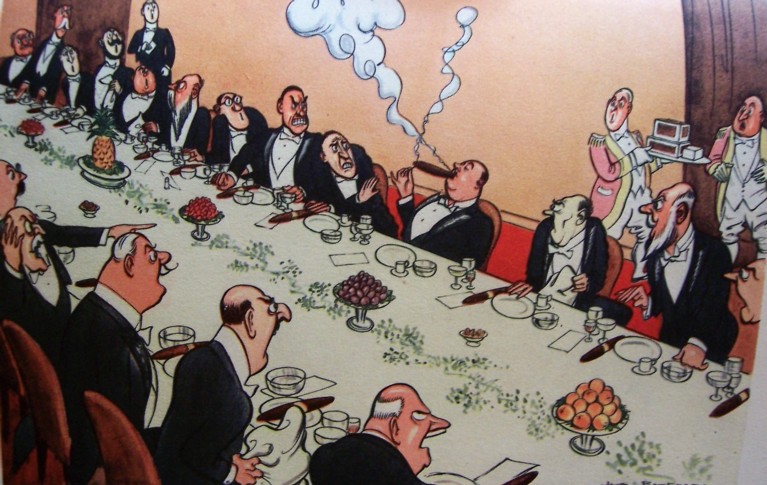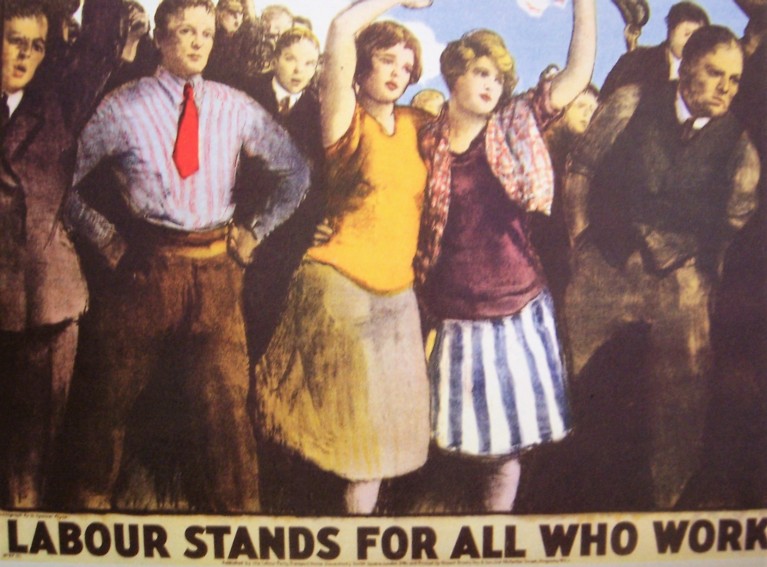 Circulation figures are intriguing. Any bets on the bestselling volume in this series when Britain's very existence was at stake? By a wide margin it was The Birds of Britain, although Life among the English, Wild Flowers in Britain and The English Poets were the next best-selling titles. Prizes for the biggest flops go to the three books on The Labour Party (Plate 14), The Liberal Party and The Conservative Party – the third, fourth and sixth worst-selling volumes.
Once a common sight in secondhand bookshops and charity shops, the 'Britain in Pictures' series is now collected by enthusiasts. Not 'rare books' perhaps, but highly distinctive ones from a unique moment.
Barry Windeatt (Keeper of Rare Books)
Images by Helen Carron (College Librarian)
Back to All Blog Posts