10 June 2020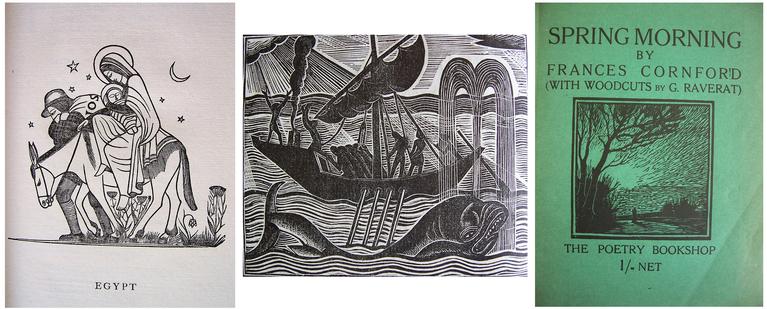 Complementing its collections of earlier rare books, Emmanuel Library is fortunate to have the Chapman Collection of twentieth-century items, donated by John Chapman and his wife Enfys. John Chapman (matric. 1943; died 2002) came to Emmanuel from the Leys School Cambridge, read Modern and Medieval Languages and stayed on to do a certificate in education. He sold antiquarian books and built up a personal collection of items published, some in very limited editions, by such private presses as the Golden Cockerel Press (1920-1961), the Cresset Press (1927-1966), the Rampant Lions Press (1924-2008), the Enitharmon Press (since 1967) and the Gregynog Press, together with publications about twentieth-century British artists, illustrators and engravers including Eric Gill, David Jones, Reynolds Stone, Keith Vaughan, Ivon Hitchens and Michael Ayrton.
A prevailing presence in the collection is the work as an engraver of Eric Gill (1882-1940) and those influenced by him. There are copies of Gill's The Four Gospels of the Lord Jesus Christ (1931), Canticus canticorum (1931), The Passion of Our Lord Jesus Christ according to the Four Gospels (1934), along with Twenty-Five Nudes (1938), and copies of Gill's own characteristic manifestos: The Devil's Devices: or Control versus Service (1915), or Printing and Piety: An Essay on Life and Work in the England of 1931, and particularly Typography (1931). There is also a copy of Aldous Huxley's Leda (1929), engraved by Gill.
The collection includes a copy of the splendid Book of Jonah (1926) with wood engravings by David Jones (1895-1974), one of the major illustrated works by someone remarkable as both poet and artist. There is also a copy of the limited edition of Jones's The Tribune's Visitation (1969), signed by Jones, and a first edition of his great poem In Parenthesis: seinnyessit e gledyf ym penn mameu (1937).
There are various editions of poems by Frances Cornford (1886-1960), grand-daughter of Charles Darwin and mother of the poet John Cornford (1915-1936) who was killed fighting in the Spanish Civil War. Her Spring Morning (1915) and Mountains and Molehills (1934) have woodcuts by by her cousin Gwen Raverat, and her Autumn Midnight (1923) has engraving by Eric Gill. The latter was published by the Saint Dominic's Press which is strongly represented in the collection, including a 1926 pamphlet featuring woodcuts based on Gill's designs for his Stations of the Cross in Westminster Cathedral. Later items, including works illustrated by John Piper, Michael Ayrton and Ceri Richards, mean that, thanks to John and Enfys Chapman, Emmanuel Library has strong holdings in choice twentieth-century items to set alongside its rare books from the sixteenth to the nineteenth centuries.
Barry Windeatt (Keeper of Rare Books)
Images by Helen Carron (College Librarian)
Back to All Blog Posts