Our new project transforms Emmanuel's southern end: creating a new Café & community Hub. The conversion of Furness Lodge provides a basement bar & meeting spaces. Our new court also significantly expands our accommodation.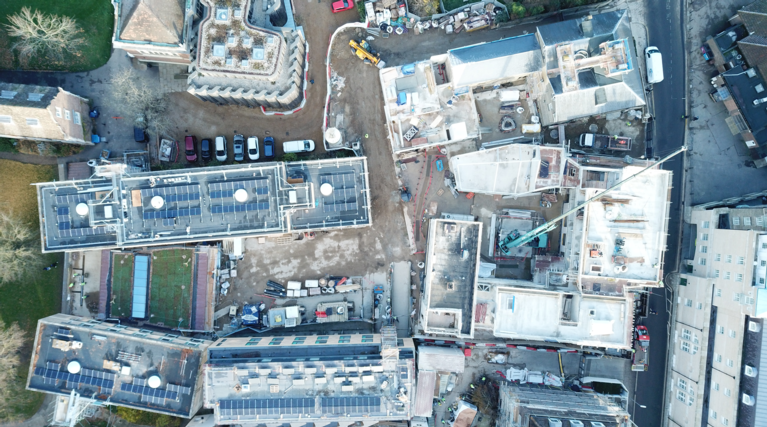 Fiona's Café (Social Hub)
The entire structure is complete, and our community are enjoying the new café: Fiona's. This has been named for our former Master, Dame Fiona Reynolds. The building's Glulam structure has been painted internally with a sustainable lime wash. Its north–facing panoramic north–south windows open onto the verdant Chapman's Garden. The south side of the building will look out onto a covered Café seating area, elegant water features & lush planting, once complete. The adjoining South Court corridors have been refurbished, with replacement picture windows spanning their length, alongside accessible & fully–equipped study niches.
New College Court
The handmade Petersen Tegl bricks are at each concrete structure's third–floor levels. En–suite bathroom units have been placed in each room, with plumbing being prepared. The hit–and–miss brickwork details serve both as a decorative addition & also as part of the sustainable heating/cooling mechanism.
Furness Lodge Bar & Event Space
The historic structure of Furness Lodge has been reinforced, insulated & sound–proofed. Its heat–cool system has been installed on its low–level concrete floor. To raise the floor to the courtyard height, this will be overlaid by wooden structures & York stone tiles The brickwork has been modified to incorporate wide windows into the new court.
The staircases from its ground floor into the basement Bar have been installed. The stylised skylight forms a central feature of the court itself. It illuminates the two–level event space which has had its elegant brickwork erected, and concrete floor poured. The Bar–side walls will be faced with light birch wood. These will correspond with & complement the internal structure of the upper Bar in Furness Lodge.
---
The project has been developed alongside our architects, Stanton Williams & engineering consultants, Skelly & Couch.
---