Richard Farmer (1735 - 1797)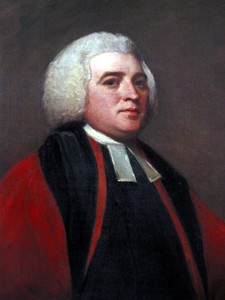 Thirteenth Master of Emmanuel, Shakespearean scholar and celebrated 18th century don
Richard Farmer, born at Leicester in 1735, came up to Emmanuel in 1753. He was elected a Fellow in 1759, and was Master from 1775 to his death in 1797.
His learning was unusual. especially in older English literature, and he collected rare books (including twelve Caxtons) - 'such reading as is never read', as he described it to Samuel Johnson. His library was noted among other bibliophiles for the shabby condition of the volumes, but after his death it made over £2,200 at auction - a remarkable sum for those days.
Farmer's only publication was his important Essay on the learning of Shakespeare (1766, and two other editions), which argued that' his Studies were most demonstratively confined to Nature and his own Language.' A history of Leicester which he at one time planned he never completed; he was perhaps too easy-going for that type of research. Informality was certainly one of his characteristics: he was said to be as fond of old clothes as of old books and old wine, and a visiting German scholar described him walking from Emmanuel to the University Library in his slippers. He was widely respected for his kindness and lack of affectation; and his convivial disposition made the Emmanuel Parlour in his mastership the social centre of Cambridge. His London friends included Sir Joshua Reynolds, Boswell, Dr Burney, and the Shakespearean scholars Isaac Reed and George Steevens, who often visited him' in September to make up theatre parties at Sturbridge Fair. Samuel Johnson's one trip to Cambridge was made to meet Farmer; through him Bishop Thomas Percy, editor of the Reliques of ancient English poetry, an Oxford man, came to take a Cambridge doctorate from Emmanuel; through him Thomas Young joined Emmanuel to get a Cambridge medical qualification.
Farmer held office as Vice-chancellor soon after he became Master; he served from 1778 onwards as University Librarian; he was also active for improvements in the paving and lighting of the streets of Cambridge. He might have been a bishop, but twice declined the offers of William Pitt, who was a personal friend, and he himself used to say that he would have made a 'very indifferent bishop.' He did accept a canonry of St Paul's. His memory lives primarily, however, as that of a 'College man', an eighteenth century don at his best. His mastership was notable for the harmony which prevailed in the College.
---