Past Events
Members and their guests have been busy attending a wide range of events. Reports and photographs are below.
Society Book Group - Michaelmas term meeting
Talk by Hugo Rifkind
5:30pm
Dinner in Glasgow
Glasgow Art Club
Society Visit to the Supreme Court
5:45pm
Master's Lunch in Boston
Estabrooks Room, Harvard Club of Boston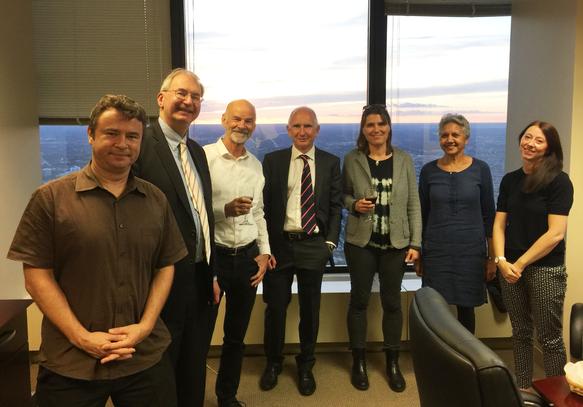 Drinks in Chicago
5:30pm
We were delighted to see a group of members at an informal wine-tasting reception at the law office of Reinhart Boerner Van Deuren s.c., kindly hosted by Rob Misey (1985). There'll be more Society events in Chicago in the new year and we're hoping to see many members there!
Society City Drinks
6:00pm
Master's Lunch in Delhi
Bijwasan, New Delhi
Master's Supper in Singapore
5 Stevens Rd, Singapore 257814
Master's Supper in Sydney
25 Bent St, Sydney NSW 2000, Australia
Master's Supper in Auckland
19 Princes St, Auckland, 1010, New Zealand
Master's Lunch in Hong Kong
Hong Kong Club, 1 Jackson Road, Central Hong Kong
Society Book Group
12:00pm
Oh, Reach is fascinating! Charles Moseley's guided walk which augmented his book Out of Reach. An elegy for a Cambridgeshire Village was so informative and enjoyable. We were blessed with delightful sunshine on the mid-August day we ambled past ancient buildings down to the Hythe, and looped round past the church (complete with bees' nest) and the ruins of its predecessor, to the mesh of paths round and between the extensive clunch pits before returning to Rosanna and Charles' house for strawberries and tea. It was so generous of them to make us welcome.
It turns out that from the top of what remains of the "hill" that the clunch quarriers have eroded one can see a Roman landscape - there were several villas in the neighbourhood, big agricultural concerns (plus ça change!), feeding the troops in Eboracum and even at the Wall! The Roman lode was exactly in line with Devil's Dyke (and you can argue about when that was built, and why, apparently). Produce was initial shipped along it to the Cam, which is naturally tidal as far inland as Waterbeach, and thence the Ouse to the North Sea.
Jump forward in time, and there is the Dutch sailors' haunt where Delft pottery appears when the garden is worked and jump forward again and you get to the lives of the people whom Charles knew when he first moved to the village. His reading from the book, about Bury Market - especially the bit about the produce market in late Advent - was magical.
Society Book Group - Easter term meeting
8:00pm
We gathered in the Fellows' Breakfast room as usual, to discuss Caro, a Fatal Passion by Henry Blyth, and realised that we were under the gaze of the portrait of William Frederick Baylay who was a contemporary of Caroline Lamb, Lord Byron and the rest of them. There the similarity seems to end, because Reverend Baylay apparently spent his time doing things like raising money for a Sea Bathing Infirmary near Margate, and fighting legal cases about an archdeaconry at Rochester Cathedral. They spent their time… well, how did they spend their time? Winding each other up mostly, and using each other for social advantage and transferred glamour. It wasn't apparent that either of them had much fun or joy from their relationship, as portrayed in this rather dated biography.
The book was published in 1972, and was clearly from an era before the work of say Claire Tomalin or Kate Summerscale. Henry Blyth's sources were not cited, and we found this problematic. Granted, we probably wouldn't actually have read the references, but we were left wondering how much of what we read was authentic, and how much the result for the information being filtered by the life experiences/views/prejudices of a male writer born in the early twentieth century whose day job was as horse racing correspondent for the Daily Telegraph. Would Caroline Lamb have been a calmer, happier woman if William Lamb had been a paid up member of the 'Spare the rod and spoil the wife' school of matrimony? Henry Blyth clearly believed that the answer to that question was 'yes'. As it was, the man who became Queen Victoria's first Prime Minister was tolerant and forbearing.
What's wider context for this book? Georgiana, Duchess of Devonshire was Caroline's aunt. The 2008 film The Duchess, was about her. You might remember it for the way one was invited to see comparisons between Georgiana (whose maiden name was also Spencer) and her distant relation, Princess Diana. One of our readers reported that Amanda Foreman's biography on which the film was based is a good read. And then there's Tom Stoppard's 1993 play, Arcadia, which has Byron as a named character and a character implied to be his daughter, Ada. She married another forbearing aristocrat: he became 1st Earl of Lovelace. What he tolerated wasn't tantrums, but his wife working as a mathematician and computer scientist. She developed the Analytical Engine in collaboration with Charles Babbage.
All in all a thought provoking and enjoyable evening, catalysed by a book many of us had disliked and only finished because we knew we'd be discussing it!
Society Garden Party
2:30pm – Fellows' Garden and Paddock
Now here's a thing - a young friend of mine apparently had to pledge to do six hours of unpaid manual work helping to set up one of the major May Balls this year simply in order to be eligible to buy a full price ticket. And, of course, she actually had to do the work that day, so started the night's revelry already physically tired. While all we had to do to enjoy a delightful scale model of a May Ball on Saturday afternoon was hand over a modest sum.
There was Pimm's on arrival to launch that sense of real summer. Meanwhile, little people were enjoying their soft drinks and gradually metamorphosing from small humans to a collection of cats and flowers and fairies that was redolent of A Midsummer Night's Dream as the face-painters plied their skills. Happy chatter, driven by the meetings of friends old and new, mingled with music as the classic afternoon tea came out. The scones with cream and jam were particularly good and there was a free flow of the "cup which cheers but does not inebriate" which was refreshing on a hot afternoon. So had there been any ghosts of nineteenth century temperance campaigners around they would know we'd repented of the alcohol.
Oh, and on nutrition, there was a fascinating Short Talk from Dr Penny Watson, a Fellow in Veterinary Medicine, about animal digestion and metabolism and its implications for feeding pets and farm animals, with a really useful aside about how to read dogs' body language and recognise when they are relaxed, or a bit fretful, or so anxious they're about to attack you. Did you know that the proportions of overweight and obese humans and dogs mirror each other in the UK? The Master, who was in the audience, was singled out for praise for the way she and her pooch go on a good long outing every day! And the quiz on the suitability of six common human foods for cats and dogs was informative. Onions, garlic and exploding blood cells in dogs: yeuch.
The College grounds were looking colourful - so skilled of the gardeners to have dahlias in flower already - and we got to remake our acquaintance with them thoroughly as there was a most enjoyable photographic treasure hunt which had us ambling all over, including skirting round our more energetic colleagues who were playing croquet and tennis (who needs that club at Wimbledon?), searching for the whereabouts of sixteen architectural and botanical features. Frustrating never to find that brass not-doorknob, too-flat-to-be-a-finial, thingy.....
And after all that trekking about there was the pool - startling to get in to but so soothing once immersed. There was a mermaid in it. Really. She said the tail made swimming easier. And then we disappointed those ghosts with the prosecco over the last few numbers from the talented jazz group, and wended our way home bathed in a golden glow.
Contact: Events Manager
*CANCELLED* Event for Members who matriculated between 1991 & 1993 and 1999 & 2001
2:00pm – The Morpeth Arms, 58 Millbank, Westminster, London, SW1P 4RW
Visit to Stowe House and Landscape Gardens
12:00pm – Stowe, Buckingham, Buckinghamshire, MK18 5EQ
At Stowe, on Thursday 5th 2018, members were entertained in grand style by the Stowe House Preservation Society and its director, our President, Mr Andrew Fane.
After a drinks reception and an excellent lunch, we were given a brief introduction to the house and to the extensive preservation work being undertaken there. We then moved on to a detailed guided tour conducted by Andrew and members of his team.
Among much splendour- views of four countries from the leaded rooftops on a perfect summer's day, magnificent rooms, sculptures ancient and modern- for some (e.g. the member who discovered an artist's sketch done by his great-grandfather!) it was perhaps the details that best represented the 'genius of the place' and its meticulous preservation.
The meeting concluded with tea, where Professor Barry Windeatt expressed our grateful thanks.
Ken Sheringham
Society vs. College Cricket Match
11:30am
The College conceded defeat to the Old Emma XI during post-match pub drinks. OK – it's a long story.
Old Emma lost the toss and were (graciously, by College captain Ashwin Raj) asked to bat on a wicket which looked as if had been harvested rather than mowed. Tim Baxter (38 - that's runs, not age) and Peter Westaway (6 – ditto) provided an experienced opening partnership but the elegance of Chris Humpleby (28) was needed to build the innings towards lunchtime at 87-2. Alex Tindale (18) but especially Will Earle (52) added runs as did Will's father, Glenn (15) and James Lowen (15) and Old Emma declared at 211-7 off 50 overs almost exactly half way through the day's play.
For the College, Harry Knill-Jones bowled 10 overs with 3 wickets for 29 runs and Abishek Patel took a further 3 but at the cost of 63 runs. The College conceded 25 wides and 5 no balls. In reply, Abishek Patel completed a busy day with 64 before unluckily playing on bemused by Baxter's flight and direction (somewhere west of slip) and Ed Sides supported well with 33 not out. Nigel Quinton (fresh from canvassing at the Lewisham by-election) was invigorated with 3 for 8 off 7 overs (including one caught and bowled at full strength and, for no apparent reason, 3 wides in the last and vital over). Peter Slee took 2 for 15, including his usual unplayable delivery which this time went for 4 past backward square.
But the College were always well off the required run rate and lost wickets to finish at 139 for 9 off 44 overs. The College did not have 11 players at that point so the innings was technically over – and Old Emma victorious. However, generosity prevailed and Elliot Mack (playing for Old Emma) was asked if he would like to bat for the College as he had not had a chance to bat for Old Emma. Elliot lasted the remaining 2 overs of the required 20 in the last hour, adding 4 runs to make the "final" total 143 for 9 off 46 overs.
Match, therefore, drawn? No-one really knew until Ashwin, as College captain, said it would be unreasonable for him to claim a draw in such circumstances. Honour satisfied all round. Quote of the Match: Peter Westaway on James Lowen's vain (but praiseworthy) attempt at a caught and bowled: "If you'd have jumped any higher, James, you'd have been off the ground."
Old Emma squad: Peter Westaway, Tim Baxter, Chris Humpleby, Alex Tindale, William Earle, Billy Pinder, James Lowen, Glenn Earle, James Larman, Elliot Mack, Nigel Quinton, Peter Slee and me. Star names on the boundary: Stephen Wright, Phil Brown, Nigel Adams, David Herbert, David Jacob.
Thanks to the College – Dr Sarah Bendall and Mary Longford - for organising lunch and tea and Mark Robinson for the wicket and grounds.
David Lowen
Recent Graduates' Dinner (June)
7:00pm – Hall
The Senior Tutor and Development Director were delighted to welcome over 20 members, who had recently received their MA, to dinner at High Table. It was great to catch up with their news since leaving College and to see the many achievements that Emma members reach in their working lives. Dr Henderson and Dr Bendall were able to update the members about goings-on in the College: our academic, extra-curricular and community successes, and we hope to be able to see many people back at College again soon!
Burnaby Recital
6:15pm – Queen's Building Lecture Theatre
This was a wonderful evening, well received by all in attendance.
Daniel Rowland and Alissa Firsova really brought the works of Daniel Milhaud and César Franck to life, with their own subtle yet commanding performances.
Tour of the Supreme Court
6:00pm – Parliament Square, Westminster SW1P 3BD
The tour of the Supreme Court was thoroughly enjoyed by the lucky few able to attend.
The Court's significance, coupled with the incredible architecture created a lasting impression - not to mention the keenly knowledgable guide, who really brought the place to life.
Chapel Choir Reunion 2018
4:00pm – Emmanuel College Chapel
Following the successes of the Chapel Choir Reunions of 2012 and 2015, this evening's Reunion is sure to be remembered fondly by the 65 people who came, listened, and sang.
From the opening Hail, Gladdening Light to the closing anthem of Blest pair of Sirens, the Chapel walls reverberated with the collective voice of all.
Recent Graduates' Dinner (April)
7:00pm – Hall
Emmanuel Society Lecture by James Fox
Leighton House Museum, Holland Park Road, W14 8LZ
The Society Lecture was given on Wednesday 26 April – in London for the first time – by the art historian Dr James Fox. In the rather sumptuous surroundings of Leighton House, he held some sixty of us completely fascinated by his illustrated talk on Blue.
The brief analysis, scientific and aesthetic, of a Titian painting was typically wide-ranging and, overall, the speaker's presentation of Blue from its ethereal, other-worldly quality, via the hard facts about its costliness as lapis lazuli, to the notion of it as quintessentially earthly after all – the blue planet memorably photographed from space – was thoroughly absorbing.
The lecture stimulated questions that led the speaker into indigo dye, to the use of blue in television and film, the varying gender associations of the colour, as well as its role in achieving the blackest of blacks and the whitest of whites.
The evening concluded with drinks, and an opportunity to explore the House.
Gathering of Members (1970-72)
Master's Supper in New York
6:30pm – Harvard Club of New York
The Master, her husband Bob Merrill and Sarah Bendall (Development Director) were delighted to welcome over sixty members local to New York to a supper party at the Harvard Club of New York. Members and their family and friends were able to catch up with College news and reminicse about good time at College with their contemporaries, and new friends.
London Drinks
6:00pm – Phoenix Artist Club 1 Phoenix Street, London WC2H 8BU
Around 50 members gathered at the Phoenix Artist Club for our annual informal drinks gathering. We were a diverse group represented across several decades from those in their prime down to recent graduates. There was a good showing of the latter group encouraged by free drinks. Throughout the evening a lively buzz filled our area of the bar as friends reunited and new connections were made. We look forward to welcoming everyone back next year.
Talk by Nicola Blackwood (2003): CANCELLED
5:30pm
Unfortunately this talk was cancelled, for personal reasons. We hope to find a new date.
Visit to the UL Holdsworth Collection
3:00pm – University Library, Cambridge
Local members and Fellows of the College enjoyed a tour of the University Library by ark Purcell, Deputy Director, Research Collections, and Liam Sims, Rare Books Specialist. We were shown fascinating items from the library of Richard Holdsworth, fourth Master of Emmanuel (1636-43).
Under his will of 1649, he intended that his library of more than 10,000 should go either to the University or Emmanuel. Sancroft felt that Emmanuel's claim was good, but after legal negotiations the books were eventually conceded to the University. This was a wonderful opportunity to see what we might have had!
Emmanuel Society Travelling Book Group - first discussion
8:00pm – Fellows' Breakfast Room, College
Oh, but the kitchen did tempt us!
Clearly keen that we should make the most of the last evening before Lent started they sent up a generosity of pancakes accompanied by apple in calvados, chocolate sauce or classic lemon juice and sugar. But the real treat of the evening was the opportunity to discuss The Anatomy of Ghosts not only with each other but also with its author Andrew Taylor (also a member of the Emmanuel Society, of course). He took questions not so much about the plot as about the 'how' of writing it. Focussing on its being set in the eighteenth century, we covered the difficulties of getting historic dialogue to be both comprehensible to modern readers, and tolerably authentic.
We also considered his relationship with his publishers, editing drafts and how his books tend to lose characters and complications during that process, and what he might feel were his agent to get a contract for a television drama based on one of his many books. We wondered whether there was something River Styx-ish going on with the hero's son and wife drowning in the Thames and the body in the pond at "Jerusalem College", but he said that was not conscious on his part. The college name has to be in quotation marks because it is so clearly Emmanuel, despite one of the characters, Tom Turdman, saying early on that he collects from Jerusalem, Emmanuel, Christ's and a couple of other (real) colleges. And, sitting in the Fellows' Breakfast Room with the arcade alongside the chapel where so much of the action takes place visible out of the open-curtained window, we reminded ourselves about the real body in the pond: the resident of Fen Ditton whose freshly buried corpse was procured for two Fellows who were anatomists, in about 1730. When the angry crowd broke in to search the College they were frustrated by its being weighed down in the pond to be retrieved later (Dr Ron Gray's letter to Dame Fiona, 25 April 2014). For those with stamina there was also a cheeseboard, port and fruit, a theme to be repeated at the Easter Term meeting!
Burnaby Recital
6:15pm
The College were delighted to welcome Simon and David Ponsford back to College for a recital in the Chapel. Simon is an established countertenor soloist and was accompanied by the virginals, played by his father (1968). The performance was a delightful evening of Elizabeth and Jacobean song, with performances of Dowland, Burd, Tomkins and Johnson.
First Night of Television: Talk by Hugh Hunt
5:30pm
We were delighted to welcome Dr Hugh Hunt (1984), Reader in Engineering Dynamics and Vibration and Fellow of Trinity, to College for a talk on 31 January. Dr Hugh talked about the fascinating first BBC television broadcast. He detailed how it was done, giving demonstrations of spinning discs and flashing lights. Footage of the broadcast itself was shown and he talked passionately about the wonders of the engineering! Many members of the Emma and Cambridge Engineering Societies attended, and probed Dr Hunt for further information at supper in the Old Library.