Past Events
Members and their guests have been busy attending a wide range of events. Reports and photographs are below.
College & Society Carol Service
6:00pm – Temple Church, Temple EC4Y 7BB
Members are very welcome to our annual carol service in London, where we'll be joining the Chapel Choir and London-based students to sing carols and meet up with each other to share festive greetings! There'll be informal drinks at the back of the church after the service, until 8pm.
Drinks in NYC
6:00pm – Neary's, 358 E 57th St, New York, NY 10022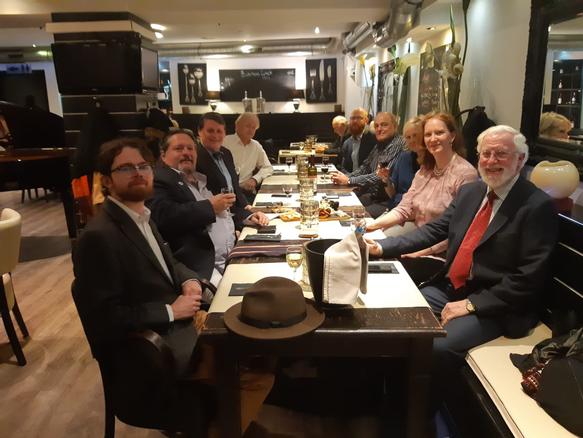 Drinks in Brussels
5:30pm
Imagine a group of Emma members in Brussels, enjoying wine in the literal shadow of the Berlaymont, and managing never once to refer to Brexit! Most though not quite all of us are in the city because of the EU, and some have been here for many years (I've only recently arrived). My original 1970s scarf as ever ensured everyone recognized our table!
Society Day: Quizzing, Messiah and AGM
10:00am
'Emma: More than a degree?' – Panel Discussion
6:00pm – h Club, 24 Endell St, London WC2H 9HQ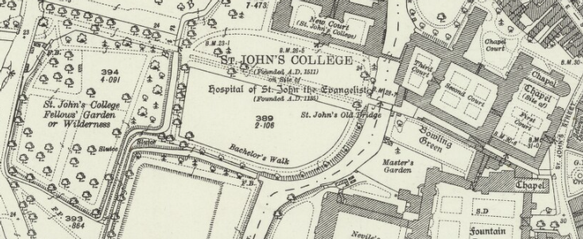 Book Group: The Great Darkness by Jim Kelly
8:00pm – Fellows' Breakfast Room
Eyes. His eyes are very important, aren't they? Eden Brooke's eyes are unlike anyone else's following his torture in the desert sun by the Ottoman Empire during the WW1. They are so pale as to be almost white. He has photophobia, and so wears tinted glasses as well as preferring to do his detecting at night. Mind you, that's partly because another consequence of the torture is that he has a weird sleep pattern. But back to the eyes. There's one point when he is attempting to question a suspect who says nothing in response, but rather asks about his eyes. He replies that they allow him to see into the souls of villains. That's the specific point: the general one is that they symbolise his not seeing things in the same way as everyone else does. Is that what makes him a good detective?
There was a strong evocation of Cambridge in the autumn of 1939 which involved smells and sounds and textures as much as the sights, as someone with impaired vision might well perceive their surroundings. As one of our readers said "I will remember the setting, the detail about the start of the war, and the history of Cambridge. It was a lot of fun to imagine being there. I liked the idea of the nighthawks keeping watch over the city."
St John's Wilderness, shown on the OS 25 inch to the mile map published in 1927. Wildernesses were a 17thC fashion: they were anything but wild, as you see here. Reproduced under a Creative Commons Attribution-NonCommercial-ShareAlike 4.0 International (CC-BY-NC-SA) licence with the permission of the National Library of Scotland.
There were two plots, written in short chapters with good cliff-hangers, some gruesome. There were several human and many animal deaths from a surprising variety of causes. We swam in the Cam through the Backs and went to Byron's Pool, ate and gathered information in the porters' lodge at Michaelhouse, had sex with a ward sister in the boilerhouse at Addenbrooke's in Trumpington Street*, visited Jesus Green lido and St John's Wilderness for strange reasons, stood to attention at Madingley Hall, trudged across some fens, frequented rooftops and nightclimbers' pubs, went to the Anatomy Building on the Downing Site and the cemetery in Mill Road, visited the red light district and the Police Station (aka The Spinning House: we slept in a cell there), drank tea and ate bacon butties in the Market Square and were nearly sick in a cold store in an officially disused market in Sheffield. But we sorted it all out in the end. Phew!
* I put these two next to each other, because a personal juxtaposition of porters and the obscure corners of Addenbrooke's dates from the days when it still was a hospital and I was a houseman. Not strange to be woken in the night to go and agree with a fellow staff member that someone else was indeed dead. But the fellow employee was more usually a nurse than a porter, and I had no idea there was a gent's toilet hidden away in the three dimensional maze they took me into. Poignant! Early November. Young man, utterly dead. Contact the police including the Coroner's Officer. Pinprick pupils so probable overdose of illegal opiate. British Legion poppy in his jumper: what an ironic waste of young life.
We think Jim Kelly writes well. We're going to read The Water Clock from his Philip Dryden series for next summer's meeting, and discuss it in Ely. Some of us are individually going to read the other 'Nighthawk' book, The Mathematical Bridge. He has also written a third series, set in North Norfolk and King's Lynn. Are fictional Detective Inspectors competitive? Will Kelly's DI Peter Shaw oust Elly Griffiths' DI Harry Nelson from that manor? Seems unlikely, as Nelson has Dr Ruth Galloway to help him.
Dinner for Emmanuel Lawyers
6:45pm – Cutlers' Hall, 4 Warwick Lane, London EC4M 7BR
Clergy Gathering
5:00pm
Drinks and dinner in Chicago
6:00pm – Union League Club of Chicago, 65 West Jackson Boulevard
Supper in Toronto
6:45pm – 7 Hart House Cir, Toronto, ON M5S 3H3, Canada
Summer Drinks in London
6:00pm – The Old Change, 2-3 Old Change Court EC4 8EN
Supper in Boston
6:45pm – Revere Hotel, 200 Stuart Street MA 02116
Book Group: The Book of Alexander by Mark Carew
8:00pm – Fellows' Breakfast Room
The Book of Alexander by Mark Carew stimulated some intense discussion. It had an unreliable narrator and we chewed over in some detail whether such characters are unacceptable in fiction in societies which feel themselves to be on shifting sands. Discussing this on the day the Speaker resigned, we noted the strange things that have been/are happening in politics in Europe and the US and the increasing trend towards large groups in society knowing they are being lied to by major figures but not being troubled by that. The popularity of the Golden Age of Detective fiction in the decades following the turbulence of the First World War has been attributed to people wanting calm, more or less formulaic novels, hasn't it? You know, a murder victim no-one was sorry to see the back of and a puzzle that could be satisfyingly solved. Our situation is hardly a parallel of that of readers who had lived through the trenches or lost loved ones, but maybe we too want to be soothed by our fiction?
We also gave careful consideration to mirrors, cameras, and self perception (Alexander had grown up in a house with no mirrors and was now engaged on creating installation art which involved filming people) and to synaesthesia, which was where the ideas for the book had started for Mark Carew. Indeed, Mark spoke interestingly and informatively on getting ideas, the process of writing, working with an editor, and the publishing industry in general. Now he's more confident, his second and subsequent books won't have towering spoilers on the back cover, for instance! But as some of us hadn't actually read the back cover, so they'd read what lay within with innocent eyes and were able to discuss the big reveal as it was meant to be appreciated.
Lunch in Hong Kong
12:00pm – Hong Kong Football Club, 3 Sports Road, Happy Valley, Hong Kong
Book Group Summer Outing
12:30pm
Anyone who's read The House at Greene Knowe by Lucy Boston knows that strange and magical things happen there: few people know that even its souvenirs have odd qualities! I bought a black netsuke mouse (such as Tolly* popped under his pillow) thinking that it would be a companion for the "Greig's Composing Frog" that my husband and I bought at Troldhaugen. Once home, it proved impossible to touch it without joining the Black Hand Gang. Putting it under the cold tap had a dramatic effect on the sink and resulted in a lovely brown mouse with twinkly black beady eyes.
*Sensitized by the book, two days after our meeting I noticed a signpost to Toseland, which as the crow flies is not that far from Hemingford Grey, west of Ermine Street.
We readers were divided into those who had known and loved the series since childhood and those who read this book for the first time for this visit. We all found that it compelling and charming. The 'now' of the book is a bygone era (children travelling alone by train! confidently setting off from the station by boat on a dark and rainy December afternoon with a stranger who says he's been sent by their great grandmother...), but interestingly it avoids feeling dated. One of us had given it to his into-double-figures children and they had found it not only completely comprehensible but also enjoyable. A real classic.
The tour of The Manor, Hemingford Grey was engrossing. The house and its furnishings have been conserved closely to match the descriptions in The Children of Green Knowe, and the effect is entrancing rather than saccharine. Part of this is due to Diana Boston's approach to telling people about her home and its real and imagined history. Her style is fresh and intelligent: no trace of an oft repeated litany spoken to people she will probably never see again. The increasing realisation as you progress up the Norman tower house that you know what will be in the next room is special - a bit like the anticipatory joy of hearing the overture or opening bars of a familiar and comforting piece of music. Lots of real history, too: Tudor alterations to the Norman building apparent; the story of the 18thC Gunning sisters; and real fire which reversed some of the alterations to the house and is fictionally described as part of the story of Bredon Hall in Jill Paton Walsh's The Attenbury Emeralds (she's a friend of DB's); the ad hoc seating in the music room to accommodate the numbers of airmen from RAF Wyton who wanted to listen to gramophone record concerts on their evenings off from Pathfinding over Nazi Europe.
We only glimpsed the garden as it was raining, but the patchworks! As well as being able to craft a story, Lucy Boston was a nimble fingered mathematician. The uses of shape, colour and pattern are formidable, and the results beautiful.
Buxton International Festival
Master's Dinner in San Francisco
6:45pm – City Club of San Francisco, 155 Sansome Street, 10th Floor, SF, CA 94104
Master's Supper in LA
6:45pm – Millennium Biltmore Hotel, 506 S Grand Ave, Los Angeles, CA 90071, USA
Book Group Extra!
1:45pm
Oh dear! there we were, all ready to meet at the Wimpole History Festival to hear two novelists discuss the art and craft of turning history into fiction then chat through both the books and the discussion over tea when the Festival organisers upped and cancelled it.
The book with the local connection was Stella Tillyard's The Great Level which well rewards a read if you are interested in love stories and land reclamation! The hero, whose seventeenth century adventures also take him to Nieuw Amsterdam, is a young Dutch water engineer working on draining the Fens. It's a dangerous, exciting and professionally satisfying occupation. His personal life, the archaeological finds, and the evolution of his religious belief add richness to the tale.
Old Emma vs. College cricket
11:00am
SCOREBOOK CONFUSION: HOW MANY RUNS WERE SCORED – AND WHO REALLY WON?
For the second year running, this key cricket match of the College v Old Emma was decided and formally conceded after the close of play. This time it was two days after the match day: last year it was in the pub after the game. Last year the result was conceded by the College: this time by Old Emma.
On the day, the College swept past the Old Emma total of 109 with the loss of just 5 wickets off a mere 25 overs: a clear victory. However, later close examination of the scorebook (by the Old Emma captain, perhaps not the most numerate of economists but using a calculator just in case) showed that, by different calculations the College total could have been 104, or then again 107, or possibly 108: but certainly not 109 or higher. College victory celebrations were technically premature, however well deserved.
However, it would have been churlish in the extreme to deny the excellent College team its victory.
The Old Emma 109 is the lowest total ever recorded by Old Emma, who added a second record on the day with the most expensive over ever bowled in the series.
That the game was played at all was unexpected after a week of very heavy rain. Indeed, some threatening black clouds and a couple of short showers during the first innings added to nervousness. Play started at 1pm and there was just one break for tea.
Old Emma batted first on a wicket which started damp and puddingy but later flared for an hour or so after some sun. Jeremy Allen (20), Freddie Green (15, making his Old Emma debut) and Will Earle (14) took Old Emma to 61-2 – a "platform" if ever there was one. But then the wickets fell – six were lost for the addition of just 7 runs (Dave Downham, Peter Westaway, Alex Mistlin and the captain contributed net zero between them). It was left to Glenn Earle (30) to take the score to 109 – and even then it needed 12 batsmen.
Although the pitch had a spiteful period, wickets were lost because of poor shots and poor judgement to a steady bowling attack. The College used nine bowlers with Daniel Pope (3 for 17) and captain Sushant Achawal (3 for 4 off 5 overs) excelling. Five catches were held.
In reply, the College made steady progress with wickets falling – but not fast enough to threaten the obvious result. Tom McKane (21) and Luke Hone (49) made certain. For Old Emma, Nigel Quinton (3 for 24 in 9 consecutive overs into the wind, poor old man, cruel captain) showed penetration and caught two off his own bowling. Peter Slee, carrying a hamstring injury and after a winter knee operation, was steady with 1 for 20 off 7 and Elliot Mack (1 for 39) was fast and occasionally straight.
But it needed more. However, not necessarily more of Jeremy Allen, whose one over went for 4-4-6-0-4-6. Maybe if two catching chances had been taken with the composure of the one snaffled by Tim Baxter (if he'd missed what might it have hit?), it could have been closer.
At the tea break, Abishek Patel and Sushant Achawal presented what can only be described as "long service awards" to Luke Hone, Tom McKane and Daniel Pope who played their first season of six for the College way back in 2014.
Two of the College team were Robinson Ringers (thereby, technically nullifying the result?) and no fewer than six of the College team will be available for Old Emma next year.
Thanks to Mark Robinson for draining the shallow end of the pitch, to Philip Brown for supporting throughout, and to the Master and the College for the invitation to dinner in Hall and dessert in the Robert Gardner Room. There's always next year.
David Lowen
Visit to the Royal Opera House
10:00am
Recent Graduates' Dinner (June)
7:00pm – Hall
Book Group
8:00pm – Camden House
Is a book group discussion different because the author is there? Yes, of course. If you are blessed, as we were in Paul Ryley's Finding Emily, with a page-turner, you have the pleasure of telling the author why you found it so interesting. So the Camden House drawing room rang with book group's female members (who are of a certain age) saying "Did you young men really think like that about women undergraduates? I never knew!! It explains so much….." Choosing this book turned out to have been very apt given the College's preparations to celebrate 40 years of the admission of women undergraduates. Some of the characters were Girton undergraduates, and the meeting was enlivened by the passing round of a Girton year group photo from the early 70s which led one of our number to exclaim 'That's my sister!" Cue a consideration of whether or not it is creepy for an author to have photos of the real people who inspired his fictional ones in his writing-archive. We went on to explore the parallels between this book's detail on 1970s pop music and that rather solid and indigestible chunk of Ian McEwan's Saturday which reports the morning squash match grunt by grunt. And then we chewed over anxiety and depression in real life and in fiction because the plot is very much shaped, as is the majority of people's lives directly or indirectly, by mental ill health. It was well portrayed in the book, as one would expect from a psychiatrist turned novelist.
CP Snow's The Masters provoked a different sort of discussion what with him being both dead and a famous author. Our conversation could be summed up as having been a wrestle between feeling that we should revere this Great Book and actually finding it slow moving and boring despite telling ourselves that we probably ought to be perceiving insights within it which would illuminate our understanding of what is going on in the major political parties. It is a book about power struggles in confined groups of people, after all, and that is a timeless topic. The mastership election which inspired the book was Christ's, and, Sarah Bendall's informative message went on, Emmanuel happened to be the next college to need to elect a new master. Apparently, troubled by the protracted agony of the Christ's fellows, we pressed on and did it in hours!
A way in which The Masters is dated is the issue about what doctors should tell their patients, and what they might or might not, tell the patients' relatives. In the book, the then master's wife is told that he is dying of a digestive cancer and she and the doctors collude to tell him that his investigation found nothing serious and imply to him that he should expect to convalesce back to normal health. They tell the fellows that he is dying. Only the master's young adult daughter thinks her father should be granted the dignity of knowing what is going on but she is dismissed as a hysterical girl. The rest of them lie to him. We considered wanting to know, not wanting to know, the possible burden of unforgettable knowledge, and what might constitute good psychological palliative care.
It was a jollier evening than depression and death implies!
Film Screening of 'Letters from Baghdad'
6:15pm – British Academy, 10 Carlton House Terrace, London SW1Y 5AH
Recent Graduates' Dinner (April)
7:00pm – Hall
Visit to Aldeburgh
11:00am – The Red House, Aldeburgh, Suffolk IP15 5PZ.
London Drinks
Phoenix Arts Club, WC2H 8BU
Burnaby Recital
6:15pm – Queen's Building Lecture Theatre, College
Talk by Sir Stephen O'Brien
5:30pm
Book Group – Lent Term Meeting
8:00pm – Fellows' Breakfast Room, College
The Cambridge Murders by Glyn Daniel
It seems unlikely that at the beginning of the evening any of us thought that by the end of it we'd have talked about Giles Farnaby (1563-1640), Jane Austen (1775-1817), Anton Chekov (1860-1904), Virginia Woolf (1882-1941), Dorothy Sayers (1893-1957), C S Lewis (1898-1963), Georgette Heyer (1902-1974), Colin Dexter (1930-2017), Qiu Xiaolong (1953-) and J K Rowling (1965-) along with: borrowed names and religious allegory; era-appropriate words and phrases; guns; level-of-description; and rules-for-writing fiction but we had. Era-appropriate words and phrases, guns, Dexter, Heyer, Qiu and Sayers were perhaps predictable, but the rest?
Yes, the titular murders were committed with a gun, but that wasn't the context in which we talked about them: rather we considered Chekov's guidance about the opening of a work of fiction. He was concerned with the imperative to get the plot moving early. Apparently he said that if the author mentioned that there was a gun hung over the fireplace in the room where the action opens, it, the gun, should have been fired in the next three pages. The Cambridge Murders opened much more slowly than that - took 23 pages of an old Penguin edition to find the first body. Until then, nobody had thought there was anything odd about the last night of term in the imaginary Cambridge College in the late 1930s. We noted that J K Rowling - a writer who does not want for readers - had felt able to indulge in a veritable telephone directory of characters, each introduced in their own short chapter, before she got going on the plot of A Casual Vacancy. So much for that rule for writing fiction.
We had come across two sets of rules for writing detective fiction specifically: van Dine's (US) Twenty Rules for Writing Detective Stories which apparently originally appeared in the September 1928 edition of The American Magazine, but which we had found on the thrillingdetective website, and those of The Detection Society, codified by Ronald Knox in 1929 (try Wikipedia). Like Knox, Sayers was a founder member of (UK) The Detection Society but clearly didn't rate van Dine's Rule 4: "There must be no love interest in the story. To introduce amour is to clutter up a purely intellectual experience with irrelevant sentiment. The business in hand is to bring a criminal to the bar of justice, not to bring a lovelorn couple to the hymeneal alter." Think of Strong Poison, Have His Carcase, Gaudy Night and Busman's Honeymoon. Perhaps Sayers felt she had matured out of writing straightforward detective fiction. Daniel also broke van Dine's Rule 4, because in the case of The Cambridge Murders people's fondness or passion for each other provided some handy motives for them to behave badly (but sometimes affectionately!) and so enrich the "intellectual experience" of the many potential solvers of the murders, and indeed the readers. Wondering whether following rules for writing detective fiction might be a characteristic of writers with a UK or US background, we are going to read Qiu's Death of a Red Heroine - the first Inspector Chen story - later in the year.
And the other things - writers - composer - that caught our interest? Well, if you like wide ranging discussion, do join us! Next meeting probably June 3rd.
College anniversary drinks in Chicago
5:30pm