Past Events
Members and their guests have been busy attending a wide range of events. Reports and photographs are below.
Tuesday 14 NOV 2017

'Hidden Histories': a talk by Mary-Ann Ochota
5:30pm – Queen's Building Lecture Theatre
Saturday 11 NOV 2017

Society Day: Medical Ethics, Messiah and AGM
10:30am
Friday 3 NOV 2017

Dinner in Oxford
7:00pm – Exeter College, Oxford
London Launch of 'Between Two Worlds: An Architectural History of Emmanuel College
6:00pm – St Stephen Walbrook Church, 39 Walbrook, London, EC4N 8BN
'In Search of the Picturesque': Alumni Weekend Talk by Professor Barry Windeatt
10:15am
Cambridge Launch of 'Between Two Worlds: An Architectural History of Emmanuel College'
6:00pm – Master's Lodge, Emmanuel College
Tuesday 12 SEP 2017

City and Central London Drinks
6:00pm – The Bottlescrue, Foster Lane
Saturday 15 JUL 2017

Cambridge and Emmanuel Society Visit to the Buxton Festival
Wednesday 12 JUL 2017

Charles Dickens and his Circle: Visit to the National Portrait Gallery and exclusive tour
2:15pm – National Portrait Gallery, London
Lucinda Hawksley, author and descendant of Charles Dickens, led a fascinating tour of portraits relating to the life and times of Charles Dickens. From his humble (or should that be 'umble) beginnings to mixing with royalty, we were treated to a whirlwind experience taking in the realities of Victorian conditions and attitudes, the 'invention of Christmas', how family members were expressed in characters, Dickens's campaigning work and the shenanigans within literary circles. Lucinda's encyclopaedic knowledge inspired many questions and lively conversation flourished throughout a champagne afternoon tea which followed the tour.
Thursday 6 JUL 2017

Visit to Staunton Harold Hall and Estate, Ashby de la Zouch, Leicestershire
10:30am
The Emmanuel Society visited the Staunton Harold Estate, a traditional country estate of some 2000 acres, centred on a great Georgian mansion, with Staunton Harold Church. The Hall was home to the Shirley family, who became Earls Ferrers under Queen Anne. The twelfth Earl sold the estate in 1954 and it became first a Cheshire Home, and then a Sue Ryder Hospice. John Blunt bought the property to turn it back into a family home in 2003.
We had a tour of the Hall in the morning, and then had lunch at the Ferrars Centre before a tour of Staunton Harold Church, a National Trust-managed 17th-century church with a fine panelled interior, on the Estate. The estate, of 2000 acres, with 400 acres of private woodland, was open to walk and to view the gardens, as well as the Ferrars Centre for Arts and Crafts and Staunton Harold Nurseries.
Saturday 17 JUN 2017

Lunch in Basel, Switzerland
This year's Emma lunch in Basel drew members from across Switzerland and Germany.
Dr Saghar Khodabakhsh led the table through the Emma grace, before we shared college memories -- room numbers and views onto the Paddock (for the fortunate) the bus station (for the less fortunate) featuring strongly. Cold soups and salads were the order of the day, due to the wonderful summer warmth and sunshine on the banks of the Rhine. To finish, we stepped off the restaurant terrace to a toast Emmanuel with college port.
Next year's meal will probably return to Zürich.
Old Emma vs. College Cricket Match
11:30am – Wilberforce Road
BREATHLESS HUSH AS COLLEGE SCRAPE HOME
The College cricketers beat Old Emma by the very narrowest of margins in a game of which it could – if clichés are permitted - be said "only cricket was the winner….". (Yeah, well maybe, but not if you lose….).
Both sides gathered for a buffet meal in the Robert Gardner Room after the match and talked through the ups and downs of the game: the result changed several times as shots were replayed and some catches held.
The College captain, Alex Mistlin, won the toss and asked Old Emma to bat on a wicket which looked true enough and not as green before lunch as in recent years. A steady start by Jeremy Allen and Dave Downham was ended when Dave pulled a hamstring and admitted he was hurt as well as injured (unlike 2015 and his testing of hospital emergency procedures).
Stephen Wright (33) and Peter Westaway (21) kept the board moving and James Lowen added a thundering 54 before being unluckily run out by his batting partner (who else?) Tim Baxter, who probably now doubts his chance of selection next year.
However, captain David Lowen evened it up by in turn running out Nigel Quinton and Peter Slee and from 162 for 5, Old Emma crawled to only 177. Not enough.
Batting performances by Harry Knill-Jones (46) and Will Earle (33) pushed the College towards the target but wickets fell regularly and advantage swung to Old Emma with Slee 3 for 52 off 17 overs, James Lowen 2 for 31 and one brilliant direct throw run out from Wright (those whom the gods bless….).
The College lower order balanced it up again and Allen, Slee, Lowen D all missed catches which on another day……and with younger limbs perhaps……
We entered the final over with the College needing six runs with two wickets standing. The first ball went for four and the least likely Old Emma fielder dropped the simplest of catches (they ran two while he hung his head in shame) – and the College scraped home.
The Old Emma team was: Lowen D and J, Dave Herbert, Elliott Mack, Freddie Green, Andrew Smith, Westaway, Allen, Baxter, Quinton, Slee, Downham, Wright. Only 11 batted but, with injuries to Downham and Allen (cut face fielding) everyone had a game of sorts.
Thanks to Mark Robinson for the immaculate wicket and outfield and to Dr Sarah Bendall for organising lunch, tea and buffet.
Next year, next year……
DAVID LOWEN
Dinner for 2009 Matriculants
7:00pm
Thursday 8 JUN 2017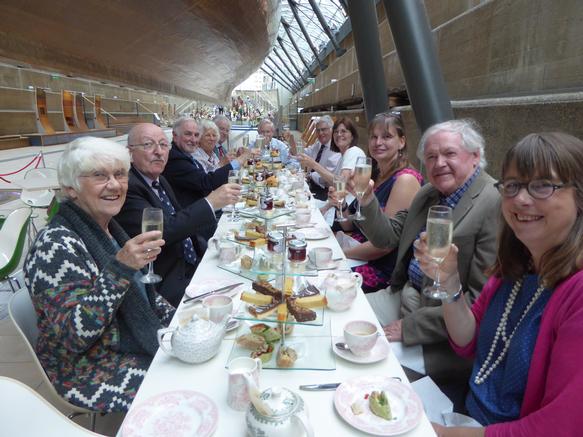 Tour of the Cutty Sark for Members who matriculated before 1950 or between 1955 and 1960
2:30pm
It was a blustery day as some spry older members of the Emmanuel Society caught riverboats down the Thames to Greenwich to meet friends and acquaintances and visit the Cutty Sark. Others arrived by various means, but I don't think anyone popped out of the pepperpot of the Thames foot tunnel close by the ship's figurehead (of whom more later!)
The lower cargo deck was beautifully presented, apparently with tea chests under foot as well as overhead and often to port and starboard too. They were authentically decorated - some lovely Chinese artwork - and labelled. Those of you with felines at home might want to tell them that a catty is also a tea-measure, being one tenth of a stone in weight and taking up a quarter tea chest in volume (chests came in various sizes). A multi-media display informed us about Camellia sinensis and its processing to make lots of different sorts of tea, about the areas within China where it was grown, and the places through which it was exported. We also learned about the Cutty Sark being built (1869: innovative iron frame for the hull), her speed, her owners starting with Mr Willis, and her career to date. Though the fastest sailing ship she was edged out of the time-critical tea trade by steam ships taking advantage of the shorter route through the Suez Canal (ironically also opened in 1869). We were told that winds in the Red Sea and Mediterranean do not favour big, fast sailing ships so they carried on going round. Historic example of disruptive technology, should you ever need one. The upper cargo deck had a woolly focus (sniff and feel panels!) and reflected her years bringing bales of merino from Australia, and also pointed out that she was for several years a Portuguese ship, mostly trading between Lisbon and Brazil. Then on deck we saw the living quarters and marvelled at the complexity of the rigging and spars.
Nannie Dee, the figurehead, had her own audio-visual presentation below decks, for'rard of the heads, which she used partly to complain vehemently about the repeated soakings in salt water. She's the witch in Robbie Burns 1791 poem Tam O'Shanter, and a sark is a chemise in Scots. The one she was wearing in the poem was far too short for her ("cutty") because she had had it since she was a child. Good quality linen, that - presumably Irish. So her nickname was Cutty Sark and as Mr Willis liked to give his vessels names with Scottish connections, he chose that and had a figurehead carved suitably scantily clad and holding a grey horse's tail.
And then - inexorably really - it was teatime. Beneath the Muntz metal sheathed hull we chattered and nibbled from three tier cake-stands as we sipped both tea and prosecco, appreciating the look of pretty china and its contrast with the barnacle-free gleam of the cladding above our heads.
Burnaby Recital
6:15pm – Queen's Building Lecture Theatre
Thursday 23 MAR 2017

A Night at English National Opera
6:00pm – London Coliseum, St. Martin's Lane London WC2N 4ES
Burnaby Recital
6:15pm – Queen's Building Lecture Theatre
John Bryden (1965) and Josie Robertson (2008) gave the audience much pleasure with their violin and piano recital. Josie started with the Largo and Allegro assai from Bach's violin sonata in C, BWV 1005. John followed with Elgar's Dream children, op. 43, and then together they played Elgar's Violin sonata, op. 82.
Master's Visit to Boston
7:00pm – The Harvard Club of Boston
The Master and her husband Bob Merrill, together with the College's Development Director, Sarah Bendall, made a brief visit to Boston in March.
They held a dinner for Emma members, family and friends at The Harvard Club of Boston and were delighted to see around 50 people there, ranging from the Emma graduates currently studying at Harvard on Herchel Smith scholarships to other members who were at Emmanuel rather longer ago.
Tuesday 7 MAR 2017

London Drinks
6:00pm
Wednesday 1 FEB 2017

Reflections on the Hillsborough Inquests: 2014 – 2016
5:30pm
We were delighted to welcome Christina Lambert, Lead Counsel to the Hillsborough Inquests and Henrietta Hill, Counsel for 22 families, to College to give a talk reflecting on the Hillsborough Inquests between 2014 and 2016, followed by a drinks reception and a buffet supper.
In March 2014, fresh inquests into the deaths of the 96 victims of the Hillsborough Stadium Disaster were opened before a jury at a specially created court in Warrington. Over the course of the following two years the jury heard from 620 witnesses including fans, police officers, club staff and members of the ambulance service. Expert evidence was called from a number of disciplines: structural engineering, policing, pre-hospital emergency care and forensic pathology. In April 2016, the jury returned their narrative conclusions concerning the deaths stating, amongst other matters, that the fans had been unlawfully killed.
Christina and Henrietta spoke about:
Why fresh inquests were ordered
Our differing roles in the inquests
The practical and legal challenges which the inquests presented, and the solutions
The wider perspective: concurrent investigations and possible future legal action.
Christina read History at Emmanuel. She was called to the Bar in 1988. She practises in the fields of clinical negligence, professional discipline and inquests/inquiries. Before her appointment to the Hillsborough Inquests she was Leading Counsel to the Dame Janet Smith Review into the conduct of Jimmy Savile and the linked investigation into the conduct of Stuart Hall. The Review was independent of the BBC and set up by the BBC Executive Board (chaired in that instance by Dame Fiona Reynolds).
Henrietta read Law at Emmanuel. She was a Herchel Smith Scholar to Harvard where she specialised in human rights. She was called to the Bar in 1997 and now practises in inquests, discrimination law, claims against the police and related public law cases. She also sits part-time as an Assistant Coroner and Deputy High Court Master.
Friday 13 JAN 2017

Christmas Members' Gathering in Chicago
5:30pm
While our annual Emmanuel Society pre-Christmas drinks in Chicago ended up post-Christmas this year (because, surprise surprise, we had a snow-storm!), members gathered from both Wisconsin and Illinois to enjoy a lively evening on the auspicious date of Friday, January 13th. Topics ranged from rowing (a lot about rowing) to the weather (of course) immigration issues (always a lively subject for ex-pats) and - this being America - bear-hunting. We're hoping again to have a summer gathering with our families.
Wednesday 4 JAN 2017

Cruises