Fund Background
Most of us would acknowledge that the years spent at university were some of the most fun and profound of our lives.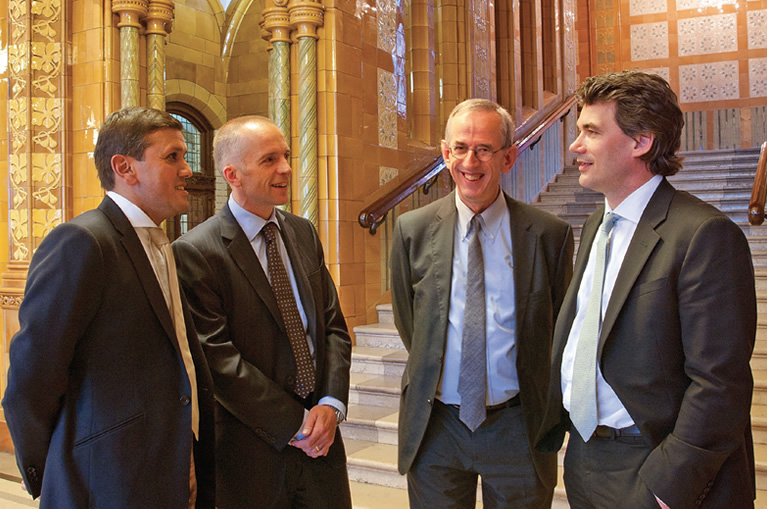 For those of us who attended Emmanuel in the eighties, we could not have been luckier with our timing, with no fees, plenty of government support and industry sponsorships, and lots of employment options.
Today, through no fault of their own, aspirant students with the ability to thrive at a place like Emma could not be unluckier with their timing with tuition fees of £27 000, plus living costs, limited government support and graduate unemployment currently at an all-time high. Indeed, a student coming up this October could have debts in excess of £50 000 by graduation, which will surely influence some of those lucky enough to be offered a place. Can that really be right? Addressing this issue is the essence of an initiative we call the 'Late Eighties Fund'.
The aim is to provide grants for students for whom the financial burden of attending the College is simply too high to enable them to make the most of their time at Emmanuel. Launched in 2011, about 30 Members who matriculated between 1984 and 1990 have contributed to it. Most are making regular monthly gifts of between £10 and £150, which means that over ten years the Fund will have a capital sum of around £250 000. We are hoping that this figure will increase so that in due course we can distribute £60 000 per annum. We work closely with the College to identify students for whom the grants would make a real difference.
The Fund has so far raised its money through evenings with guest speakers, which also aim to try to reconnect cohorts. The first targeted the financial community with a fascinating discussion with Charlie Bean (1972), Deputy Governor of the Bank of England, on the Economy. The second was hosted by Gavin Patterson in the amazing top floor of the BT Tower, with Lord Wilson providing an insight into the workings of the Civil Service. And in June Rob Devey kindly hosted us in the Old Prudential Building in Holborn.
We are all inundated with 'asks' from charities, family, school and the College. This would seem exactly the wrong time in the economic cycle to be adding another. My wife Katie (Yirrell, 1985) and I came up with this idea after discussions with the Master and Sarah Bendall a couple of years ago. Since then, Rob Devey (1987), Gavin Patterson (1986) and Mike Risman (1987) have joined us. Our hope is that for those in their mid-forties, the 'cause' is relevant, as many of our generation see their kids working hard at secondary school, readying themselves for university with its associated cost. We hope that the prospect of reconnecting with College friends from one's own year group is appealing, and that making a monthly contribution (of whatever size) is manageable alongside family demands. And lastly, we hope that reporting back annually on the number of grants will demonstrate the immediacy of the help that the Fund is giving.
We have already inspired an 'Early Nineties Fund', led by Mark Ransford (1990) and James Rossiter (1988), and hope that from this acorn another Emmanuel oak will flourish.
Manoj Badale (1987)
---
In 2012–13 we have agreed to award £15,000 in grants to those:
whose family circumstances change so experience unforeseen hardship
eligible for support under the Cambridge Bursary scheme
or who could not otherwise afford to
travel to the Middle and Far East as part of their studies for whom there is no University funding available and for which the College has no earmarked funds
remain at the College as graduates to study for an MPhil
join the TeachFirst scheme, by providing a bursary to help with the costs of the training course
undertake unpaid vacation placements