7 October 2021

After graduating from Emma in 2002 with a degree in English, Kat Sommers (1999) went on to work as a producer at the BBC, before becoming a comedy writer. She tells us about a chance encounter that inspired her to write Charlotte & Lillian, her Radio 4 sitcom: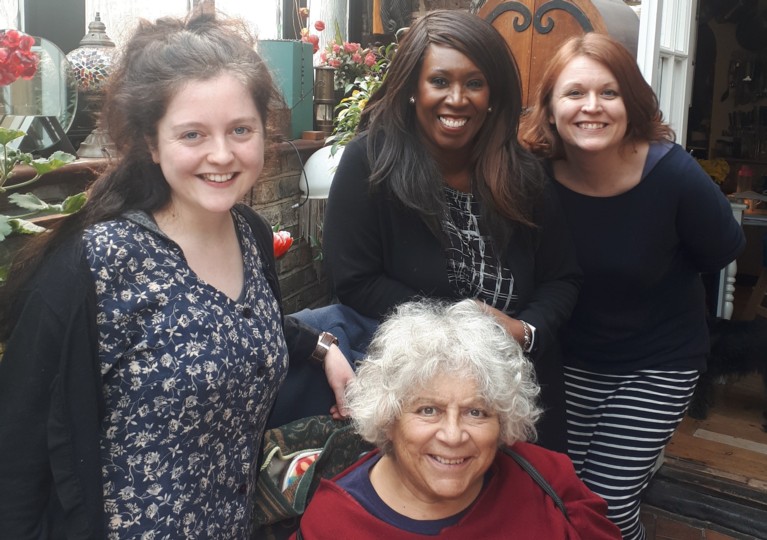 A few years ago, I blithely signed up to a 'befriend the elderly' scheme, with the intention of bringing love and light, and maybe the odd egg sandwich, to an older neighbour. A little old lady, no doubt, who'd be excessively grateful for my visits, and delighted by my dazzling youth (already on the wane), not to mention wowed by the apps on my phone that meant I could hail a cab, or find a man with a line in emoji double entendres within 500 metres of me, at any given moment.
What I got was Lillian. Ok, not 'Lillian'; that's the name of the character she eventually inspired. But for the sake of changing names to protect the innocent, let's call her that for now. Lillian was certainly little and old, but that's the extent to which my expectations were met. She wasn't remotely grateful to see me. I interrupted her carefully crafted TV schedule, brought her cakes with too much ginger in them, and she couldn't give a toss about my phone, or its 2–megapixel camera.
With some cajoling, I could get her to talk about her life, but she showed no interest in mine. And she had—how can I put it?—some rather old–fashioned attitudes to life. In short, she wasn't very nice. Or, in other words, she was a person, and not a caricature. I complained bitterly about my predicament to my friend Holly Walsh, whom I'd met in the Footlights at Cambridge, and had been writing comedy with ever since.
Holly, in turn, found it hilarious. She suggested the whole premise would make a good radio sitcom, so we pitched a comedy about two people from across the generational divide (though both are as selfish as each other) to Radio 4: a charity volunteer keen to show off her 'caring' credentials, and the cranky old bat she's paired with, who wants nothing more than to impart her hard–won 'wisdom' on a clueless, self-absorbed millennial. Hey! I said. No no, it's not you, said Holly. Just a millennial in general. Helen Monks brought that character to life, while the inimitable Miriam Margolyes is our Lillian. (Above—L–R: Charotte & Lillian lead actors Helen Monks, Miriam Margolyes, and supporting actor Angie Le Mar, with Kat Sommers)
If the English tripos teaches you anything, it's that tragedy lurks beneath every comedic surface. You just have to find it. Take a caricature, and turn it back into a person. At Emma, I had the good fortune to have Robert Douglas–Fairhurst as my Director of Studies, who taught me how to drill down through the layers of meaning behind a sentence—sometimes even a single word—until I found the thing that resonated. When it comes to writing, all you're doing is seeing if it resonates with others.
Back to All Blog Posts