Academic Support
Our personal approach starts when we select students and continues throughout the duration of their courses. The pace of learning in Cambridge is intense.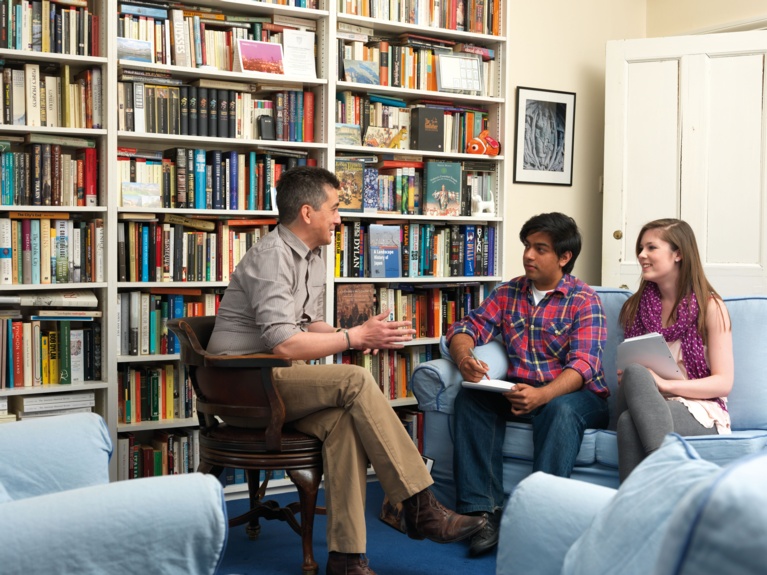 Emmanuel undergraduates are generally in residence in the College for three ten-week periods each year, which embrace the three eight-week University terms in which teaching and examinations are concentrated.
Not only is the pace of learning intense, but course contents can challenge even the most talented students. Of course, we try to select students who we believe can meet the challenge – and we have years of experience in this – but a lot is packed into these weeks of teaching and we respond by tailoring teaching and ensuring that student and teacher work together much more closely than is the case at most other universities.
Collegiate System
A university education is not simply dependent upon direct teaching. An important aspect of a Cambridge undergraduate education is that the collegiate system means that students meet and live with individuals who are studying subjects far-removed from their own and who may also come from backgrounds far-removed from their own. Emmanuel is a mid-sized college (admitting around 150 undergraduates each year), which means that it is big enough to provide diversity in its student body, but small enough to create a feeling of community and friendliness.
Directors of Studies
Directors of Studies (DoS) has specific responsibility for your students' academic progress and development. He or she provides guidance about papers available on students' courses and provides advice about lectures and classes. Crucially, Directors of Studies are always prepared to discuss any difficulties students might have with work. Directors of Studies can give advice on how best to prepare for examinations and in collaboration with Supervisors can sometimes arrange mock examination papers at an appropriate point in the year.

Students are required to see their DoSs at the beginning and end of each term. It is at the beginning of term meetings that many of the practical arrangements concerning supervisions are made ( as Directors of Studies are responsible for engaging Supervisors and arranging supervisors for their students). At end of term meetings Directors of Studies discuss with students the reports on Supervision work the College has received from Supervisors. Directors of Studies will give advice, which depends upon Supervisors reports and discussion with the student. Supervision reports are submitted electronically and are available online so students have free access to them.
Directors of Studies work in parallel with Tutors to support and oversee the academic progress of their students. Details of the Tutors' roles are given here.