From Flutes to Skis to Desert to Emmanuel College Porters' Lodge
Blank text. Click here to edit.
Monty's army career started when he was 16 and he joined the Junior Leader's Regiment Royal Armoured Corps in a "not very picturesque" corner of Dorset. So challenging was the course that, of the 48 who started, only eight passed out two years later. He went on to join the 4th/7th Royal Dragoon Guards and was stationed in Germany for 17 years, first in Detmold and then in Paderborn.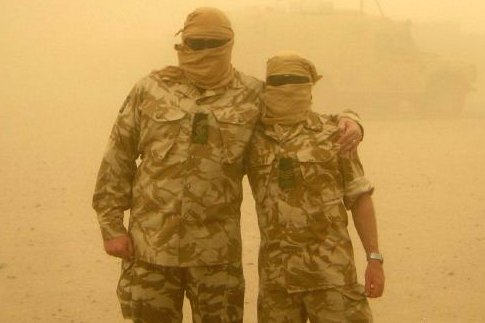 When introduced to skiing, Monty was "stupid enough to go too fast" and represented his regiment for over six years. He went on to work as a ski instructor for his regiment and later the Corps of Army Music up until his retirement from the forces.
As Principal Flautist in the Regiment's Military Band, Monty travelled across Europe and the world performing at many high level Military and Royal Events and other notable engagements including: Grand Prix's, Football and Rugby World Cup games and many show jumping events around the world, notably Hickstead and Spruce Meadows in Canada. He trained army musicians in Pakistan, and toured with the Military Band in Egypt, Hong Kong and Japan and once performed in 52 cities in 56 days on an American tour.
Alongside his musical role in the field army, Monty was an armoured ambulance commander supporting Main Battle Tank regiments during the Gulf War in 1991 and was also deployed as a convoy commander during the 2003 Gulf Conflict.
In 2004 Monty became the Band Sergeant Major of the Minden Band of the Queen's Division.
In 2009 Monty left the army and took up post as a porter at Emmanuel College, becoming Head Porter in 2020. As well as being a first port of call, porters are there to support students and respond to any problems. Monty relishes being a part of the College community and does a lot less shouting than he did as a Sergeant Major!