Alex Jeffrey, a Lecturer in Human Geography, discusses his research into conflict, state-building and the possibilities for justice in a divided world.
Around a decade ago I was sitting in a quiet and poorly-lit restaurant in northern Bosnia and Herzegovina talking with an official from the Office of the High Representative, the international body tasked with reconstructing the Bosnian state after the 1992-5 conflict.
As we drank strong Turkish coffee she outlined in depth the struggles that her organisation faced trying to reconstruct systems of government, schooling and transport. Leaning forward conspiratorially, she identified the main problem "it is making people think in terms of a new Bosnian state, not as ethnic communities driven by suspicion of others."
This exchange encapsulates a central spar of much of my approach to understanding the geography of state reconstruction: that it is cognitive process requiring the reconstruction of mental categories of the state, of home and of the community. Over the past fifteen years I have sought to explore the fraught and crisis-ridden attempts to reconstruct states after war, focusing in particular on Bosnia and Herzegovina. My doctoral studies examined the role of non-governmental organisations (NGOs) in these processes. Over recent years NGOs have become prominent actors in both post-conflict and developmental settings as international donors consider these organisations to be useful agents in delivering humanitarian aid and acting as a means through which communities can voice needs. My evidence from Bosnia and Herzegovina suggested a more complex picture, where NGOs were certainly performing an important humanitarian function but their funding and regulation led to the politicisation of their activities. Indeed, it seemed at times as if NGOs were state functionaries rather than independent actors.
This more integrated understanding of the role of NGOs and other associations cultivated a desire to rethink the ways in which the state is understood as an institution. Rather than thinking of the state as a stable administrative actor, this approach demanded thinking of the state as a form of performance carried out by a range of actors from political elites through to NGO workers. This helped understand the ways in which different ideas of 'Bosnia' could coexist, drawing as they did on alternative understandings of history, justice and political legitimacy. In order to make this argument I drew on a wide theoretical canvas, including feminist theories of performance and recent work in drama theory. The result was the book The Improvised State: Sovereignty, Performance and Agency in Dayton Bosnia (Oxford: Wiley-Blackwell, 2012). While this work is centred on a precarious example of statehood, the conclusions make some more general theoretical claims. States are always improvised since they require repeated performances to bring them into being, for striking UK examples think of the Golden Jubilee celebrations or the Opening of Parliament. The difference between the UK and Bosnia and Herzegovina is that in more established states these performances gain legitimacy through repetition so appear less improvised and more calculated.
I have continued this investigation of state reconstruction through two on-going projects. The first has examined the establishment of the Court of Bosnia and Herzegovina (CBiH) and in particular its jurisdiction over war crimes trials. Again, NGOs are central to this story. The establishment of the CBiH was followed by the creation by Court Officials of a Court Support Network, a set of human rights NGOs distributed across Bosnia working to communicate the legal activities of the Court to victim populations. Through the Localising International Law research project (funded the Economic and Social Research Council), I spent two years tracing how the Court Support Network functions and identifying its distinctive role in creating new ideas of justice in contemporary Bosnia and Herzegovina. At the end of this project we held a number of events to share the findings with organisations in Bosnia and Herzegovina, culminating in a workshop in Sarajevo in September 2012 attended by officials from NGOs, the Court of Bosnia and Herzegovina, victims associations and international organisations.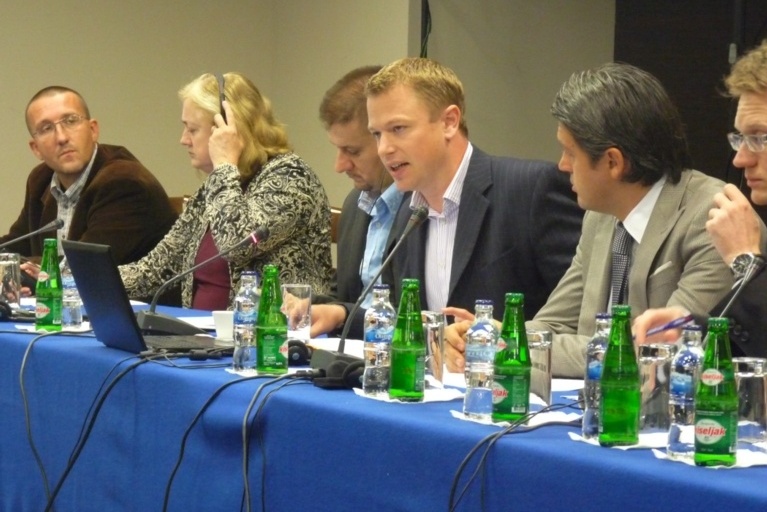 Workshop in Sarajevo, September 2012. Photo: Alex Jeffrey
The second project involves colleagues at Durham University and the University of Sheffield and explores the role of education in developing new senses of citizenship in post-conflict and divided societies. Through a European Research Council Advanced Grant (Principal Investigator: Prof Lynn Staeheli, Durham) we are examining these processes in Lebanon, South Africa and Bosnia and Herzegovina. This research is structured around the premise that schools played only a part in the cultivation of citizenship, and consequently we are exploring the role of youth NGOs, religious organisations, social movements and transnational networks in forming collective identities in these divided societies. We are finding that many expressions of youth citizenship do not conform with expected sites of political participation (say voting or lobbying members of parliament), instead forms of street protest, temporary occupations and virtual connections through social media are play an important part in new geographies of citizenship.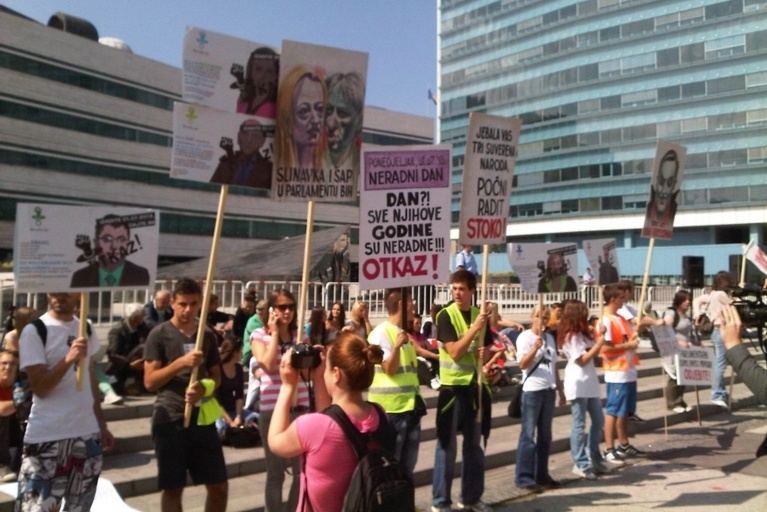 Protests in central Sarajevo, July 2013. Photo: Alex Jeffrey
---