Professor Robert Macfarlane
Robert Macfarlane, Fellow and Part II Director of Studies in English, on his studies, writing, teaching and research.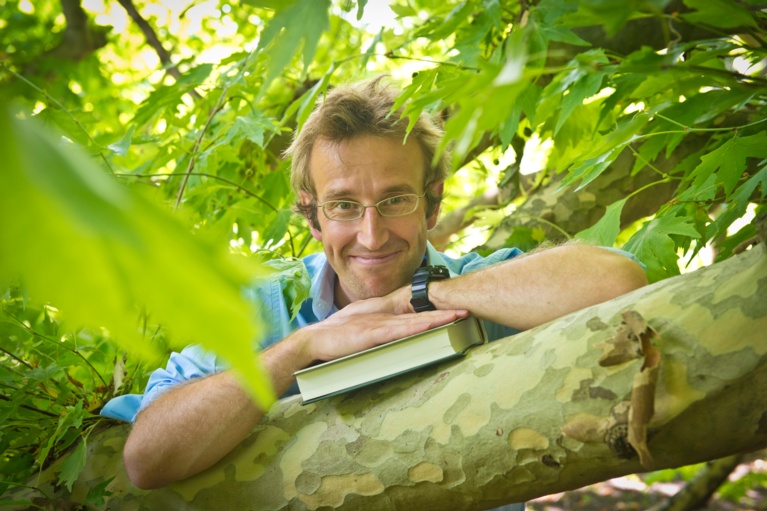 I have been a Fellow of Emmanuel College since 2002. At the time of my appointment, I was midway through a PhD in Victorian literature at the Faculty of English, here in Cambridge. But I was also – in spare hours and dark corners – writing a book about our imaginative reactions to mountains and high places. 'To me, high mountains are a feeling', Byron had remarked, and I wanted to trace the cultural origins of that 'feeling' in the eighteenth century, and to map some of its subsequent expressions in literature, art and individual lives. That book was published in 2003 as Mountains of the Mind, and it began what I now know will be my lifelong fascination with the interrelations of landscape, culture, memory and imagination. I am interested, you could say, not only in what we make of places, but also in what places make of us.
I went on to write a second book about differing ideas of 'wildness' and 'wilderness' (The Wild Places, 2007); and a third about walking as a means of knowing (The Old Ways, 2012), and a fourth called Landmarks (2015), which explores how cultures use – and lose – language relating to specific aspects of landscape and nature. I am fortunate in that my research brings me into exciting collaboration and contact with numerous other disciplines – including geography, architecture, archaeology, anthropology and zoology – as well as artists, photographers, film-makers, musicians and professional conservationists. In 2016 I was appointed to a Readership in Literature and the Environmental Humanities.
My most recent book is Underland: A Deep Time Journey, published in 2019. Underland explores imagined and actual subterranean sites and spaces, especially in the context of the Anthropocene - the proposed epoch of Earth history which recognises the planetary-scale alterations wrought by human activity, and the legacy those alterations will leave behind in the geological strata of 'the Great Stone Book' (as Victorian geologists referred to the rock-record recognising its status as recording medium and future archive). Underland is concerned both with the urgency of the present moment in terms of environmental crisis, and also with the perspective of radical futurity and historicity that is required by thinking in "deep time" – that order of temporality which is indifferent to human care, indeed which far precedes and exceeds the existence of our species. Underland's conceptual focus and end-point is Onkalo, the deep geological repository (DGR) for the final disposal of spent nuclear fuel that is currently under construction in the granite bedrock of south-west Finland. Onkalo is designed for 100,000-year safe storage. Into the underland we have long placed that which we love and wish to save, and that which we fear and wish to lose.
My main field of research might therefore be summarised as 'cultural environmentalism' or 'the environmental humanities', which has emerged over the past decade as one of the most lively interdisciplinary research areas in the humanities. Broadly put, I am concerned with questions of how narratives, forms and metaphors might shape (and have been thought to shape) ecological awareness, environmental activism and individual 'place-consciousness'. Such questions have become – in the context of climate change, species loss, and specific crises such as Deepwater Horizon – pressingly urgent. Were I to represent my interests as a word-cloud, I guess it might look like this: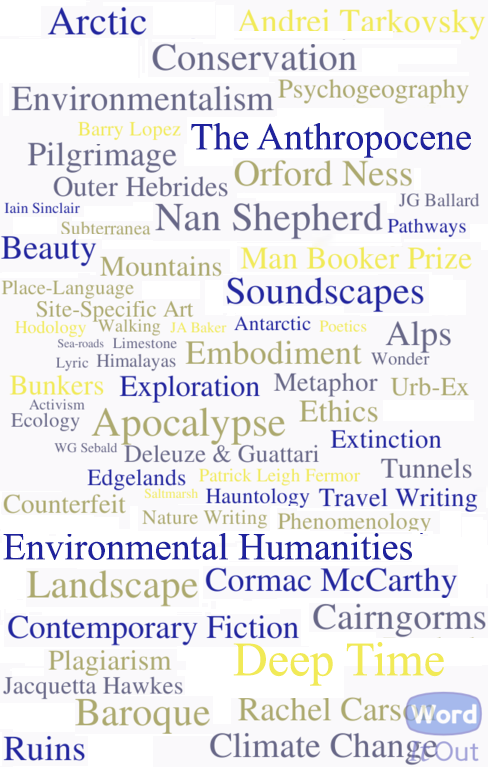 I love teaching, and more than fifteen years on from my appointment it still feels like an immense privilege to be able to sit down with brilliant young (or mostly young) people, and discuss books, ideas, politics and language. I learn so much from my students; the acknowledgements to my books carry many of their names, in recognition of the fact that teaching is, or should be, a two-way process of learning and illumination. I enjoy all forms of teaching, from College 'pract crit' (practical criticism) supervisions with new first-year students, through specialist final-year seminars for the 'Contemporary Literature' option, to big-group Faculty lectures on set texts such as Thoreau's Walden, or Cormac McCarthy's The Road. I have supervised PhD students on subjects including pollution, toxicity and 'persistent matter' in British post-war culture; American twentieth-century fiction and 'hyperspace', 'counterfeit culture', modernist travel writing, the ethics of style, and the literature of Robert Scott's Terra Nova expedition to Antarctica, 1910–1913.
The study of the rich inter-relations of literature and landscape is what unites my research, writing, teaching. I began my academic career, however, as a Victorianist – for I did manage to finish that PhD I was working on at the time of my appointment to Emmanuel (it was later published as Original Copy: Plagiarism and Originality in Nineteenth-Century Literature (Oxford University Press, 2007)). That training provided me with an expertise in Victorian culture that has since proved valuable for my writing on modern cultures of mountaineering, pilgrimage, exploration and wayfaring. It has also informed the work I have done in recovering the partly 'lost' tradition of British nature/topographic/travel writing from the later-nineteenth and twentieth centuries, and so broadening the canon of British prose non-fiction from these periods. Writers whose work I have championed in the form of radio and television programmes, essays, introductions and re-issues, include Nan Shepherd (The Living Mountain, 1977), JA Baker (The Peregrine, 1967), Jacquetta Hawkes (A Land, 1951), and Richard Jefferies (Nature Near London, 1883)
My other chief area of interest is post-war literature, with a particular specialism in the recent Anglophone novel. I have twice judged the Man Booker Prize for Fiction, once in 2004 (when the winner was Alan Hollinghurst's The Line of Beauty), and once in 2013 (Eleanor Catton's The Luminaries), when I chaired the judging panel. The task of reading around 140 novels in 200 days has its unrelaxing aspects, I discover, but it also gives one an unrivalled cross-sectional view of contemporary fiction.
---